Fres-news.com is a website that gains access to people's browsers using notification permissions and abuses it to flood them with unwanted ads. This type of website is common and relevant to mobile devices as well as desktop computers. Ads by Fres-news.com  are labeled that way, so even though you might not know what Fres-news.com is or even be able to visit that site, you can see its address on the ads it shows you – and the ads can be very annoying, a new one appearing every few minutes.
Fres News Com Pop Up Spam quicklinks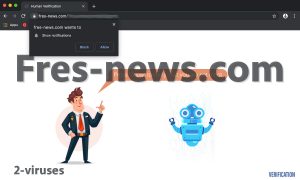 Fres-news.com first appears as a webpage that may ask you to prove that you're not a robot, that you're an adult, say that you need to do a small thing to download your file or start streaming your video – there are many templates that adware sites use. But they all want you to press the "Allow" button to receive notifications from the site. My version of Fres-news.com said:
Press "Allow" to verify, that you are not robot
If you do press allow, the site starts sending you pop-up ads. Some websites don't abuse notifications and make them helpful, like telling you about new messages or emails. But all that Fres-news.com does is send people useless and dangerous ads.
Fres-news.com pop-ups memo:
Type of threat
Cause of the pop-ups

Redirects from infected websites
Infected ads
Unregulated ads
Adware infection

How Fres-news.com ads are dangerous

The pop-ups are very annoying and interfere with browsing
Malicious ads can cost money and private information

Stop Fres-news.com ads

Remove malware from your computer (SpyHunter for Windows, Combo Cleaner for Mac OS)
Disable notifications or block them from Fres-news.com
Block malicious websites
This isn't a unique website – NextYourContent.com, Replyalert.net, Putlocker ads fall into the same category.
Whenever you encounter a site that demands that you agree to sign up for notifications, just close it. Pages like Fres-news.com show up when you click on infected ads, links to infected websites, or just visit a website that has extremely aggressive ads (online video converters, filesharing, streaming, pirating sites have a lot of that). Adware infections can also cause malicious ads to appear in your browser.
Dangers of Fres-news.com pop-ups
Fres-news.com is a site that takes under its wing the sorts of advertisers whose products were deemed too risky by mainstream ad-networks. Products like:
Adware
Phishing scams
Fake giveaways and lotteries
Unregulated medical supplements
Gambling sites that don't check your age and don't have appropriate warnings
Malware
Tech support scams
Get-rich-quick scams
Cheating services
Sites that don't respect users' private data
These are examples of what you might be exposed to by Fres-news.com's pop-up ads. Miracle cures, energy scams, browser hijackers, and free phones that never materialize are promoted and, evidently, bring in enough revenue to continue the businesses of the fraudsters. But since normal ad-networks reject them, they rely on adware like Fres-news.com. What this means for the victims is that they're exposed to many scams and if they happen to fall for just one, they'll probably lose some money and maybe even have their identity stolen and sold to other criminals.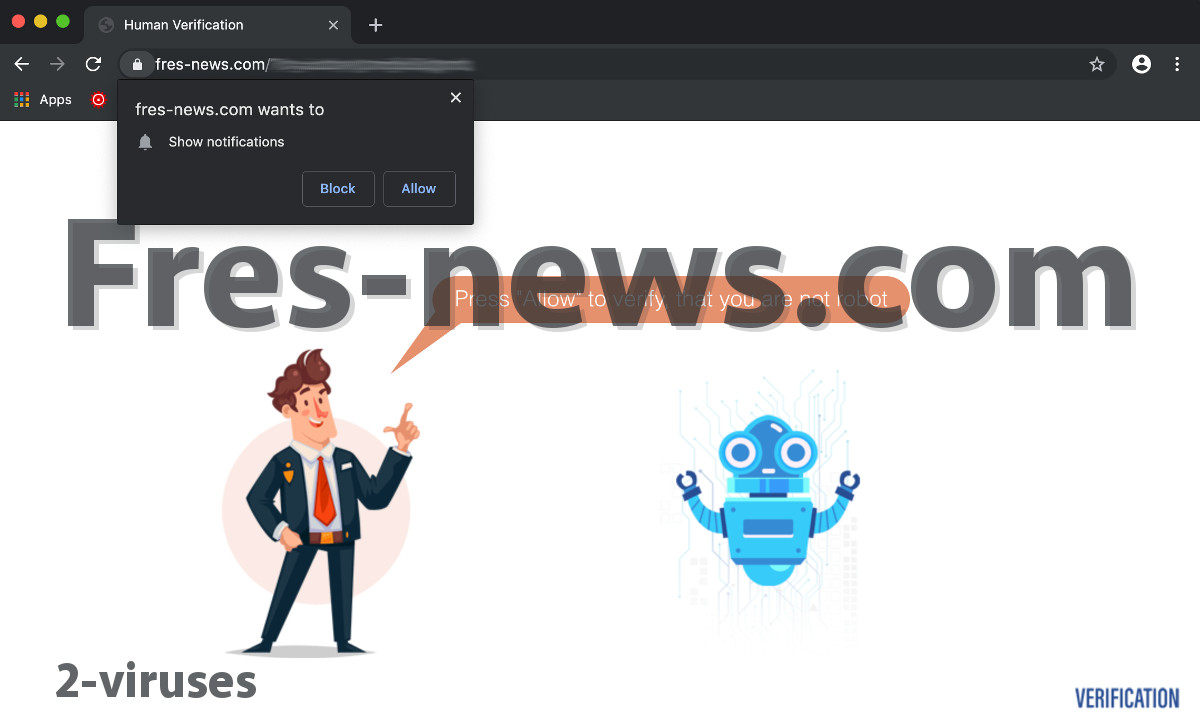 How to block Fres-news.com pop-ups
To stop the pop-ups, you need to block Fres-news.com from sending notifications to your browser. You can do that by disabling notifications as described in this article (that way, other sites that work this way won't be able to spam you) or you can block specific sites by accessing the notifications settings:
Chrome: type "chrome://settings/content/notifications" in the address box.
Safari: in the Safari menu, choose Preferences, Websites, Notifications.
Edge: open Settings, Advanced settings, Notifications, Manage.
Firefox: type "about:preferences#content" in the address bar, find the Notifications section.
Find Fres-news.com and its various versions with different prefixes, like 0.fres-news.com, 2.fres-news.com, and others. Keep in mind that blocking notifications won't block the website, so though the pop-ups should end, you might still encounter Fres-news.com online.
There are ways to block websites, such as by using an antivirus program with real-time web security (though these are usually paid) or using an ad-blocker (just make sure to use a trustworthy one as there are many malicious and adware extensions that pose as ad-blockers).
Finally, it's advisable to scan your computer with an antivirus tool, such as Combo Cleaner for Mac or SpyHunter for PC. There might not be any adware on your computer, but if you want to be sure of that, scanning your device with a professional antivirus tool that has the latest updates is the best way to know.
Automatic Malware removal tools