Yahoo Answers is a website that, whatever you think of the discussion happening on it, is pretty safe to visit. Sure, you might get a suspicious link posted in an answer now and then, but it's not really the norm.
So, since people trust Yahoo Answers, scammers decided to copy the site's look and use it to spread scams. Fake comments share a download link on a facsimile of a Yahoo Answers site. The links shared on the fake sites lead to subscription scams and other dangerous and malicious sites.
Fake Yahoo Answers Sites quicklinks
About the fake Yahoo Answers sites:
Threat type
Scam,

phishing.

How the fake Yahoo Answers sites spread
Found in web search results and shared elsewhere online,

designed to look like a trusted website (Yahoo Answers),

fake comments promote links to a potentially dangerous website.

Dangers posed by the scam
Personal information might be stolen,

you might be signed up for an unwanted subscription.

How to avoid scam Yahoo Answers sites
Block malicious websites and advertisements,

protect your device from malware with anti-malware tools (Combo Cleaner for Mac, Spyhunter for PC, Malwarebytes, others).
Fake Yahoo Answers sites share a download link
When I first came across one of the fake Yahoo Answers sites, I was immediately reminded of the Qanswers.site scam.
Here's how the scam begins. I use a search engine, like Google, and search for a file to download. A book, a movie, a software update, etc.
After typing my query, I see results from sites like "Poloslon", "Aliiost", and other seemingly random names (by the way, they all lead to Airdate.info). The result previews include seemingly real discussion (the text is actually stolen from a post on Answers.microsoft.com).
I click on one of these results and land on what looks like an Yahoo Answers site. The question at the top goes like this:
Can't find by myself, Please help with:
[query]
The answers post download links. Other comments comment their thanks and praise the quality of the download site. They even talk about a "free month" – the reason for this becomes clear a little later.
I downloaded yesterday, all's work!

You only need to registrate via portal

And you will get one FREE month !!!
There are a few hints that this Yahoo Answers site is not quite right. First, the site address is wrong. And the "Yahoo" bit is missing from the "Yahoo Answers" logo.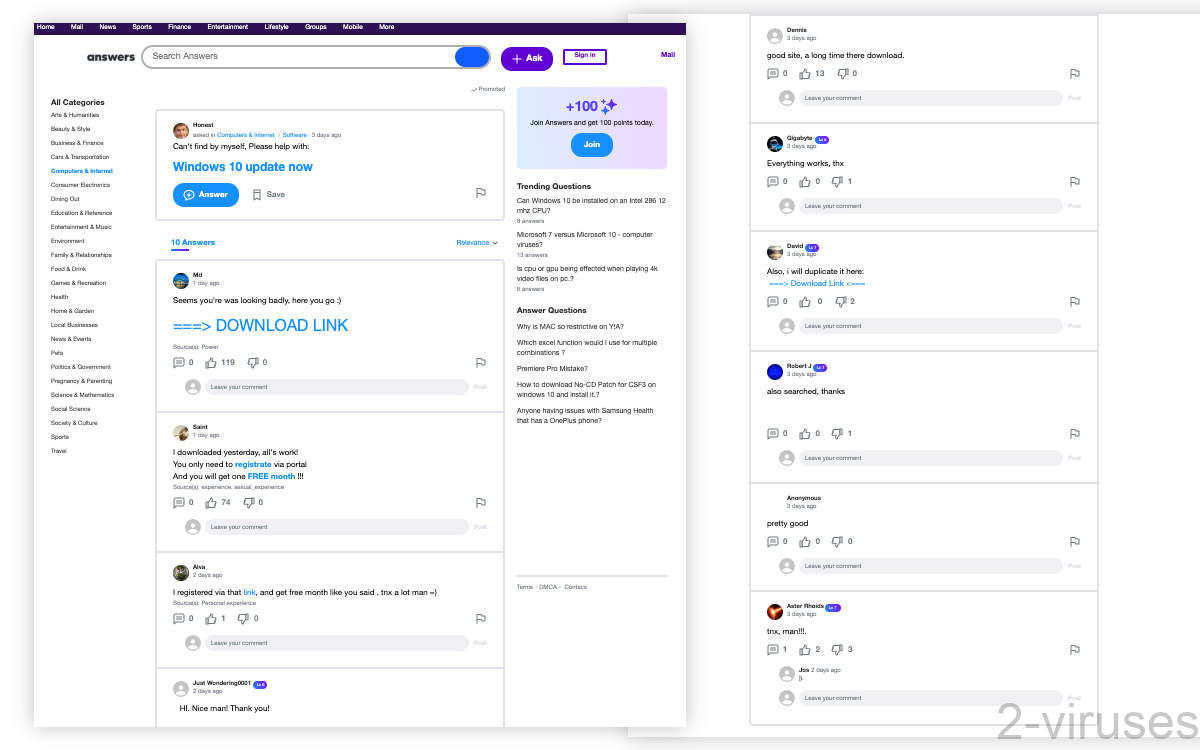 Subscription scams and other malicious content
Once I click one of the links posted on this fake Yahoo Answers site, they open a signup form on Quick-downloadz.com or a similar site. It asks me to type in my email and a password.
You should never do this – definitely don't reveal your email address to unknown websites. You might start getting spam emails.
Once I submitted an email address and a password, I was taken to Themusicz.com, Popmediaz.com, Gamerznow.com, Popplayz.com, or a similar website. These sites are very familiar to us here on 2-viruses. They're these extremely overpriced (over $50 per month) media (books, music, movies, games) subscription services.
The problem with these sites isn't that they appear to only deliver bargain bin content for this ridiculous price, it's that they trick people into subscribing. Here's Popplayz.com on Trustpilot. The reviews give us hints on how these people got scammed:
Fake surveys and giveaways (Annual Visitor Survey) that ask you to sign up to get your prize.
Ads on free movie (pirating) sites that promise free HD quality streaming if you sign up.
Fake links to sports streams that ask you to sign up before letting you watch the game.
And, like in the case of Yahoo Answers, fake download links.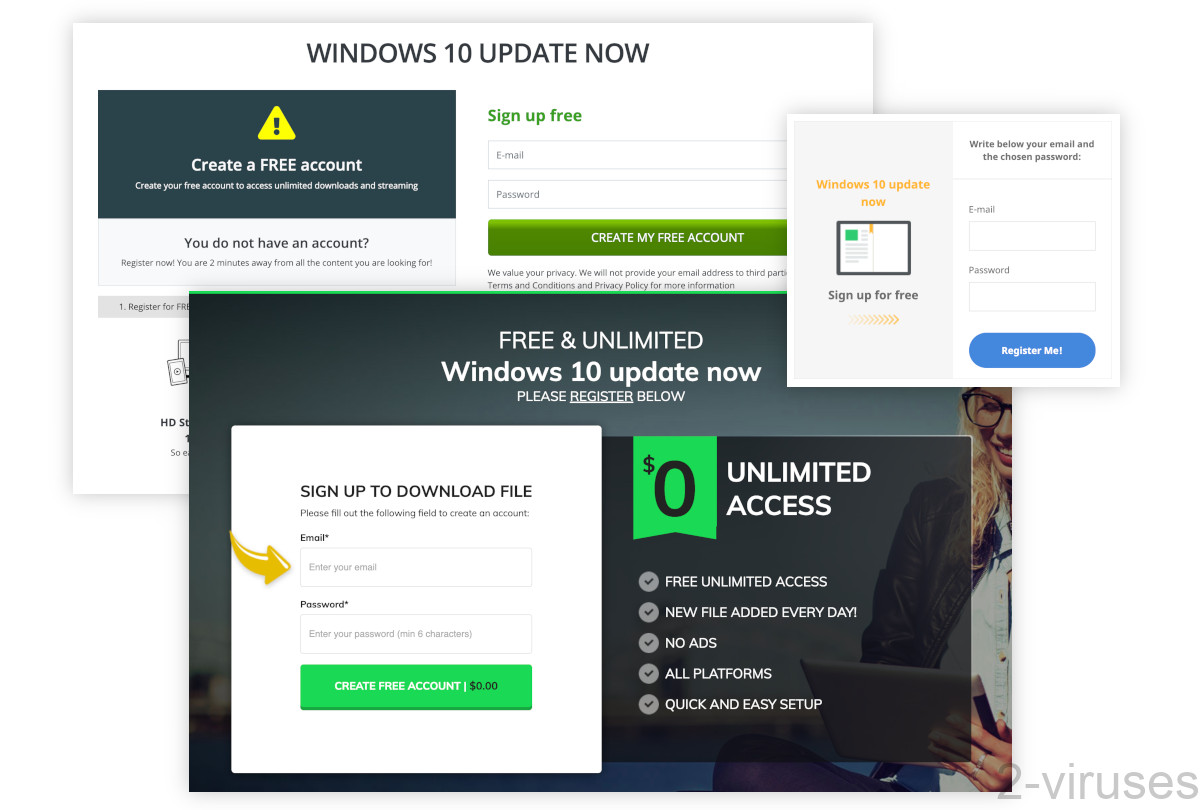 How to protect yourself from the fake Yahoo Answers site
The fake Yahoo Answers sites are not dangerous on their own. They're deceptive, they're lying to visitors, but they don't infect your computer.
However, they do lead to predatory subscription sites. If you sign up for them, you can lose a lot of money. So, be careful online:
Don't share your personal details – email address, name, physical address, credit card info, etc. – with unknown sites. At least check online reviews first.
If you're unsure of something, ask for help online. Visit the community support forums of Google, Microsoft, Apple, and other companies that are relevant to you.
Use a good anti-malware program (Combo Cleaner for macOS, Spyhunter for Windows, Malwarebytes, etc.) to protect your device. It's good to use one that can block malicious websites for you. Consider also using an ad blocker.
If you did sign up on a website with your personal info, including your credit card data, look for advice on what to do after being phished, such as this Mental Floss article.
Check your email for letters about signing up for any services. Check your bank accounts. If payments have been taken, cancel the subscription and ask for refunds or ask your bank for advice.
Automatic Malware removal tools