Errx049.icu pop-ups are definitely not very pleasant to observe in your Mac. Their content can be quite frustrating, especially for those Mac users who do not realize that these are not genuine alerts from Apple. According to the analysis we have performed, errx049.icu alerts are solely the trouble for Mac systems, even though similar content may be displayed on Windows-supported browsers. First things first, we need to state that it is nothing more than a scam.

Errx049 Icu Virus Alert Scam Removal Mac quicklinks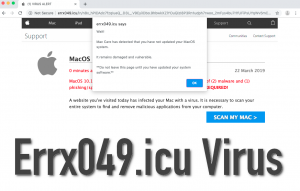 Errx049.icu misleading statements most likely are displayed through browsers when there is certain adware enabled in the system. In some cases an unwanted application may be traced in the Applications section of Macs and easily deleted, however, there are times when browsers are hijacked through certain add-ons (extensions) that may be responsible for such alerts.
In this article, we are going to tell you how to fix problems related to Errx049.icu virus alerts and clean your computer from malware that might be causing it. Also, we will teach you how to avoid similar infections in the future, so stay tuned. If you have any questions related to this infection or its' removal, feel free to ask them in the comments section below.
Malicious Features of Errx049.icu Virus Alert Scam
In our particular case errx049.icu pop-ups were seen in Google Chrome browser in Mac and the following scam was reported:
errx049.icu says:
Wait!
Mac Care has detected that you have not updated your MacOS system. It remains damaged and vulnerable.
Do not leave this page until you have updated your system software.
Needless to say, when users see this fake report about their Mac to be damaged and vulnerable it might be quite scary. The trick is that the pop-up suggests users click on "Scan my Mac" button. After some users mistakenly do that they will see the imitation of pseudo online scanning and soon afterward will be suggested to download and install some program that is promised to fix these leakages in system security. In our particular case, the program called MacRepair was suggested. There is no doubt that this MacRepair is nothing more than rogue application, such as Mac Security Plus or DriverHive. This is how they monetise those scam pop-ups – they get paid for every installation.
Speaking of errx049.icu pop-ups we can definitely mention that we condemn such methods of intrusive and even scary software promotion. There are many potentially unwanted programs which are now promoted through fake alerts like errx049.icu. Typically these are fake system optimization programs that were designed solely to force users into buying their so-called full versions, which are not really different from the trial ones.
As stated above, errx049.icu pop-ups may be produced by certain adware that may be enabled in your Mac right now. It is possible that this adware was bundled with some cost-free software that you might have installed lately, or as a result of you clicking on some suspicious link which could instruct you to perform some unwanted software updates or updates of Adobe Flash Player. Yet, after giving their permission to implement such updates users instead gave their consent to download certain adware that hijacked their Mac browsers.
Distribution Methods of Errx049.icu Infection
Partially summarizing the above-said information, it is of utmost importance that we always pay close attention to what free software we decide to install. It is very important that we take time to carefully read the installation guidelines, especially when dealing with free software downloaded from freeware resources that we are not really familiar.
Adware developers often use the method called "bundling" to force users to install various unwanted applications. Hence, it is very important that you thoroughly check what else is suggested for installation in addition to the main free application you have decided to install. So, if you do see any program that looks suspicious, make sure to switch to Advanced or Custom installation to uncheck this software from being implanted.
How To Remove Errx049.icu
Another reason explaining why errx049.icu pop-ups started to bombard your browser is the fact that your Mac was most likely not duly protected by existing security software. Some way or another, there were leaks in system security settings that permitted intrusion of adware into the system. So, if you have noticed that your Mac does not function as it should and experiencing slowdown or even freezes from time to time, it is a good idea to perform complete checkup of the system with reliable anti-virus software. Follow the guidelines below for more detailed information on how to fix your Mac properly.
Automatic Malware removal tools
TopRemoving Errx049.icu Virus Alert scam removal (Mac) from Safari (Mac OS X)
Click on the Safari menu.
Choose Preferences.

Click on the Extensions Tab.
Click on the Uninstall button near the Errx049.icu Virus Alert scam removal (Mac). Remove all other unknown or suspicious entries too. If you are not sure whether you need the extension or not, you can simply uncheck the Enable check-box to disable the extension temporarily.

Restart Safari.
(Optional) Reset your browser's settings
If you are still experiencing any issues related to Errx049.icu Virus Alert scam removal (Mac), reset the settings of your browser to its default settings.
Click on the Safari menu on the top left corner of the screen. Select Reset Safari.

Select which options you want to reset (usually all of them come preselected) and click on the Reset button.

If you cannot reset your browser settings and the problem persists, scan your system with an anti-malware program.