DriverHive might look like a useful and effective tool, but you should know that it is categorized as a rogue application. There are several reasons for that – all reliable anti-malware programs identify it as a possible threat to the security of your system, it is known for constantly delivering false positive results and might even infiltrate other potentially unwanted programs into your computer. There are more malicious features of this tool and we are going to talk about all of them, so please continue reading to learn more.

Driverhive Malware quicklinks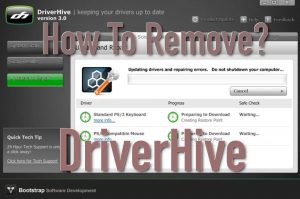 Also, we will tell you how to remove DriverHive virus if it is already inside of your system. It can be more complicated than it seems, so you might need some professional assistance. Also, feel free to ask any questions related to this topic in the comments section below.
Symptoms Of DriverHive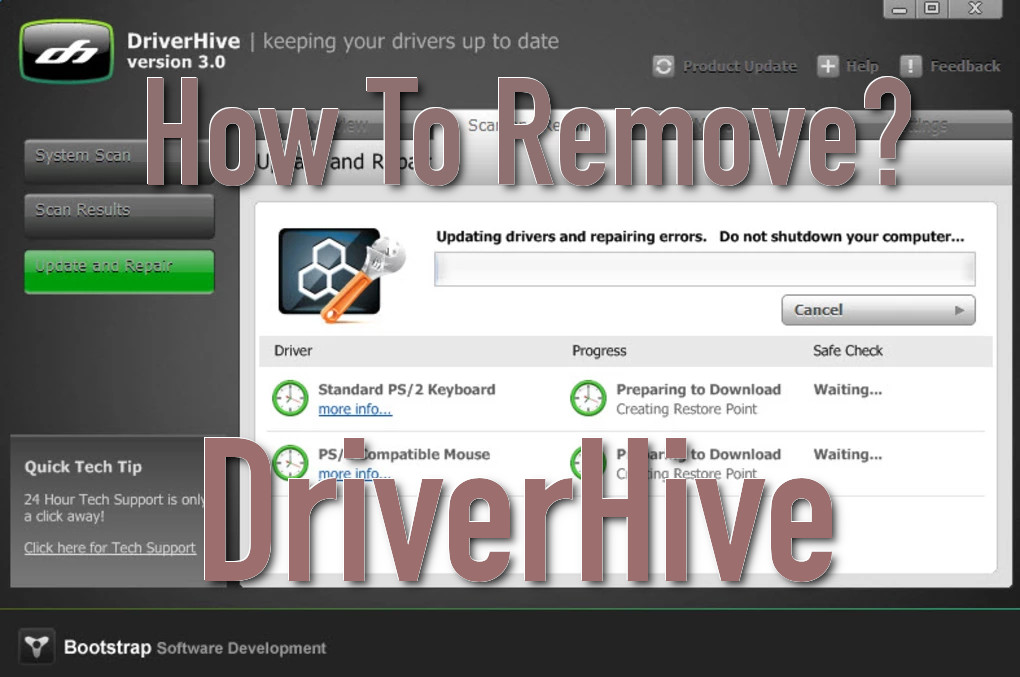 Obviously, the most common and notorious symptom of DriverHive is slower work of your computer. If your computer is infected with DriverHive, the infection will automatically initiate "DriverHive.exe" process and it will be running in the background all the time. This is also common to various crypto mining viruses, as they use resources of your computer to mine cryptocurrencies. However, in this case, DriverHive won't be taking a lot of the resources, but enough for you to feel that the system is slower in general.
Even though the program is described as a useful tool that can inform you about 'outdated or drivers that need to be fixed, it is not useful at all. Why? Because they always deliver false positive results and you will be forced to purchase a premium version of the program to get your computer "fixed". They claim that if you buy the premium version of DriverHive it will take care of your drivers and keep them up to date. That might be true, but aggressive and misleading actions by this software is definitely not a good way to sell the product. There might be nothing wrong with your drivers at all, but DriverHive will say that you need some help nonetheless.
In case you find this program to be honest and useful, it's still not worth the money. The price starts at $24.99 for the first year and then you will be billed $29.07 on an early basis. There are plenty of 'free that can do everything DriverHive does and more for free, so why should you pay for it? Take into account aggressive and even malicious actions of DriverHive while they force you to buy and there are no reasons you should pay for a program like this.
Also, we have mentioned that it might infiltrate other unwanted programs into your computer, so you should remove DriverHive from your system as soon as possible. We have analyzed similar infections in past, such as PC Repair PRO or Tapsnake and they all are not worth keeping.
How To Completely Eliminate DriverHive
Usually, users can get rid of unwanted applications by themselves, but we have noticed that there are a lot of complaints about the removal of DriverHive as users struggle to completely uninstall this program. Developers of DriverHive don't want you to do that so they intentionally create obstacles that would not let this program to be removed easily.
First of all, you should try a regular removal – just open the programs list on your control panel, detect DriverHive and run the uninstaller. If this method works, you are good to go. However, the uninstaller might crash or the malware can return shortly after the removal. In this case, you should perform a full scan with Spyhunter. Either one of those programs should easily detect and completely wipe out all files associated with DriverHive. It's definitely the best way to remove malware and unwanted programs. Also, it would be wise to keep one of those programs installed, as it can provide you with the top level security in the future.
If that's not enough, please take a look at the advanced removal instructions of DriverHive provided below the article.

Automatic Malware removal tools
How to remove DriverHive Malware using Windows Control Panel
Many hijackers and adware like
DriverHive Malware
install some of their components as regular Windows programs as well as additional software. This part of malware can be uninstalled from the Control Panel. To access it, do the following.
Start→Control Panel (older Windows) or press Windows Key→Search and enter Control Panel and then press Enter (Windows 8, Windows 10).
Choose Uninstall Program (if you don't see it, click in the upper right next to "View by" and select Category).
Go through the list of programs and select entries related to DriverHive Malware . You can click on "Name" or "Installed On" to reorder your programs and make DriverHive Malware easier to find.
Click the Uninstall button. If you're asked if you really want to remove the program, click Yes.
In many cases anti-malware programs are better at detecting related parasites, thus I recommend installing Spyhunter to identify other programs that might be a part of this infection.