IT specialists have noticed an encounter with another scam: Windows Activation Error Code: 0x44578. This exact venture attempts to lure money out of users' pockets in a very disrupting manner since owners of infected devices noted to be unable to launch their systems properly. Users indicated to startup their computers and tried to access their accounts like they normally do without any hitches. However, since a computer became jeopardized by a virus, this process was interrupted by a notification window, blocking all sorts of interaction with the system.
About Windows Activation Error Code: 0x44578
Since users cannot access their devices and immediately get help from an antivirus tool, Windows Activation Error Code: 0x44578 is not going to be easy to crack. This is definitely a challenging threat and shady programmers are very well aware that users tend to turn to the closest (but not always the wisest) solution.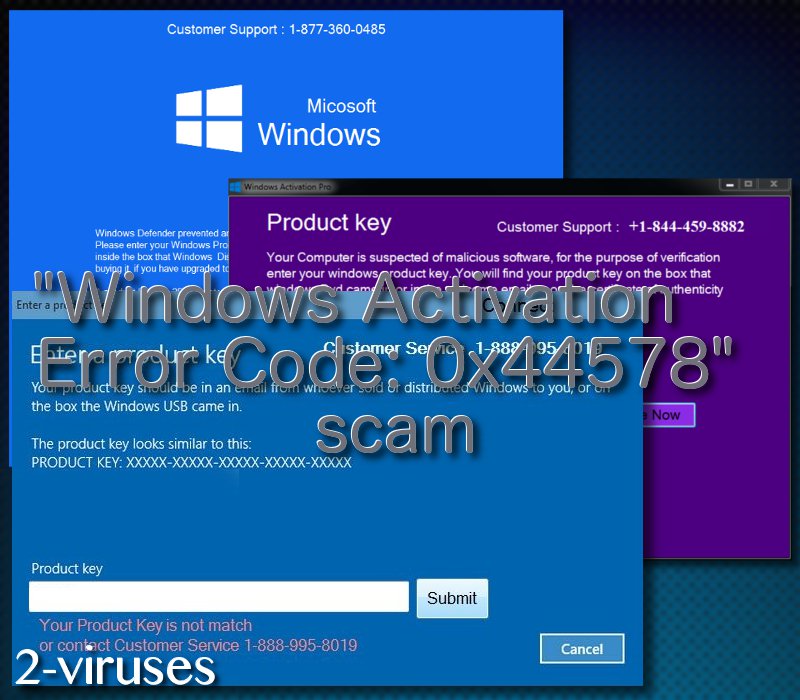 Crooks have designed this deceptive scam so more people would be encouraged to call rogue helplines and engage in a conversation with people, going out of their way to advertise low-quality products. The numbers provided by this fake technical notification are either 1-888-995-8019, (888) 524-0577 or 1-888-414-4284.
If you call them and explain the unfortunate situation, they pretend to feel sympathetic and talk in a very benevolent manner. Do not expect to get proper assistance from these "consultants": they are shady and not worthy of your trust. How will these crooks explain the reason behind Windows Activation Error Code: 0x44578? Well, they are going to briefly indicate that your Windows Product Key is null and void.
To escape this situation, rogue security consultants will suggest you to buy a new one just for 99.99 dollars. Legitimate IT specialists cannot stress enough that infected victims should never drown in desperation and call the provided toll-free numbers. Such decision is not only ill-considered, but can also lead you to throwing money away for a problem that could have been fixed with a more sensible solution.
Distribution Methods of Windows Activation Error Code: 0x44578
Windows Activation Error Code: 0x44578 might have become a threat after your poor online habits finally proved themselves to be inappropriate. First of all, regular visitation to domains of ill-repute can lead to various infections. Pornographic or gambling content, rogue lotteries and other shady material is often spiced up with executables of malicious applications that can get stealthily installed into users computers. Drive-by download is a high-risk concern since programs or files get pushed inside devices without proper authorization from the user. Another scenario, leading to an infection, is that users opened a spam letter and downloaded an attachment inside. This might have also been a very hazardous file. Bundling is another a possibility to get infected with precarious viruses.
You might wonder how you should successfully escape this Windows Activation Error Code: 0x44578 lock screen? First of all, follow our instructions here and reboot your computer into a Safe Mode. Then utilize Spyhunter or Malwarebytes to run a full security scan and eliminate all of the detected threats.
Automatic Malware removal tools