DriverUpdate scanner, better known as just DriverUpdate, is a potentially unwanted application that spreads using shady methods, installs without proper authorization permission and exaggerates issue warnings just to make the user buy the full version of a product. Not to mention the hard time this rogue application gives once the user tries to remove it from their PC.
Driverupdate Pup quicklinks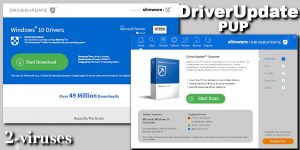 DriverUpdate is a program developed and distributed by an infamous SlimWare company, which has tons of other similar products, such as SlimCleaner Plus, SlimWare Antivirus, Slimware PremiumSupport, which are also known of their questionable behavior and users having trouble uninstalling them. At first, just judging from its appearance, DriverUpdate appears to be an actually useful program, just like other company's tools, but after our research, we ensure that this is only a cover to create a false sense of security and trust, which later is abused to get money out of you.
Shouldiremoveit.com reports that DriverUpdate is mostly affecting users from the US and UK and is kept by 56% of the people, therefore the 2-viruses team decided to explain more about the behavior of DriverUpdate PUP, the risks that you take when using it and helpful tips on how to completely delete it from your computer, so that more users would remove this software.
DriverUpdate is a typical low-quality utility software that pretends to detect serious problems on your PC and then charges money to solve them. It's safest to delete it:
Classification

PUP (potentially unwanted program)

Symptoms

More ads online
Slower PC startup
Frequent pop-ups and reminders about outdated drivers
Other utility software gets installed
Can't remove DriverUpdate

Distribution

Bundlers — programs that come with unwanted software
Deceptive ads

Remove DriverUpdate

Remove malware components using anti-malware programs, like SpyHunter
Manually uninstall DriverUpdate using the Control Panel
Is Driver Update a virus
Many users that end up with DriverUpdate application, whether it is voluntary install or a consequence of irresponsible behavior online, soon enough start to question this program. While it seems like a typical system optimizer/driver updater, it demonstrates some inappropriate behavior, such as an increased amount of ads, constant reminders of a vast amount of out-of-date drivers (despite system working perfectly fine – old drivers aren't necessarily a problem), a slower system and the reappearance of the program after uninstalling it. So do these characteristics make DriverUpdate a virus? (The only safe way to update your drivers)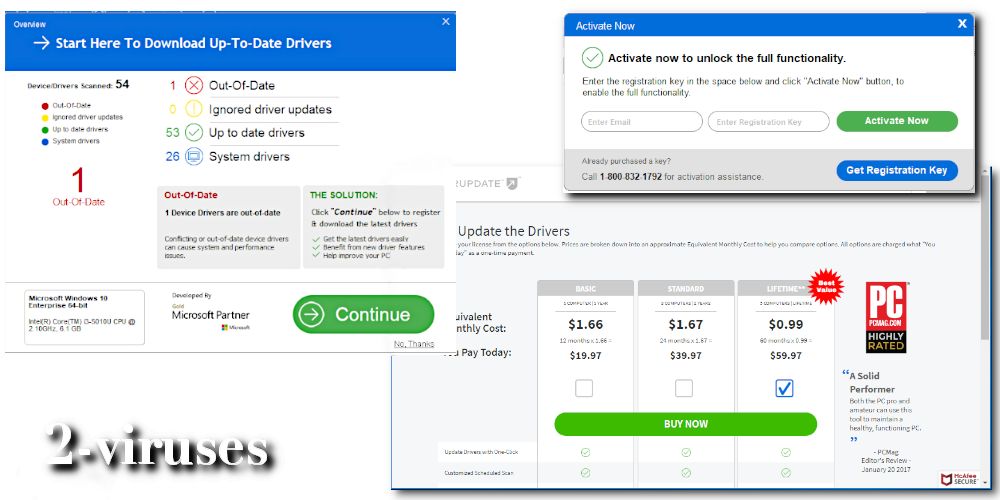 To make a long story short, no, DriverUpdate is not a virus, yet it can be indirectly malicious. The better category that describes this application is a PUP (potentially unwanted program). DriverUpdate's main concerning feature is that it tries to benefit from victims by presenting not completely truthful scan results, which, in order to be fixed, require the purchase of a full program. Even though this model of offering a free scan but a paid service is popular amongst legitimate software, Slimware slightly abuses it and makes sure to find errors even where they don't exist. Plus, the program being difficult to uninstall for so many people is totally unethical.
Gullible users believe that their device drivers need urgent updates (they rarely do) and decide to pay for DriverUpdate's service because it seems that this program can fix all of them. If the victim doesn't proceed with the payment, Slimware's tool makes sure to remind you of the errors constantly, interrupting work on the PC. In addition to that, DriverUpdate's installer comes with another product called SlimCleaner Plus, which works in the same principle, just as a system management tool. This behavior is also seen in One System Care, PC Repair PRO, Win Tonic and etc.
What needs to be mentioned is that DriverUpdate PUP and other Slimware programs allow third-party marketing and gather some data about its users. This is what not only enables other malware to come into an already vulnerable system because of the unregulated malvertising but also puts your personal and non-personal information at risk of being shared and misused. Typically, PUPs collect browsing history, credentials, location, age and etc. for the statistics, which can be sold to marketing companies and used to improve targeted advertising, but you can never know what will happen to more sensitive data, especially if you use online banking, log in to various accounts, or purchase items with credit card on your infected PC.
In order to avoid any legal issues, Slimware mentions all of their inappropriate actions adding a claim that they are not responsible for harming your PC, which might come from third-party ads. This is a clear indication that the DriverUpdate program, that asks for at least $19.97 per year, is not worth any money – it just shows false-positive results, increases the risk of virtual virus infection, in addition, gathers information about you. We suggest that the best option for you now is to remove DriverUpdate PUP as soon as it appears on your computer.
How did DriverUpdate PUP install on your PC
According to a Virustotal.com scan, the DriverUpdate installer is well recognized by antivirus programs as malicious, therefore disseminating only by self-advertising online isn't the most effective method. Users who are not using any cybersecurity protection might be able to get the product from their official site without a problem, but those who do have the below listed anti-spyware are infected in a bit different technique – bundling. If DriverUpdate appeared on your computer suddenly and you cannot remember installing this program, then it might have set up without your permission with some other software. (How cyber criminals spread malware)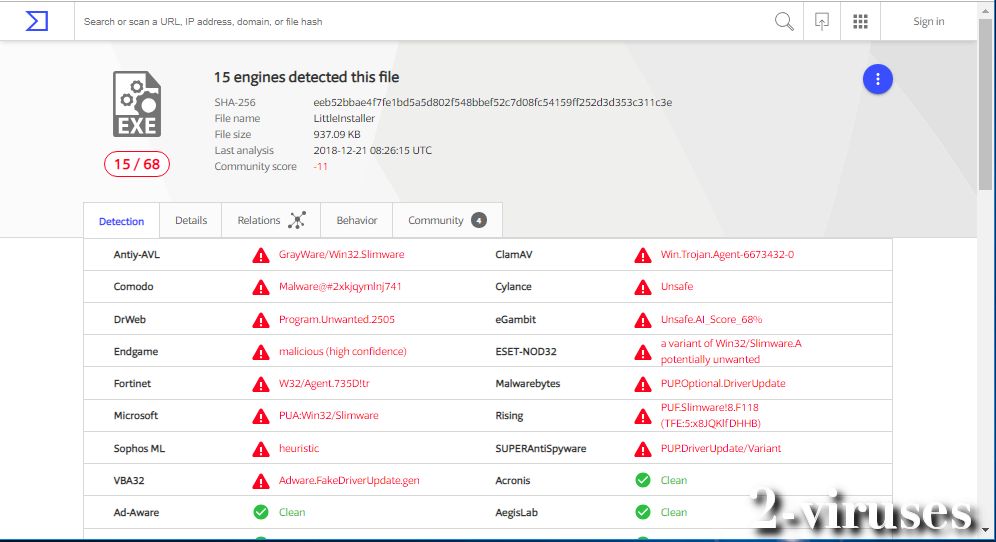 Usually P2P networks, freeware sites compile malware with popular programs and add them as an additional application to install unless the user chooses differently. There is a possibility to opt-out from DriverUpdate installation and other malware by running a Setup Wizard in a Custom/Advanced mode, yet some installers don't allow this function. In addition to that, our researchers noticed that a link to the main installer on DriverUpdate.net or Slimware.com came from redirecting links from sites such as tomsguide.com, dobreprogramy.pl, swiftviz.net, commentcamarche.net and etc. That doesn't mean that the mentioned sites are malicious, they simply can be allowing third-party network ads on their site, which you should be careful about – deceptive ads sometimes use fake virus warnings to trick people into downloading software they don't need.
How to remove DriverUpdate
DriverUpdate potentially unwanted program can demonstrate very different levels of persistence depending on the variant that got inside your computer. Typically it is harder to remove programs which sneaked in without a notice instead of those that were installed voluntarily but that is also debatable. Below you will find manual instructions on how to delete DriverUpdate PUP from your PC by simply uninstalling it from Control Panel, yet it that seems not to be working and the application eventually comes back, which means that you need serious help from more sophisticated software like Malwarebytes or Spyhunter.
Despite tons of great security tools, we trust the above-mentioned ones the most, because of their sophisticated detection and elimination skills, large virus databases and the respect gained over the years. Simply run a thorough system scan with either of them and follow the provided instructions in order to remove all harmful files of DriverUpdate.
Automatic Malware removal tools
How to remove DriverUpdate PUP using Windows Control Panel
Many hijackers and adware like
DriverUpdate PUP
install some of their components as regular Windows programs as well as additional software. This part of malware can be uninstalled from the Control Panel. To access it, do the following.
Start→Control Panel (older Windows) or press Windows Key→Search and enter Control Panel and then press Enter (Windows 8, Windows 10).
Choose Uninstall Program (if you don't see it, click in the upper right next to "View by" and select Category).
Go through the list of programs and select entries related to DriverUpdate PUP . You can click on "Name" or "Installed On" to reorder your programs and make DriverUpdate PUP easier to find.
Click the Uninstall button. If you're asked if you really want to remove the program, click Yes.
In many cases anti-malware programs are better at detecting related parasites, thus I recommend installing Spyhunter to identify other programs that might be a part of this infection.