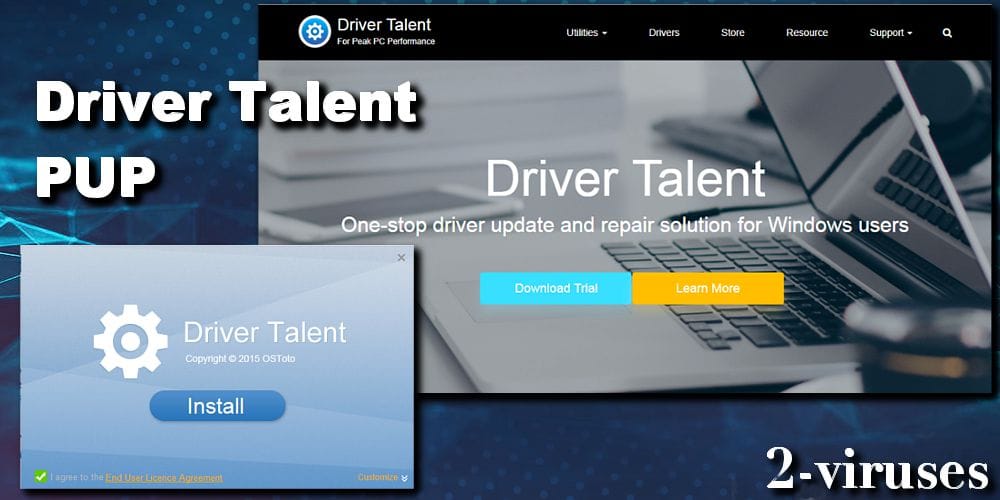 You may know Driver Talent as a helpful program that allows you to manage drivers all in one place the way you desire – reinstall, uninstall, restore and backup or etc. It claims to be free, but in reality, it tries to push the PRO version for $19.95 as much as they can, often exaggerating the findings. What is more, it spreads rather unusual for a legitimate program and claims in their Privacy Policy that some client data tracking and online marketing might be possible. 
Driver Talent quicklinks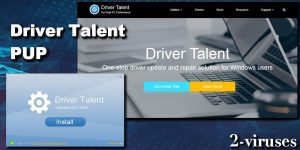 At the moment Driver Talent mostly is affecting users from the United States, India, the United Kingdom, Brazil, Canada, and the Netherlands and for some reason, it does not cause much suspicion because only 1% of people tend to uninstall this product voluntarily, as the Shouldiremoveit.com reports. Some antivirus programs do mark it as malicious and tell users to get rid of it, however not all do. In this post, we'll disclose our honest research results about Driver Talent and if it's safe to use, therefore keep on reading to find everything out about the Driver Talent, methods to remove it as well, before you even consider to get a full paid version. 
Is 
Driver Talent malicious
Truthfully, Driver Talent is not malicious as other malware, yet it demonstrates some features which are pretty shady and should not be noticed in an official software which works with such an important part of the computer – drivers. This product is developed by a Hong Kong company named Shenzhen DriveTheLife Software Technology Co.Ltd (also known as OSToto) which has other similar products for Windows on their website. Professional looking design, marketing techniques, and special offers create an illusion that Driver Talent along with other programs are developed by cyber specialists and are worth every penny, unfortunately, they are no better than PC Repair PRO, Mac Cleanup Pro, WinZip Driver Updater dubious applications.
The first suspicious questionable fact is that the price for Driver Talent PUP is different on both official sites, one sells it for $19.95, while another one offers the same deal for $12.95. It would be understandable if such difference would be on different sites, or with a special discount, yet it seems that developers really want to make a profit without setting a real value on their product. On top of that, on some freeware sites, you can find Driver Talent for $16.95. 
Talking about the costs, Driver Talent advertises itself as a free driver optimization tool, however, once the scan is done and it shows you what is needed for your PC to work efficiently, you are only allowed to update a limited amount of drivers for free. If you want to fix all the issues, you are required to get a full paid PRO version. Some users claimed that they were able to update/delete only one driver without payment, which almost nothing. Despite the premium version costs being low, it is wrong for a program to spread around and lure in people offering free service, while later pushing them to pay. That is a very common technique in rogue applications. 
This driver utility software seems to have really great reviews, but if you take a closer look, they seem to be fabricated and with tons of grammar mistakes, repetitive and etc. Amongst some of them, you can find real ones that are opening about their experiences which were not as great. For example, one user said that he was never able to get a refund back after seeing how inefficient the full Driver Talent program was, and some said that the program installed an Apusx.com browser hijacker as well (we are guessing the installer came bundled from the shareware site).
If that is not enough for you to want to remove this software, you should read Driver Talent's Privacy Policy which claims that their users' data is tracked and later used for various purposes, marketing included. That is kind of normal nowadays, except that Driver Talent is not ashamed to admit that they will definitely use more than just the typical data, but your photo, number, location, credit card info, mailing address and etc. That is why we really recommend to get this program out from your PC, as soon as you can. 
How does 
Driver Talent spread
Driver Talent's dissemination is as ambiguous as some of its behavior. The creators OSToto have an official site created for their products where charmed users can easily find Driver Talent program and download it with no problems, just like any legitimate software. According to the SimilarWeb.com, this web page gets close to one million visitors per month, which is rather impressive for such a simple and specific third-party product for Windows. But traffic also comes from other resources as well, which, we are sure, Driver Talent developers are not so proud of.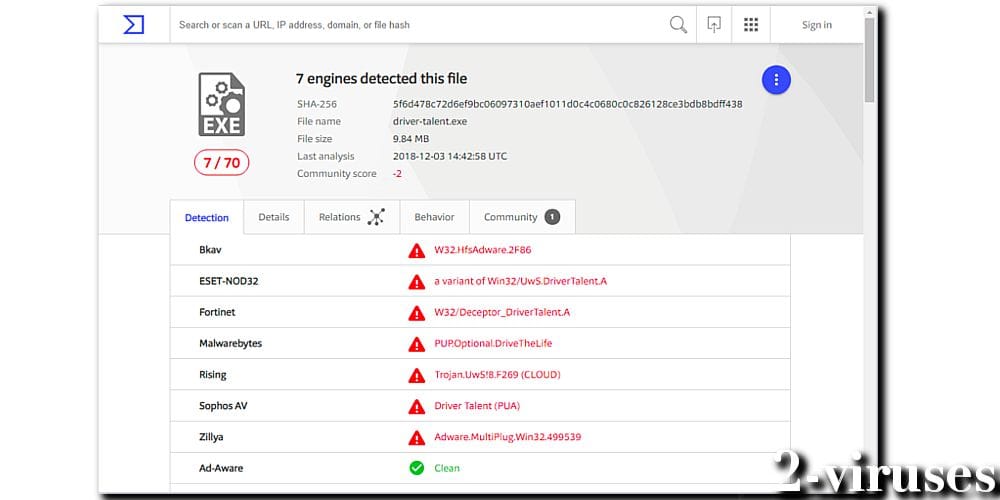 Driver Talent unwanted program disseminates through malicious links, which users end up on after browsing the net and clicking on various hyperlinks hidden under banners, highlighted words, ads, eye-catching news and etc. Depending on the link, and applied scripts, either the victim gets redirected to PUP's installation page or the installer named 'driver-talent.exe' will initiate automatically entering your Windows with no prior permission asking. As well as this, there are many sites (Freeware distributors included) which advertise Driver Talent as a great tool to update the drivers, however, they most likely are just trying to earn some revenue from affiliate link and Pay-per-click/view/download. Of course, if you have a sophisticated antivirus, most likely it's going to block this program from entering or installing. 
How to get rid of 
Driver Talent PUP
Since Driver Talent is not fully a virus, it tends to be less persistent, therefore you should be able to find the 'Uninstall' button in your Control Panel. If you are having problems finding this section of your computer, simply follow our detailed instructions added below to make things move quicker. If for some reason this manual Driver Talent removal method does not work and you cannot find its icon, then there is another a quick solution – Malwarebytes anti-spyware. This malware removal tool easily detects Driver Talent and other PUPs or different kinds of viruses and removes them fully with all related malicious files. 
If you succeeded by uninstalling the unwanted program with no additional security tool, we still advise running a free full system scan with either Malwarebytes or Spyhunter just to make sure that the software is completely gone and no other viruses are still inside your computer. Lastly after such program elimination, it is healthy for your machine if you take care of junk files, which probably accumulated over time.
Automatic Malware removal tools
How to remove Driver Talent using Windows Control Panel
Many hijackers and adware like
Driver Talent
install some of their components as regular Windows programs as well as additional software. This part of malware can be uninstalled from the Control Panel. To access it, do the following.
Start→Control Panel (older Windows) or press Windows Key→Search and enter Control Panel and then press Enter (Windows 8, Windows 10).
Choose Uninstall Program (if you don't see it, click in the upper right next to "View by" and select Category).
Go through the list of programs and select entries related to Driver Talent . You can click on "Name" or "Installed On" to reorder your programs and make Driver Talent  easier to find.
Click the Uninstall button. If you're asked if you really want to remove the program, click Yes.
In many cases anti-malware programs are better at detecting related parasites, thus I recommend installing Spyhunter to identify other programs that might be a part of this infection.