Degreefinger.club is a malicious site that sometimes lets people pirate software, but often tricks them to download malware in the form of fake software updates. It's dangerous to download anything from Degreefinger.club if you don't want your device to get infected. If you just encountered Degreefinger.club, it's good enough to just close the site – it won't harm you. But clicking the buttons to "Download file" and "Open file" could bring malware on your computer.
Degreefinger Club Malware Downloads quicklinks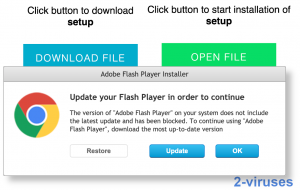 In short about Degreefinger.club:
Type of threat
Trojan,

adware.

Distribution
 Mac game pirating sites,

websites for downloading cracks and key generators,

other malicious sites.

What Degreefinger.club downloads
Adware downloaders,

bundlore,

malicious browser extensions,

cryptocurrency-stealing malware.

Remove Degreefinger.club malware
Scan your computer and delete malicious files (Combo Cleaner for Mac, Spyhunter for PC, etc.),

close fake Flash Update windows,

avoid pirating.
Dangers of Degreefinger.club
Fake Flash Player updates
Degreefinger.club can be used to download cracks, activated installers, and other illegal files. But it also redirects visitors to an Amazonaws.com site. Amazonaws.com is legitimate, but cybercriminals do take advantage of it pretty often. Degreefinger.club's redirect site then says this:
Update your Flash Player in order to continue

The version of "Adobe Flash Player" on your system does not include the latest update and has been blocked. To continue using "Adobe Flash Player", download the most up-to-date version.
Flash Player's name has long been used by multiple scams. And they still work at tricking people, despite many of us not even having the real Flash Player on our computers. Adobe won't support Flash Player starting next year and already you can browse the web perfectly well without it.
Before redirecting the visitors, Degreefinger.club shows file download buttons. Clicking those redirects to the fake Flash update prompt, which downloads malware. This type of malware delivery classifies as Trojan.
Malicious downloads
The files downloaded from Degreefinger.club can be dangerous because of how often malware is bundled with pirated files. You may think you're just getting a free version of this or that program, but then pop-up ads start appearing and your default search engine changes all of a sudden.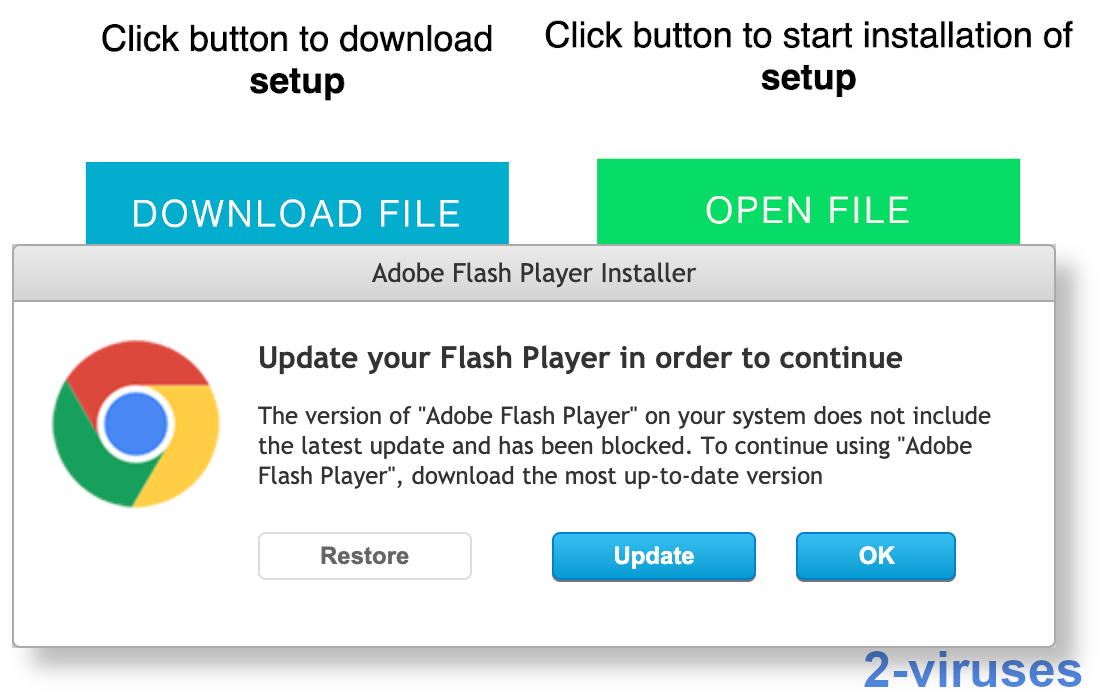 We know that fake Flash updates are used to spread adware trojans. I looked at the site that Degreefinger.club opens and found a few fake Flash installers – here's a Zip file, here's an Exe. As you can see, antivirus programs detect them as adware.
Malicious adware programs can hijack your browser, spam you with pop-up, read your search history, even your usernames and passwords. Adware can result in more malware infections.
It's good to scan any new installers that you have doubts about before running them. Of course, cracks and modified installers can be detected automatically by antivirus programs despite not being dangerous. That's why it's important to read the detection names and see what exactly the problem with a file really is.
How does it spread?
One notable method is people looking for a crack for a commercial application. Pirating sites are notorious for spreading malware, so it's not unusual that sites that offer cracking tools and keys try to infect your computer. People do expect to be downloading files from these sites, so Degreefinger.club's phishing with its fake download buttons works pretty well.
Not excepted are those looking for Mac games. A few sites that offer "activated" popular games actually open Degreefinger.club, Creditcable.info, and similar malicious websites.
Degreefinger.club's pop-ups can appear when trying to download a specific file, or when simply browsing the pirating sites. They can even appear in place of the site thanks to immediate redirects.
The reason why such dangerous ads are allowed to appear on those sites is that the sites are not legal. Advertisers who care about their reputation don't want to work with them. Thus, illegal sites will usually have illegal ads. And many illegal ads contain malware.
Degreefinger.club is related to a bunch of randomly named sites like Feeling.windowdecision.club, Scarecrowcough.website, and Grandfather.steamcows.website. These names are going to be hard to google since their names are just random nouns. These sites redirect from each other to each other and you may find them in your browser's history.
How to stop Degreefinger.club malware
As Degreefinger.club leads to downloading malicious files, it's recommended to scan your computer with an anti-malware program. Combo Cleaner for macOS, Spyhunter for Windows, and other reputable programs can find malware. Even if you trust a file, if it infected your computer with adware, delete it. Otherwise, you might re-infect your device.
Consider using safer ways to obtain software. Use an antivirus program that has real-time protection and can block malicious webpages. Immediately close sites that tell you to install programs, apps, and browser extensions to access online content. And scan downloaded files before running them.
Automatic Malware removal tools