Critical Warning Locker quicklinks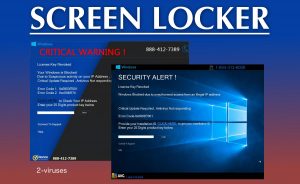 If you find that you cannot access your PC because a "Critical warning" is telling you that your license key has been revoked due to illegal IP, this means two things: first, this warning is fake, your Windows license has not been revoked, and your IP is fine; second, your computer is infected with a virus.
"Critical warning" is a screen locker that displays a fake security warning to scare people into contacting the cybercriminals, like technical support scams do.   This is not a very sophisticated or dangerous virus when compared to other malware out there, but it can be frustrating to deal with. Like most malware out there, the ultimate goal of the "Critical warning" locker is to profit form people who are tricked into contacting the cybercriminals.
About the "Critical warning" locker
CRITICAL WARNING!
License Key Revoked
Your Windows is Blocked
Due to Suspicious activity on your IP address , Multiple Illegal IP Traced
Critical Update Required , Antivirus Not responding
Error Code 1. 0x0803f7001
Error Code 2. 0xc004f074
CLICK HERE to Check Your IP Address
Enter your 25 Digits product key below
With a phone number "888-412-7389" and the Norton logo — their logo is just being used to gain the trust of the victims of this locker, Norton has nothing to do with this. The other, very similar "Security alert" screen locker has almost the same text, though the phone number is different — "1-844-313-6006". The AVG logo is used here, even though AVG has nothing to do with "Critical warning".
Are "Critical warning" and "Security alert" dangerous?
These screen lockers are not as destructive as something like a banking Trojan, or crypto ransomware. However, they could still result in loss of money, stolen personal information, and loss of files on the computer.
Some PC users might call the numbers provided by "Critical warning" and "Security alert" lock screens. Tech support scammers can be persuasive, tricking the victim into believing that they represent some large tech company. Sometimes this can end with the criminals being given full access to the infected computer (including all the files with personal information), or getting money in exchange for fake services. Scams like this are illegal, people have been arrested for it.
The unlock key
Although the screen asks for your Windows product key, the actual way to unlock "Critical warning" and "Security alert" lockers is to type in something like
00000-Z0006-000B1-00000-000N0
As found by @demonslay335.
How malware is distributed
Think about how the "Critical warning" locker found its way to your computer. Be aware of it in the future so that you can avoid installing even nastier malware (like encrypting ransomware). Be sceptical of ads online, as well as emails from unknown senders.
Malicious ads that lead to infected websites and links. Malicious ads and can be fake security warnings ("Your Windows has 50 viruses!" or something like that), lottery winnings, offers to make hundreds of dollars a day. A lot of those ads are ultimately scams — just like the "Critical warning" locker is one.
Emails with infected attachments and links. They usually come with messages about bills and invoices, and important documents that need to be read immediately. Email spam is one of the most popular ways to distribute ransomware.
Freeware bundling. Free software sometimes includes additional applications in their installation. A lot of these applications are harmless bloatware, but others are more malicious and require the help of antivirus to remove.
Files downloaded from unreliable sources. Some malicious people disguise malware as some trustworthy file or program to encourage people to download it, when they're actually distributing malware.
Infected hardware. If you find a lost USB drive, it's only natural to want to return it, so we plug it in to look for some information to help identify the owner. And cybercriminals abuse the kind behaviour to infect people's computers by intentionally leaving infected USB drives lying around. It's a declining risk, but still worth mentioning.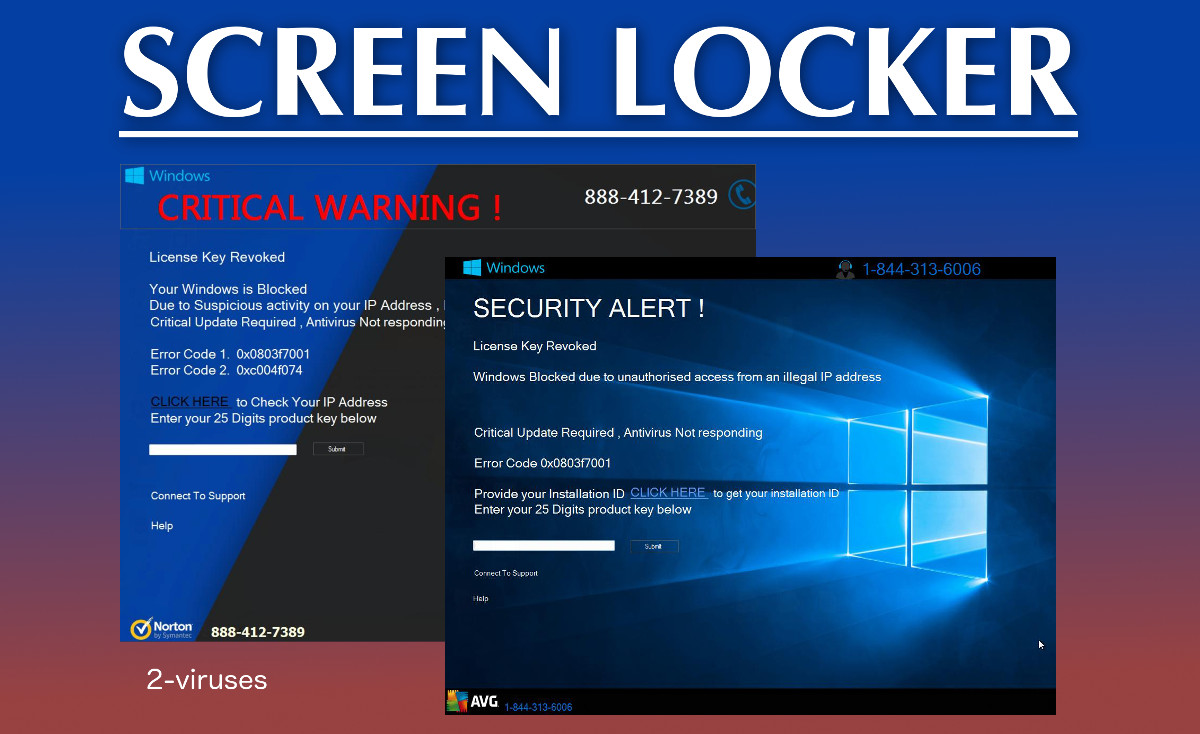 How to get rid of the "Critical warning" locker
A guide about screen lockers in general, and how to unlock the screen manually.
You can also try to input the key 00000-Z0006-000B1-00000-000N0.
When you regain access to the computer, as soon as possible, scan your machine with an antivirus program like Spyhunter, or another trusted antivirus application. Remove the malware manually, or let the antivirus do it.
Automatic Malware removal tools
How to remove "Critical Warning" locker using Windows Control Panel
Many hijackers and adware like
"Critical Warning" locker
install some of their components as regular Windows programs as well as additional software. This part of malware can be uninstalled from the Control Panel. To access it, do the following.
Start→Control Panel (older Windows) or press Windows Key→Search and enter Control Panel and then press Enter (Windows 8, Windows 10).
Choose Uninstall Program (if you don't see it, click in the upper right next to "View by" and select Category).
Go through the list of programs and select entries related to "Critical Warning" locker . You can click on "Name" or "Installed On" to reorder your programs and make "Critical Warning" locker easier to find.
Click the Uninstall button. If you're asked if you really want to remove the program, click Yes.
In many cases anti-malware programs are better at detecting related parasites, thus I recommend installing Spyhunter to identify other programs that might be a part of this infection.