From time to time each of use come around to a website that is trying to scam us. Coperanking999.today is exactly that type of website – the one and only purpose of it is to scam people and lure money. In fact, it is a pretty decent attempt to do that and we believe that many users might fall for this trick, thus a need to inform and warn our users is obvious.
Actually, this website Coperanking999.today can not be categorised as a computer virus itself – it's just a single web page hosted by cyber criminals to trick users and can't cause any damage to your computer if you simply close it. However, if you follow instructions given on this website, you might end up losing your money or your computer can get infected with various malware.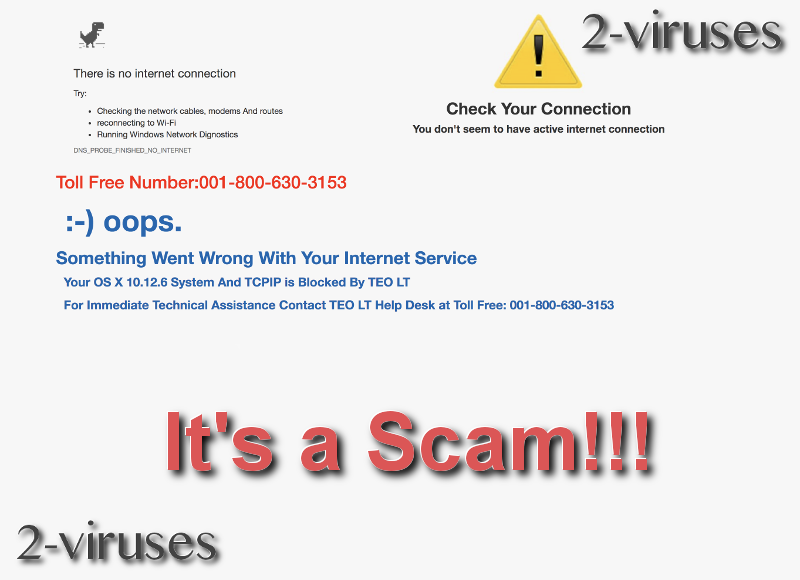 Operating methods of Coperanking999.today scam
In case you are thinking why are you seeing this website, there are two possible answers – either the website you are visiting is paid to display this message to you or it has been hacked. Either way, you should know that your computer is not infected yet – it's all about websites that you are visiting.
This message will appear as a new tab or new window website and "warn" you about some problems with your Internet connection. Original text of the warning message:
There is no internet connection:
Try:

Checking the network cables, modems And routes
reconnecting to Wi-Fi
Running Windows Network Dignostics

Checking the network cables, modems And routes
reconnecting to Wi-Fi
Running Windows Network Dignostics

Toll Free Number:001-800-630-3153
🙂 oops.
Something Went Wrong With Your Internet Service
Your ****** System And TCPIP is Blocked By ****
For Immediate Technical Assistance Contact [your Internet provider name] Help Desk at Toll Free: 001-800-630-3153
As you can see, people behind this scam campaign are trying to convince you that something is wrong with your Internet connection and you should contact this toll free number 001-800-630-3153. In fact, this number is categorised as scam number, used to steal money, so it's a clear sign that you should not call it.
Cyber criminals employed original "No Internet" message from Google Chrome web browser, to make it look more convincing: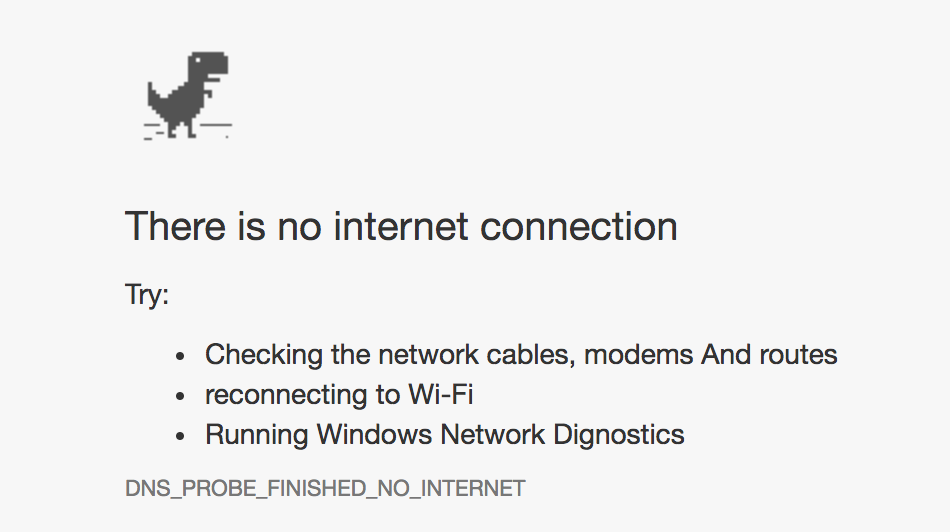 They also identify operating system you are running and your Internet provider name, thus users with lack of knowledge in cyber security field can fall for this trick easily. If you do call that number, most probably you will be asked to pay for "tech support" that you will receive or install some kind of software into your computer. This "support" might also attempt to take control over your system remotely, to solve those problems and infiltrate malware or potentially unwanted programs this way.
We have seen spam campaigns like this in the past, such as "The Mercury Text Font Was Not Found" or "The needed font wasn't found" scam and they all just try to make you call some kind of phone number.
Prevention of scam attempts like this is plain simple – just don't follow any instructions that sounds fishy to you and came out of nowhere. Always use Google to confirm information and look for respectful sources to tell whether you should do something or no.
Automatic Malware removal tools
Manual removal