"The needed font wasn't found" scam is a fraudulent message, stating that a web page users are trying to reach is displayed incorrectly. The issue is explained to have occurred because "Chrome Font Pack" is obsolete. In order to fix the problem, the pop-up states that people have to install the "Enhanced Search Engine". In the past, we have reviewed more than one similar scam: "The Roboto Condensed font was not found" is one of the fraudulent notifications that distributed malware. Security researchers are frequently warning people about these font-related hoaxes (Beware! Dont Fall For Font Wasnt Found Google Chrome Malware Scam).
"The needed font wasn't found" fake alert can infect people with malware infections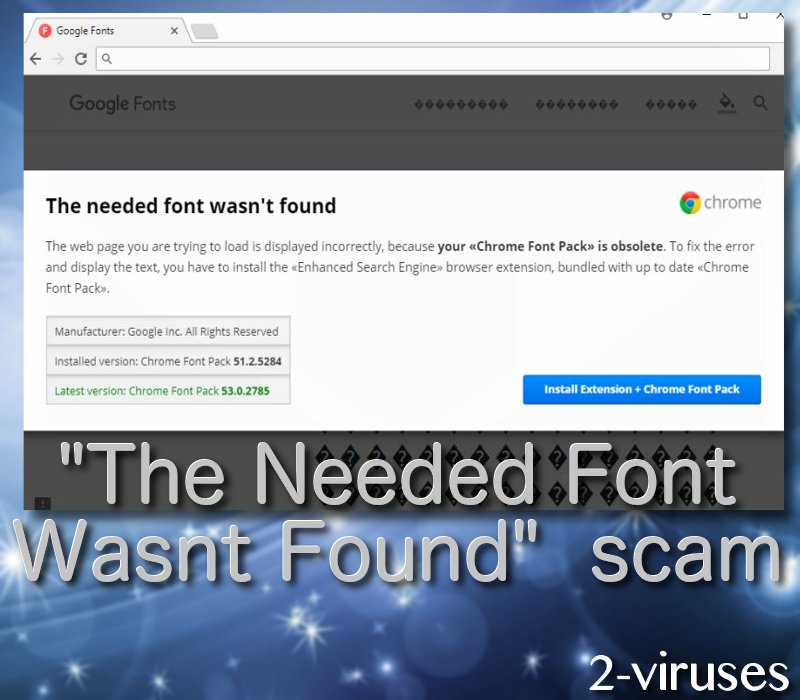 "The needed font wasn't found" fake message should be treated the same as "The Mercury Text Font Was Not Found". In some cases, even devastating ransomware viruses are being delivered via these pop-ups. One of the most notorious examples is the "HoeflerText" notification which was considered capable of delivering Locky crypto-malware (Font Not Found Message In Firefox Could Carry Nasty Malware).
Why is "The needed font wasn't found" scam displayed on your screen? There might be a couple of reasons behind its appearance. First of all, your computer might be infected with an ad-based application which is generating this infectious message. However, you could be visiting a domain which is affected by malicious JavaScripts (causing the display of this scam).
In some cases, after people install Chrome Font Pack from "The needed font wasn't found" rogue message, their operating systems become severely damaged. For instance, NetSupport Manager Remote Access Tool could be implanted into devices. For this reason, hackers might receive remote access to operating systems and initiate commands (How do computer hackers get inside a computer?).
Users should try to avoid potentially dangerous programs and never interact with suspicious pop-ups. "The needed font wasn't found" scam and similar preceding messages are pretty well known; therefore, we hope that barely any people will be convinced to download the malicious Chrome extension.
Various types of malware infection could arrive into devices from "The needed font wasn't found" virus. It could be ransomware, it could be adware, but it also could be spyware. This means that an unknown third-party will be able to record your sessions, monitor online activities, steal credentials, install key loggers and do all sorts of other damage (What is Spyware?).
Even though the text does not render and you are being presented with a solution from "The needed font wasn't found" pop-up, you should think rationally. Security researchers are constantly warning people about third-party ads. Bear in mind that majority of the online adverts (especially the ones automatically opened) could be involved in deceptive strategies and fraud.
How can people keep their devices malware-free?
If you should learn one thing from this article, it is that you are discouraged from interacting with random online ads. They might be malware-laden and lead users to websites that are operated by hackers. If you notice a suspicious ad, close it immediately. However, if adware has already slithered into your device, this will mean that you have to clean your system in order to prevent ads from appearing.
Install Reimage and find out everything there is to know about your device. If this tool detects some disturbing content, it will provide a quick and easy fix. Adware parasites can also travel with other freeware tools. To avoid redundant applications, we suggest you to select advanced/custom modes for every setup you launch.
If you do not follow this recommendation, your device could accept many potentially unwanted programs (PUPs). Bear in mind that you should avoid websites by unknown third-parties. If a suspicious text message is featured in a legitimate website, this does not mean that the ad becomes 100% secure. Even respectable domains can get hacked and severely affected by JavaScripts.
It is unknown which program is currently generating this message. We provide you with instructions that might help. However, it would be best to run a full security scan.
How to remove "The needed font wasn't found" scam using Windows Control Panel
Many hijackers and adware like
"The needed font wasn't found" scam
install some of their components as regular windows programs as well as additional software. This part of malware can be uninstalled from Control Panel. To access it, do the following.
Start→Control Panel (older Windows) or press Windows Key→Search and enter Control Panel (Windows 8);

Choose Uninstall Program;

Go through a list of programs and select entries related to "The needed font wasn't found" scam .

Click uninstall button.

This method will not remove some of browser plugins therefore proceed to the next part of the removal guide.
Removing "The needed font wasn't found" scam from your browsers
Automatic "The needed font wasn't found" scam removal tools
We might be affiliated with some of these programs. Full information is available in disclosure
About the author