CompuClever PC TuneUp Pro is a PC optimizer program that promises to enhance a computer's performance, reduce errors, and offer support. It's for Windows PCs and is very similar to PC TuneUp Maestro — made by the same company and distributed on the same website. So, though this post is about Pro, a lot of criticisms of Pro apply to Maestro, too.
Compuclever Pc Tuneup Pro quicklinks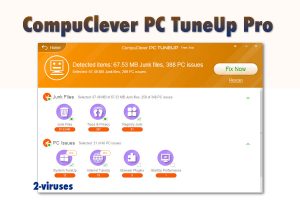 CompuClever PC TuneUp Pro is promoted as a useful program with a long list of practical features. Apparently, it can remove junk files, speed up the disk by defragmenting it, manage Windows Startup items, even manage Windows updates. However, these functions of PC TuneUp are incredibly redundant. Windows already does those things automatically or offers native tools for them — and doesn't ask for any additional money, unlike the program being discussed.
The optimizer isn't malicious, but it can be considered potentially unwanted (junkware) and can be removed with no negative effects on the computer. In fact, it's probably better to remove it rather than allow it to worry you with its misleading detections and constant scans. PC TuneUp Pro isn't more useful than other PUPs like Universal PC Care or PC Speeder Pro — all they try to do is scare people into buying them.
CompuClever PC TuneUp symptoms, issues.
What is CompuClever PC TuneUp

PC optimizer
Center for Windows native functions
Potentially unwanted program

Symptoms

Hundreds of issues detected
Regular scans reduce computer performance
The program might get installed without consent

Problems

Detects items that aren't harmful
Can reduce system performance or cause errors

Remove CompuClever PC TuneUp

Uninstall PC TuneUp manually using the Control Panel
Scan the computer for bundlers and other PUPs (Spyhunter)
Is CompuClever PC TuneUp Pro useful
On almost any computer, even a freshly installed system, PC TuneUp Pro detects a lot of issues, from a few hundred to a few thousand. Each little individual item, like a tiny file, is counted as an "issue", even though most of them are not problematic for most users. They should be displayed in a neutral way rather than negative. So, right away PC TuneUp unfairly presents the state of the computer by trying to make it look worse than it is.
The program detects items as errors when they're actually useful, such as browser add-ons and Windows Startup applications. Even browsing history, document history, browser cookies are not spared. If you choose to delete them without looking at the scan's findings, you might seriously hurt your user experience. I certainly don't want to have to log into every site that remembers me in my browser, but I'd have to, if I deleted all the cookies. Even worse, PC TuneUp might mess with your registry, try to "fix" it, and accidentally deletes an important item. There's a good reason why registry cleaners are not endorsed by Microsoft — they're unnecessary and can even be dangerous.
But even if you do think that items like document history and browser cookies deserve to be removed, remember that that functionality already exists in Windows. Native tools like Disk Cleanup Manager, System File Checker, Task Manager can be used to do a lot of what CompuClever PC TuneUp promises — just free of any additional fees. CompuClever PC TuneUp, on the other hand, is paid and also uses its own user interface to promote the company's other products, like some sort of adware.
Don't worry too much about detections by various ps cleanup, booster, tuneup apps. With programs like PC TuneUp Pro, it's completely unrealistic to have a normal, healthy computer rated as being in good condition. Some users believe that PC optimizers only have their best interests in mind, then they chase the god ratings that the program gives their computer after all the "fixes", they might even obsessively scan and repair their device regularly. That's completely unnecessary.
Look at PC TuneUp Pro's scan results closely and consider them carefully, take them under advisement, but don't be afraid to dismiss them.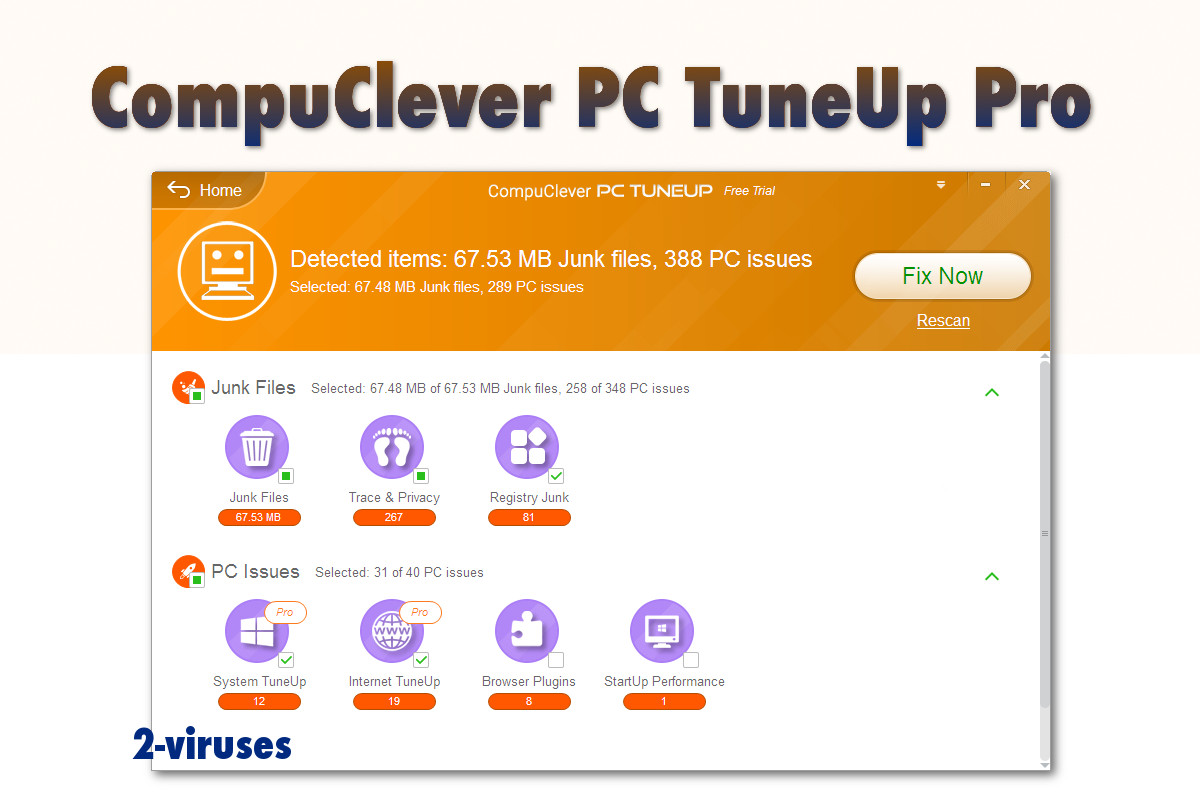 How CompuClever PC TuneUp gets installed
Some users install the PC TuneUp by downloading it from its website because of the nice description and the useful features listed on its home page. It's easy to trust the site because it displays endorsements by reputable programs. Or does it?
Security stickers, logos, and badges might look impressive, but they are not worth all that much. CompuClever PC TuneUp might report that they're a Microsoft Certified Partner, approved by various anti-malware programs. They might decorate their site and application with these logos. However, this doesn't guarantee that the program is secure or ethical and might only be awarded for a very narrow aspect of the program. Besides that, the logos are difficult to verify for any normal user. I've seen quite a few PUPs decorated with these seals, but rarely does an actually professional program boast of them.
Not everyone installed PC TuneUp because they wanted it. Some complain that CompuClever's programs simply appear on their computer, without any intentional installation. This usually means that another program on your computer, maybe some free PDF reader or a DVD player, installed it for you. If this happened to you with CompuClever PC TuneUp, you might even get the wrong impression that the program is some sort of a first-party tool that must be trusted. That's completely false, the program can be removed without any issues.
People from CompuClever say that they don't endorse this kind of dishonest promotion. They might not want to be seen as malicious and unethical with their distribution, but the partners they work with to promote PC TuneUp cross the line sometimes.
As for how to avoid potentially unwanted programs — be suspicious. Don't trust redirects, ads, ridiculously positive reviews online. As a rule, the more aggressive and disruptive an ad is, the less trustworthy. If you see pop-ups, floating ads, or redirects that advertise CompuClever PC TuneUp or some other optimizer, be skeptical. Be especially wary if a website tries to convince you that your computer is infected (you have 20 viruses, your disk will be deleted, blah blah blah) and you must download a particular program — these are always scams, run away and, maybe, scan your computer with a real security program.
How to remove CompuClever PC TuneUp
If the program is useful to you, there's not much harm in continuing to use it. After all, a lot of the functions are actually Windows tools under the hood, being called by PC TuneUp. Just maybe avoid "cleaning" your registry and you should be good.
But at the same time, if you don't especially want this program, it should be removed. After all, PC TuneUp is just a very redundant application that tries to replace Windows native tools. Manual removal instructions are below this article for your convenience.
If CompuClever PC TuneUp was installed on your computer without you knowing, against your will or if it mysteriously came back after being manually uninstalled, or it keeps showing you pop-ups after being removed — you might want to scan your computer for malicious files and programs. Hunting these down manually is possible but difficult, but a program like Spyhunter or something more aggressive, like Malwarebytes, can help you find suspicious files, including ones associated with CompuClever PC TuneUp. Just don't remember to cancel your CompuClever subscription if you signed up for it.
Automatic Malware removal tools
How to remove CompuClever PC TuneUp Pro using Windows Control Panel
Many hijackers and adware like
CompuClever PC TuneUp Pro
install some of their components as regular Windows programs as well as additional software. This part of malware can be uninstalled from the Control Panel. To access it, do the following.
Start→Control Panel (older Windows) or press Windows Key→Search and enter Control Panel and then press Enter (Windows 8, Windows 10).
Choose Uninstall Program (if you don't see it, click in the upper right next to "View by" and select Category).
Go through the list of programs and select entries related to CompuClever PC TuneUp Pro . You can click on "Name" or "Installed On" to reorder your programs and make CompuClever PC TuneUp Pro easier to find.
Click the Uninstall button. If you're asked if you really want to remove the program, click Yes.
In many cases anti-malware programs are better at detecting related parasites, thus I recommend installing Spyhunter to identify other programs that might be a part of this infection.