Codingcaptcha.com is an advertising site. It shows fake alerts to trick people to subscribe to its notifications. Then, it sends them unwanted ads. These ads are labeled with "Codingcaptcha.com" and lead to shady, dubious sites. They show up any time your browser is open.
Luckily, Codingcaptcha.com's ad spam is easy to stop. Each web browser has a settings page for managing notifications – there, you can block Codingcaptcha.com and other sites from showing unwanted messages on your screen.
Codingcaptcha Com Notification Ads quicklinks

About Codingcaptcha.com:
Type of threat
Adware,

browser hijacker.

How Codingcaptcha.com attacks browsers
It's promoted online by pop-up ads,

it shows fake messages to trick people into subscribing to its notifications.

How to avoid notification hijackers
Avoid sites that show unsafe ads,

use ad blockers when you're visiting  such websites,

use anti-malware programs (Malwarebytes, others),

disable notification prompts.

How to stop Codingcaptcha.com ad spam
Block notifications from unwanted sites.
How Codingcaptcha.com hijacks browsers
Codingcaptcha.com is a website that can look like an adware infection. Codingcaptcha.com hijacks browser settings and shows ads. These ads look like OS notifications, security warnings, news updates, and other ads. Some ads are honest, others are very misleading. To make it all worse, the Codingcaptcha.com site shows ads even when it's not open in your browser.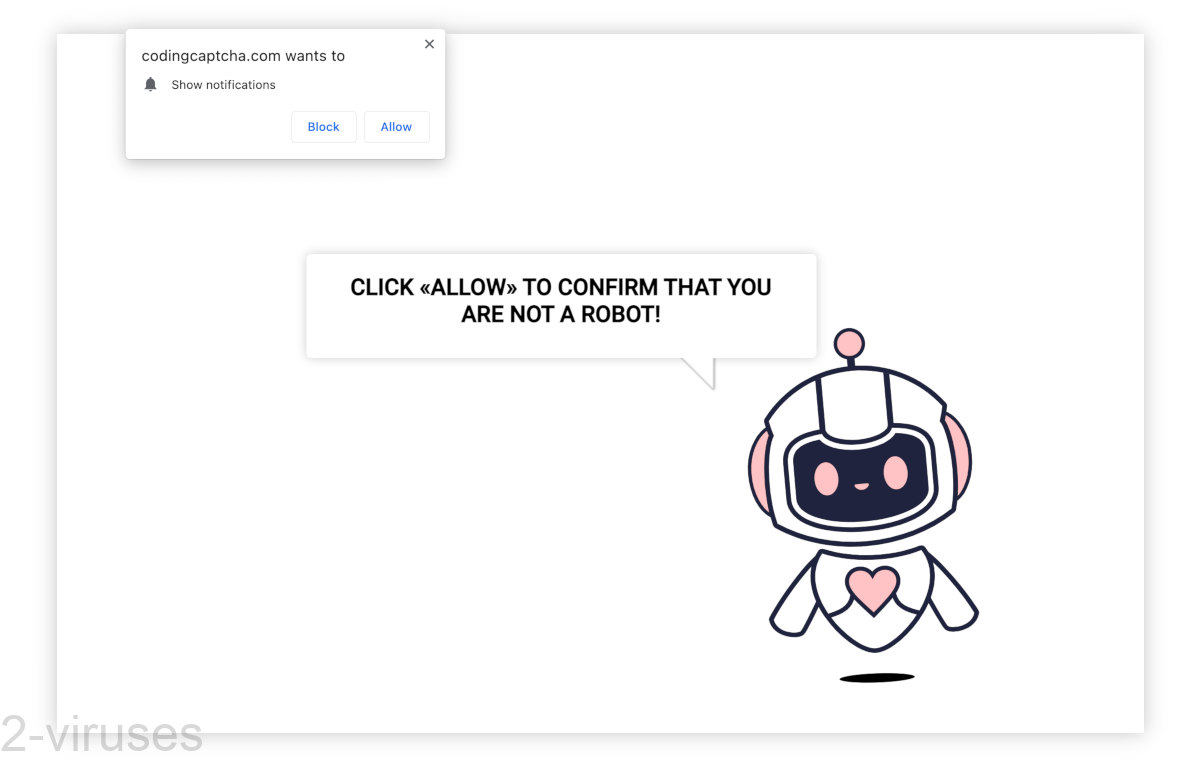 Websites advertise Codingcaptcha.com
I encountered Codingcaptcha.com when I visited some very old, abandoned websites. Some of these sites were parked to show ads, others always redirected to advertisements.
You might run into old sites by clicking links in old blog posts, video descriptions, and other old content. You might also find them in search results. Even currently active sites could get infected with malicious code that causes pop-ups and redirects.
Codingcaptcha.com can also be advertised on active websites, mostly file download and illegal video streaming sites. If you like to watch free movies online, you probably know how obnoxious the ads on free streaming sites are. It's best to use an ad blocker or a sandbox when visiting such sites.
Codingcaptcha.com shows fake messages
In my case, Codingcaptcha.com showed a message "Click Allow to confirm that you are not a robot". Notification hijackers display this message all the time. The "Allow" button refers to the notification prompt: it allows us to subscribe to a site's notifications.

In other words, Codingcaptcha.com is lying about what the "Allow" button does.
A robot check is not the only lie that notification hijackers like Codingcaptcha.com have in their playbook. There are also fake video players, prize giveaways, loading bars, etc. They try to fit the sites that advertise them to make it more likely that users take them seriously.
For example, when it's a video streaming site advertising Codingcaptcha.com, it might show a fake video player with an endless loading animation. This could help Codingcaptcha.com look like it's part of the video streaming site and gain unearned trust.
How to block ads from Codingcaptcha.com
To stop Codingcaptcha.com from showing ads on your screen, block notifications from unwanted sites.
You can do this from the notifications themselves by clicking their gear icons and blocking all notifications from the site.
Or you can go into your browser settings and block site notifications as described here. These settings also allow you to disable notification prompts, which would help avoid notification spam in the future.
Disabling notification prompts for the future makes it so sites like Codingcaptcha.com can't show you the little notification pop-up. This makes it very difficult to subscribe to notifications unintentionally. If you hide notification prompts, you'll still be able to allow and block sites manually in your notification settings.
Another thing that helps avoid cyber threats is using a good anti-malware program, such as Malwarebytes. Anti-malware programs block mild threats, such as potentially unwanted programs and suspicious websites.
Automatic Malware removal tools