Onlinefreenews.xyz is a website that spams web browsers with ads. It does this by using browser notifications and it tricks people into subscribing to its notifications with misleading pop-up ads.
While having your browser attacked by Onlinefreenews.xyz can feel overwhelming, the fix is pretty simple: just go into your browser settings and block notifications from Onlinefreenews.xyz. The instructions are linked in the table below.
Onlinefreenews Xyz Ad Spam quicklinks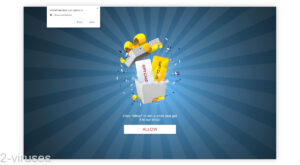 About Onlinefreenews.xyz:
Type of threat
Adware,

browser hijacker.

How Onlinefreenews.xyz infects browsers
It's advertised online on sites that tend to show unsafe ads,

it lies to visitors about why they should subscribe to its notifications.

How to stop Onlinefreenews.xyz ad spam
Block notifications from it and other sites.
How to avoid browser hijackers
Avoid sites that are likely to show aggressive and malicious ads,

block ads and malicious sites,

protect your device with anti-malware programs (Spyhunter for Windows, Spyhunter for Mac, Combo Cleaner for Mac, etc.),

disable notification requests in your browser.
What is Onlinefreenews.xyz?
Onlinefreenews.xyz is a malicious website that shows ads via notifications. It's a just website, but having it hijack a setting in your browser can make it seem as if there's an adware virus attacking your device.
Notifications are little messages that a website can send to a browser. If your browser is open, the website can make it show a message.
But first, you must allow the site to send these messages. This can be done in your browser settings or by clicking the Allow button on a pop-up like this:

Browser developers know that notifications can be annoying. Some browsers, like Firefox, usually hide notification prompts even when websites want to show them. Others, like Google Chrome, let you change your settings to automatically hide these boxes.
To encourage people to click the "Allow" button, Onlinefreenews.xyz doesn't explain that it'll use notifications to spam people with ads. No, that would discourage people from subscribing.
Instead, Onlinefreenews.xyz says that if you click Allow, you'll win a prize!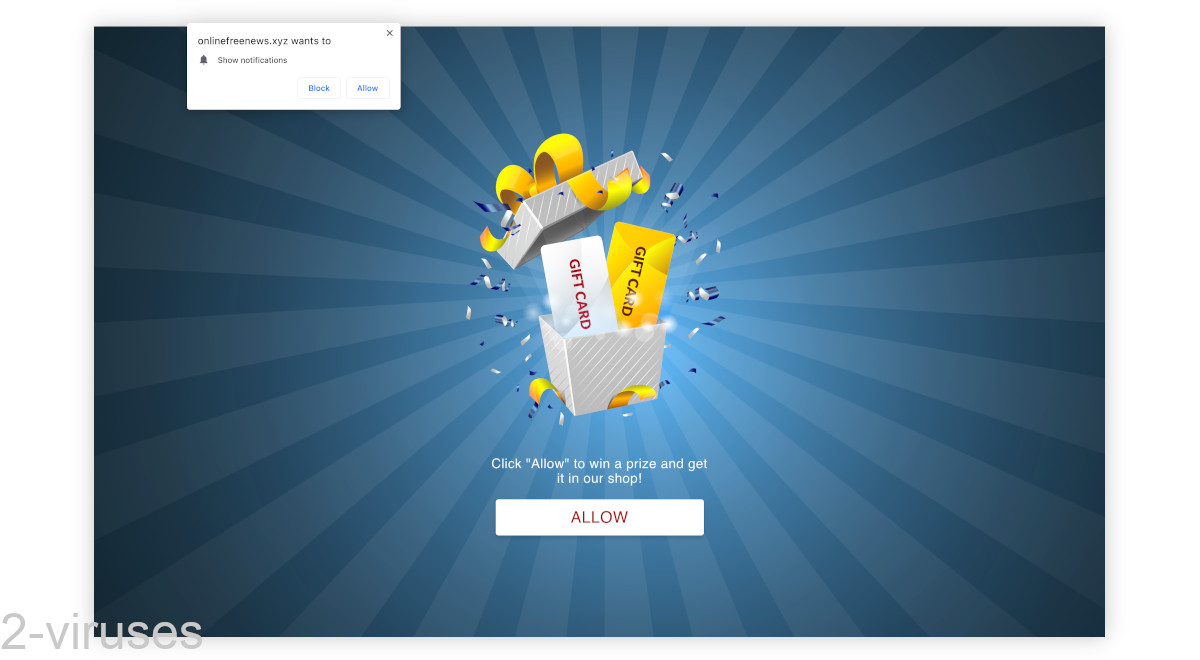 Other variants of Onlinefreenews.xyz present other reasons why you should click Allow:
Please click the Allow button to continue
Can't play this video! Browser may block video autoplay… Click "Allow" to play the video
Click Allow to confirm that you are not a robot
If a website ever asks you to allow notifications to prove that you're not a robot, play a video, download a file, etc. – it's lying. There are many websites that do this, including Topfreeshop.xyz, 1Music-online.me, Leaked-video.live, and others.
On Onlinefreenews.xyz – the only thing that clicking Allow on the notification pop-up does is enable the site to send messages to your browser.
Luckily, this is simple enough to fix: you just need to go into your browser settings and block notifications from Onlinefreenews.xyz (and any other sites that might be sending you unwanted pop-ups).
How does Onlinefreenews.xyz spread?
And how can you avoid similar infections in the future?
While Onlinefreenews.xyz is an advertising site, it needs to be advertised itself to get in front of people. Here are the kinds of sites where you might run into Onlinefreenews.xyz:
pirating sites, including torrent sites, cracked software sites, file download sites, and "free" sites for streaming films and sports,
download sites for mods and cheats,
old, abandoned, sites that lack security updates and a present administrator (sites infected with malicious redirects).
Such sites tend to show unsafe ads, but avoiding them might require you to change your browsing habits more than you'd like.
First, if you do pirate or visit potentially infected sites, it's important for you to protect your computer from malware. Anti-malware programs help, such as Spyhunter for Windows, Spyhunter for Mac, Combo Cleaner for Mac, etc.
If you don't already use an ad blocker, consider installing one. They can really help you stay safe online just by blocking some pop-ups and redirects.
And disable notification prompts in your browser. This stops sites like Onlinefreenews.xyz from asking to send you notifications.
Automatic Malware removal tools