Chromium Shield is a dubious web browser that hijacks users' searches. Despite being based on the reputable Chromium project, Chromium Shield is likely the work of online scammers and should not be trusted. You can uninstall it – and you should take the opportunity to check your device for other infections.
Chromium Shield Browser quicklinks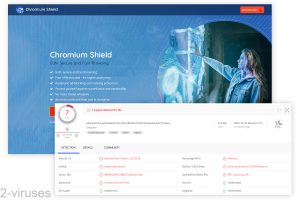 About Chromium Shield:
Type of threat
Potentially unwanted program,

adware.

Problems with Chromium Shield
It promotes a search-hijacking website,

it is outdated, which is bad for security.

Symptoms of an infection
Your internet browser looks and acts unusually,

it's difficult to use some search websites.

How to remove Chromium Shield
Uninstall the Chromium Shield web browser, other malware, and remove unwanted browser extensions,

use antivirus scanners like Spyhunter for PC, Combo Cleaner for Mac
What is Chromium Shield?
Problems of Chromium-based browsers
Chromium Shield is a web browser based on the open-source Chromium project.
Chromium is the basis of many respected web browsers, such as Google Chrome, Microsoft Edge, Opera, Vivaldi, etc. It is a basic web browser that anyone can download and use. It is free for developers to change and build upon.
The problem is, scammers and people looking for a quick buck can also access Chromium. Sometimes, they bundle the basic Chromium with some adware. Or set it to use a promoted website. Then advertise it as a unique browser or just trick people into installing it. These browsers fall under the Chromium malware umbrella. WebNavigatorBrowser is one example.
Besides forcing people to use unwanted sites, siphoning their information, and lacking many useful features, such browsers do not receive the security updates that the Chromium team releases. An outdated Chromium browser is vulnerable to known security flaws. Without security updates, it will be exploited, putting its users at risk of malware infections and information theft.
As an example, Chromium Shield's current version appears to be based on a build of Chromium that's a year and a half old. That's terrible for security!
Is Chromium Shield safe?
Detected by antivirus scanners as adware
There are a couple of versions of Chromium Shield online. We are talking about the one found on Chromiumshield.com. However, the Worlds-clocks.com version is also considered to be adware and ought to be avoided.
Chromium Shield's installer, or at least the Windows version, is detected by a few antivirus scanners as Malware, Bundlore, and a potentially unwanted program (PUP) – Virustotal.com. It's not outright malware, but it does promote related sites, mess with internet search, and advertise to its users.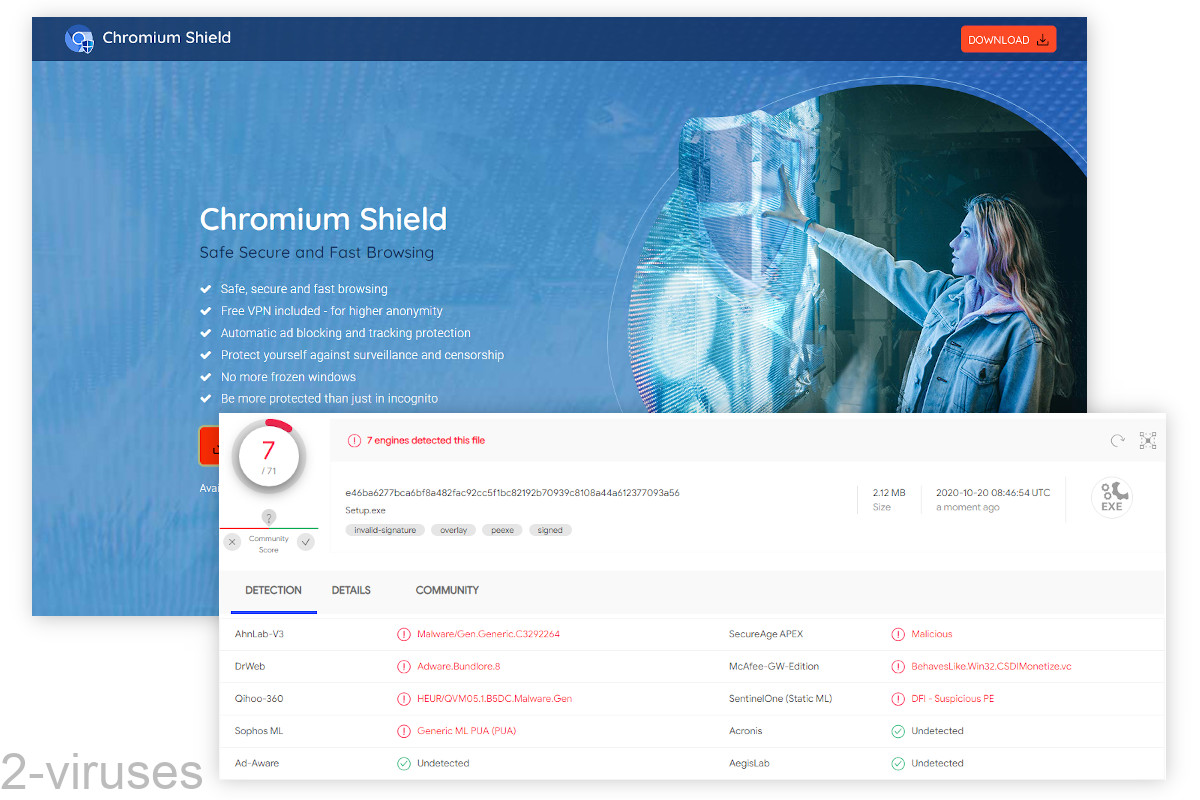 Specifically, Chromium Shield promotes the Smart Search hijacker and makes it hard to use other search engines. This version of Smart Search seems to use Opti-page.com.
Has the potential to be harmful
The developers of Chromium Shield have a lot of power over the users of their browser. Because Chromium Shield is not a widely known program and it's not even clear who the developers are, it isn't responsible to anyone and can't be held accountable if it does anything bad.
Here's what Chromium Shield could do if it was malicious:
Inject ads into webpages. The Chromium Shield browser promises to block ads. It's trivial for it to inject ads of its own.
Collect information about the users. In theory, Chromium Shield can see everything that its users do while using it. Passwords, browsing history, even personal messages.
If Chromium Shield was able to download automatic updates, it could use them to download potentially unwanted software.
Chromium Shield promises a built-in VPN, but VPNs are only as trustworthy as their operators are. This could turn into just another way to hijack your web traffic.
How to remove Chromium Shield
You can uninstall Chromium Shield from your Settings page or the Control Panel if you're on Windows. Mac users can remove it from their Applications folder.
Chromium Shield has a partner browser extension. Review the extensions that you have installed in your browser and remove those that are suspicious.
You can find malware by scanning your computer with an antivirus program, such as Spyhunter for Windows, Combo Cleaner for macOS, and others. You can remove it with your antivirus program, too – or you can do it yourself.
Importantly, avoid unfamiliar web browsers in the future. Only use those that have reliable teams of developers behind them, as well as a community that will keep them accountable. Browsers are largely responsible for our online security, after all.
Automatic Malware removal tools
Manual removal instructions
How to remove Chromium Shield Browser using Windows Control Panel
Many hijackers and adware like
Chromium Shield Browser
install some of their components as regular Windows programs as well as additional software. This part of malware can be uninstalled from the Control Panel. To access it, do the following.
Start→Control Panel (older Windows) or press Windows Key→Search and enter Control Panel and then press Enter (Windows 8, Windows 10).
Choose Uninstall Program (if you don't see it, click in the upper right next to "View by" and select Category).
Go through the list of programs and select entries related to Chromium Shield Browser . You can click on "Name" or "Installed On" to reorder your programs and make Chromium Shield Browser easier to find.
Click the Uninstall button. If you're asked if you really want to remove the program, click Yes.
In many cases anti-malware programs are better at detecting related parasites, thus I recommend installing Spyhunter to identify other programs that might be a part of this infection.