ChrisPC Free Video Converter is a potentially unwanted Windows program. Its biggest problem is that it promotes programs that are widely considered malicious and are detected by quite a few antivirus scanners. ChrisPC Free Video Converter itself doesn't seem to be dangerous, but those who installed it really ought to review their computer for malware.
Chrispc Free Video Converter quicklinks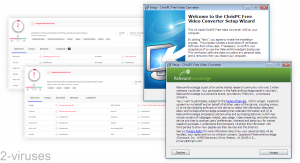 About ChrisPC Free Video Converter:
Type of threat
Potentially unwanted program,

adware.

How it spreads
Advertised online,

downloaded from various Chris-PC websites.

Problems with ChrisPC Free Video Converter
It advertises a spyware program and a controversial proxy management tool.
How to remove threats
Scan your computer with antivirus tools Spyhunter or another program,

remove malware and adware that may have been installed with ChrisPC Free Video Converter.
Is ChrisPC Free Video Converter safe?
Installer with ads inside it
The ChrisPC Free Video Converter program is not malicious software. But its installer is flagged by a few antivirus scanners as Adware, Riskware, and BundleLoader. Here's the report – Virustotal.com.
This means that though ChrisPC Free Video Converter is itself not dangerous, you need to be careful when installing it. It offers to install a potentially unwanted program on your computer. Most likely, RelevantKnowledge, which is an adware and spyware program.
There's nothing necessarily wrong with RelevantKnowledge, either, provided you sign up for it with the full understanding that it monitors your activities and displays pop-ups.
Misleading program
Other antivirus scanners don't mind ChrisPC Free Video Converter's installer, but have a problem with its executable, labeling it as Misleading and PUA (potentially unwanted). Here's the page – Virustotal.com.
When a program offers to install malware and adware, it's not surprising that antivirus tools detect it.
That said, ChrisPC Free Video Converter doesn't seem to be problematic in how it's advertised online, so that shouldn't be a problem. There are a few sites that promote the software ChrisPC Free Video Converter, like freevideoaudioconverter.com, and some people search for ChrisPC software themselves.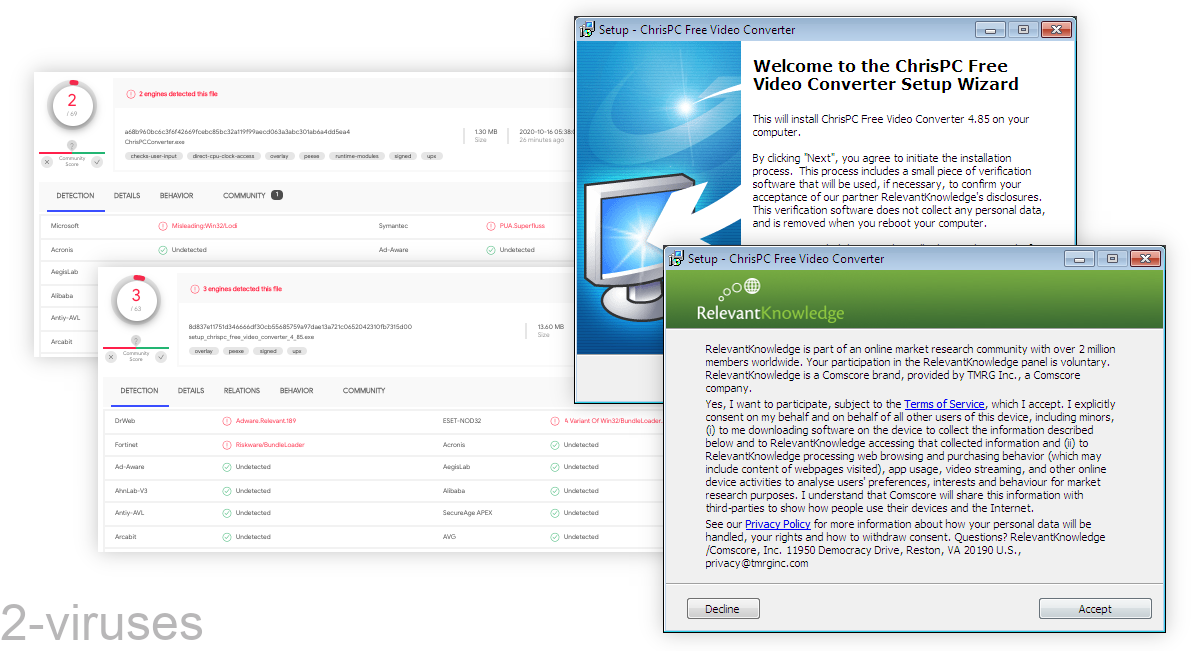 Ads for other malware
Finally, once I installed ChrisPC Free Video Converter, I got an ad for ChrisPC Anonymous Proxy Pro. This program seems to be pretty controversial, based on this list of detections: Virustotal.com.
This is not surprising. There's a lot of potential for security and privacy problems when you allow a shady program access to your network settings. So, such programs are scrutinized more. And the fact that ChrisPC Free Video Converter advertises such a program is a point against it.
Overall, I think that ChrisPC Free Video Converter is just another ChrisPC program that's trying to make some money. It does this by offering a paid version, as well as a free version with ads. The antivirus warnings are just that – warnings to be careful and to be aware of what you're allowing on your computer. These warnings are valuable, but you can always make an exception if you think that the detected program can be trusted.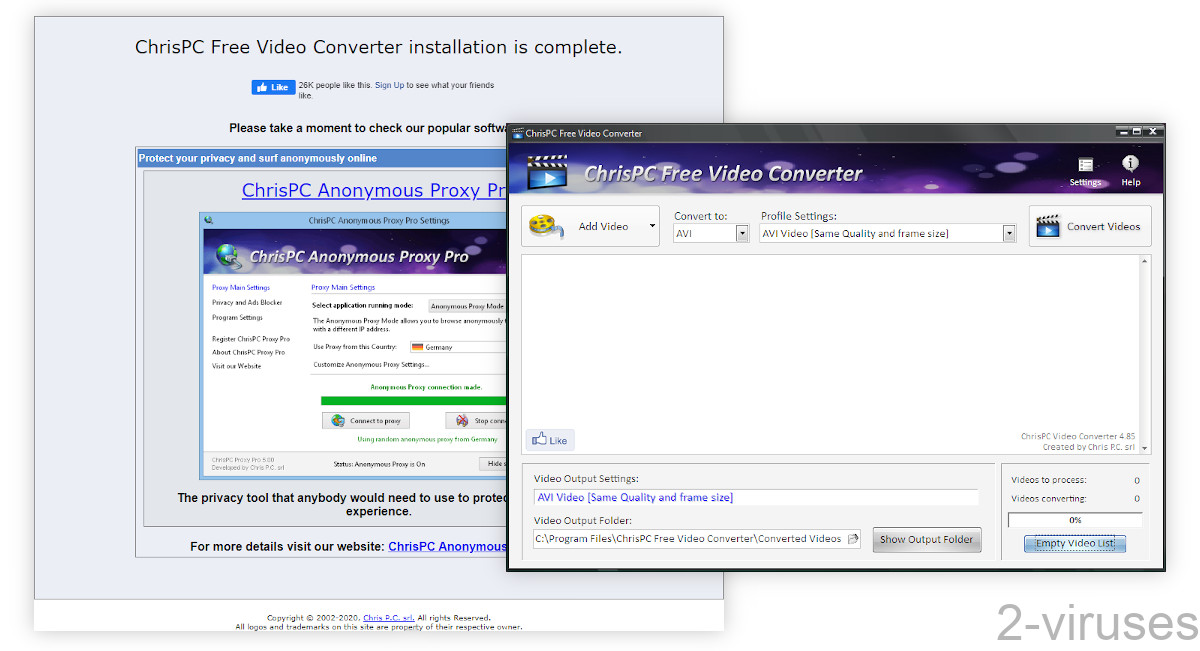 The ChrisPC, or Chris-PC, company has made quite a few programs, including Chris-PC Game Booster and some iffy PC optimizers, like a RAM booster and a CPU booster. Such programs are generally considered to be snake oil, though the Chris-PC versions appear somewhat less shady than most such apps.
How to remove ChrisPC Free Video Converter
Uninstalling ChrisPC Free Video Converter didn't give me any problems, so you might just be able to do it normally, through your Settings or the Control Panel.
RelevantKnowledge, as always, left behind an executable, so that needs to be deleted afterward.
It's recommended to scan your PC with an antivirus tool, like Spyhunter, and to remove malware if any is detected.
Also, review your C drive for suspicious files and folders, especially for RelevantKnowledge stuff. Display hidden folders in the File Explorer program by selecting View at the top, then finding the Show/hide section, and tick the Hidden items box. Be careful and only delete items that you're sure are malicious or unwanted, such as those that are detected by antivirus programs.
Automatic Malware removal tools
How to remove ChrisPC Free Video Converter using Windows Control Panel
Many hijackers and adware like
ChrisPC Free Video Converter
install some of their components as regular Windows programs as well as additional software. This part of malware can be uninstalled from the Control Panel. To access it, do the following.
Start→Control Panel (older Windows) or press Windows Key→Search and enter Control Panel and then press Enter (Windows 8, Windows 10).
Choose Uninstall Program (if you don't see it, click in the upper right next to "View by" and select Category).
Go through the list of programs and select entries related to ChrisPC Free Video Converter . You can click on "Name" or "Installed On" to reorder your programs and make ChrisPC Free Video Converter easier to find.
Click the Uninstall button. If you're asked if you really want to remove the program, click Yes.
In many cases anti-malware programs are better at detecting related parasites, thus I recommend installing Spyhunter to identify other programs that might be a part of this infection.