Chris-PC Game Booster is a PC optimizer, as well as a potentially unwanted program. Chris-PC Game Booster gets flagged by antivirus programs for bundling a spyware program and for its potentially deceptive features. It is not malicious, but you may want to think twice before using it.
Chris Pc Game Booster quicklinks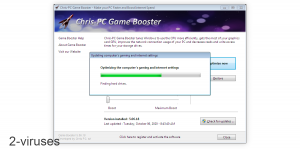 Abut Chris-PC Game Booster:
Type of threat
Adware,

potentially unwanted program.

How Chris-PC Game Booster works
It changes some system settings.
Problems and issues
It offers a spyware program to be installed,

it is not transparent about the changes that it makes.

How to remove Chris-PC Game Booster
Uninstall it manually,

use antivirus programs (like Spyhunter) to remove it and the software that was bundled with it.
Problems with Chris-PC Game Booster
Potentially unwanted program
Chris-PC Game Booster is an optimizer program supposed to help your PC run games better. Its installer is flagged by some antivirus programs as Adware and Misleading (Virustotal.com), partly because it bundles a spyware program, RelevantKnowledge.
Chris-PC Game Booster's description on Chris-PC.com claims to change the settings of your PC to make it run games faster. Supposedly, random access memory and other storage, the processor, and the graphics card can all be accessed faster thanks to Chris-PC Game Booster.
But there is no explanation of what this program does exactly. It's all just vague promises to make everything work faster.
There is an impression that game boosters are all snake oil. All they do is close some background processes while consuming resources themselves. Such game boosters don't usually help – Ghacks.net.

Changing Windows settings
Chris-PC Game Booster is different in that, instead of closing background programs, it claims to improve the performance of your PC by changing your Windows settings. It doesn't say which settings it changes, but in general, here are some that could be important:
Power settings. Does Windows use as much power as it wants, or does it try to save your battery?
Overclocking. Configuring your CPU run faster than it was intended to.
Managing game settings in the control panel of your graphics card.
Closing unnecessary programs. Anything that could be downloading or installing stuff in the background, like torrenting, will harm game performance.
In the limited time that I tested Chris-PC Game Booster, I couldn't see a difference in performance. It didn't seem to change the settings that I thought it would change. So it's hard to comment on the program's performance.
But I can say one thing – I don't see a reason to use Chris-PC Game Booster. If it does anything, it's the same stuff that you can do yourself for free.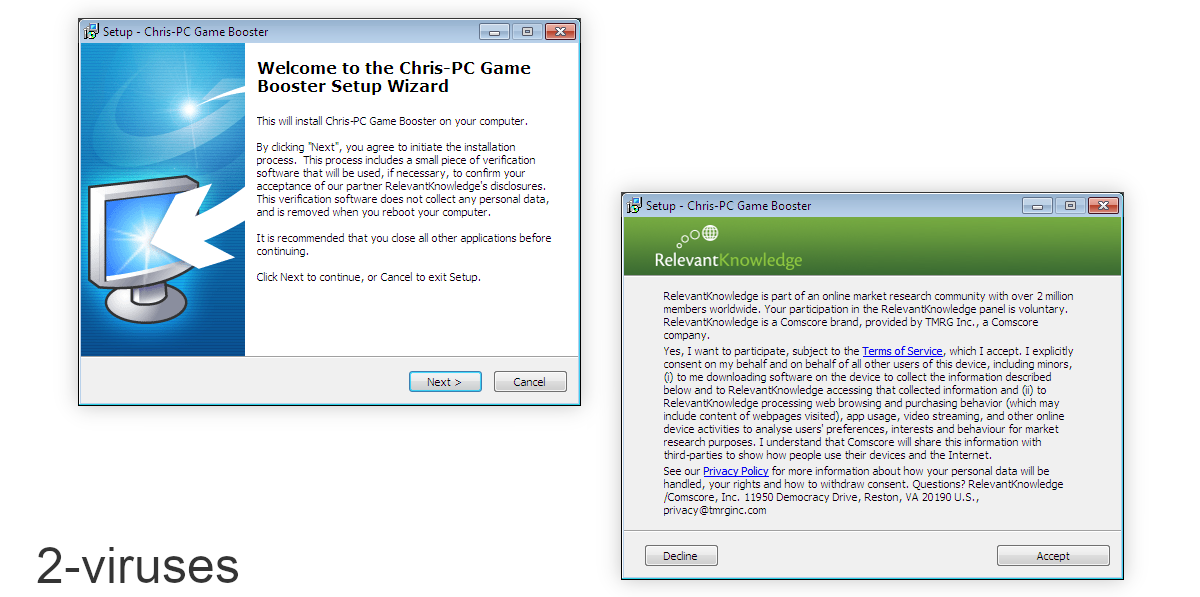 "Optimizer"
I always distrust programs that promise you the world in performance. Windows, the operating system, is not stupid: it knows how to allocate resources and how to make the best use out of them. Any optimizers that try to improve things could help in narrow situations, but overall, Windows is a more trustworthy product.
As a result, many optimizers, such as Defencebyte Computer Optimizer and PC Gold Optimizer, use the tools that are already built into Windows, such as Task Manager, and don't offer any unique features.
Of course, Chris-PC is all-in on optimizers and also offers a CPU Booster and RAM Booster. These programs, like Game Booster, are presented incredibly vaguely and make some big promises. Also like Chris-PC Game Booster, they are flagged as potentially unwanted (Virustotal.com).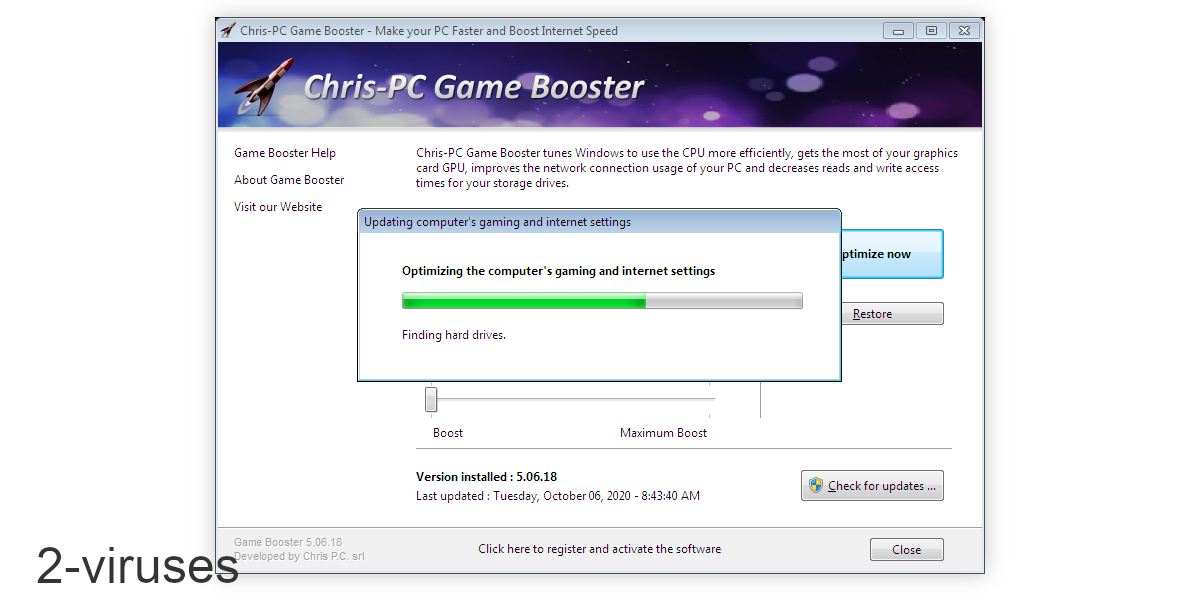 How the game booster is installed
Chris-PC Game Booster can be downloaded from the Chris-PC.com site or from one of many free download sites. It looks like people who install Chris-PC Game Booster find it when they're searching for a game booster to use.
Chris-PC Game Booster offers a free trial as well as a paid version. The free trial always comes with Relevant Knowledge. Though, if you download Chris-PC Game Booster from a disreputable site, it might come bundled with another potentially unwanted program, too. This is just the risk of using free download sites.
How to remove Chris-PC Game Booster
Though Chris-PC Game Booster is not malicious, it is not recommended to use. Game boosters in general aren't very helpful.
You can uninstall Chris-PC Game Booster from your Control Panel or your App Settings.
If you had RelevantKnowledge put on your computer, make sure to remove it, delete the files it left behind, and scan your computer with an antivirus program (such as Spyhunter) just in case.
Automatic Malware removal tools
How to remove Chris-PC Game Booster using Windows Control Panel
Many hijackers and adware like
Chris-PC Game Booster
install some of their components as regular Windows programs as well as additional software. This part of malware can be uninstalled from the Control Panel. To access it, do the following.
Start→Control Panel (older Windows) or press Windows Key→Search and enter Control Panel and then press Enter (Windows 8, Windows 10).
Choose Uninstall Program (if you don't see it, click in the upper right next to "View by" and select Category).
Go through the list of programs and select entries related to Chris-PC Game Booster . You can click on "Name" or "Installed On" to reorder your programs and make Chris-PC Game Booster easier to find.
Click the Uninstall button. If you're asked if you really want to remove the program, click Yes.
In many cases anti-malware programs are better at detecting related parasites, thus I recommend installing Spyhunter to identify other programs that might be a part of this infection.