'Flash SD App Required To Proceed' is a misleading alert that may be produced in Google Chrome and some other browsers. The occurrence of such pop-ups is the evidence of the adware to be currently in control of your browser settings. For this reason, your Google Chrome now functions in quite an unstable manner, your browsing is getting permanently distracted by other unexpected redirections to random websites.

Flash Sd App Required To Proceed Scam quicklinks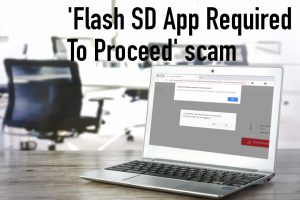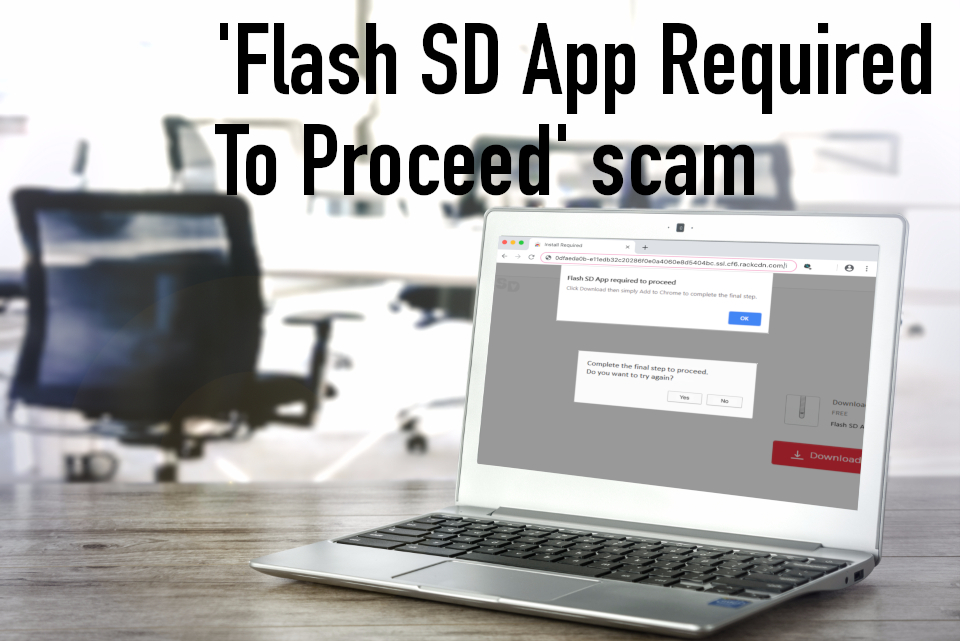 The main fact that 'Flash SD App Required To Proceed' pop-ups now attack your screen is not the tragedy yet, however, it gives you more valid reasons to undertake a thorough analysis of your system and identify the source of the problem. This guide is specifically dedicated to helping you remove such pop-up alerts and fix other browser redirection issues.
The danger of the pop-up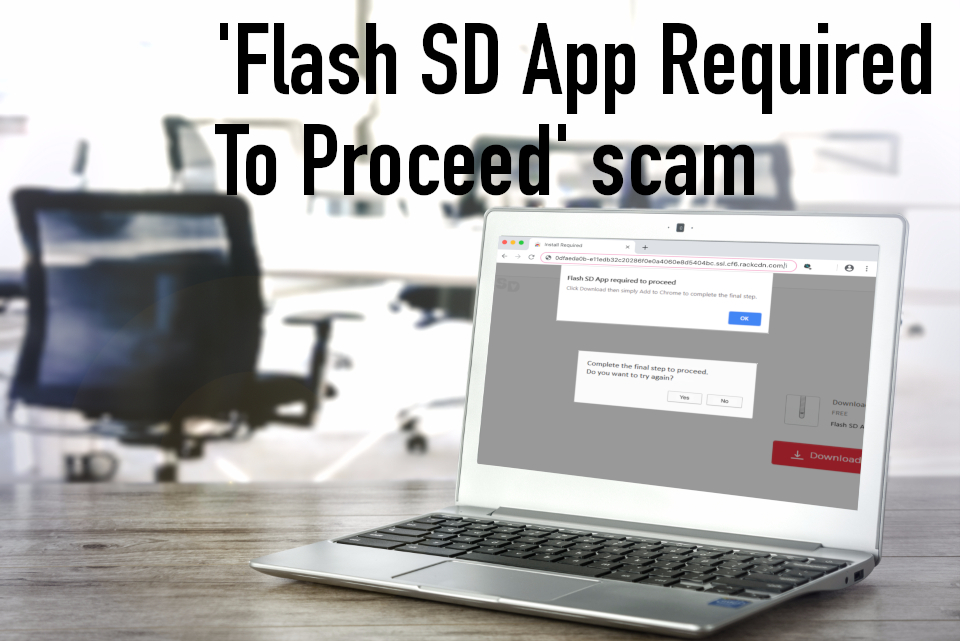 'Flash SD App Required To Proceed' works as an online scam that aims to persuade you to fulfill its tricky commands. This is the complete quotation that users normally notice when the pop-up comes up:
Install RequiredFlash SD App Required To ProceedClick Download then simply Add to Chrome to complete the final step.
The message quoted above is just a brutal trick to force you into downloading unwanted extension into Google Chrome. As a result, the home page and the default search engine will be changed to third-party websites that cannot be considered as genuine search providers. Once the extension promoted by the pop-up is installed, the browser will be hijacked and you will start encountering even more problems. Intrusive advertisement banners, third-party sponsored links, continuous browser redirection issues and the essential slowdown of your computer – this is what you may expect after the unwanted extension becomes active. Here is the summary of what may take place with your Internet surfing through the browser hijacked by Flash SD App:
amending the default homepage to Flash SD App Search.
modifying the default search provider to pseudo search engines;
Flash SD App Search tab appears in every new browser tab;
injection of ad-supported software into the browser.
Finally, the extension advertised by 'Flash SD App Required To Proceed' alert will additionally perform continuous spying over your browsing activities. This actually means that all the search queries that you will submit through the browser will be permanently analyzed, collected and sent to third parties who may easily manipulate this data illegally, primarily in order to inject other unwanted utilities into your system.
The source of 'Flash SD App Required To Proceed' scam
Flash SD App Required To Proceed' pop-ups may appear in your browser as a result of clicking on some malicious links on the web. The Internet is not a safe place, so you may visit certain unsafe resources that may contain dubious websites that they promote. Similarly, the content on social networks that you may receive from your friends might lead you to insecure places online.
If you see 'Flash SD App Required To Proceed' pop-ups on a permanent basis in your screen then this is the clear sign of your system to be infected by the adware. It is not unusual when the browser is hijacked by adware, so it may start producing various unexpected alerts and cause browser redirections. Sooner or later this may lead you to the alerts similar to the 'Flash SD App Required To Proceed' message.
How to remove the pop-up
Disabling unwanted extensions from the hijacked browser is the first important step you should implement. Remember that 'Flash SD App Required To Proceed' pop-up initially tried to force you to download the extension. So, now you must locate it in your browser and delete right away. Additionally, check the list of your available programs. It is a good idea to sort the applications according to the date of their installation. Do you see any suspicious programs in the list that you do not remember installing directly? If so, remove them without delay.
Another crucially important step to fix your computer is to scan the system with one or several reliable anti-malware programs. The trick of some adware programs today is that they may not be clearly identified in your workstation, but they will still be running in the background each time you turn your computer on. Automatic system checkup and fix with the proven anti-virus software will not only delete the source of the 'Flash SD App Required To Proceed' pop-up problem, but will additionally prevent your system from being damaged in the future.

Automatic Malware removal tools