Cash App is suffering its name being used by scammers who stage fake hacks of Cash App in order to steal people's personal data, trick them into downloading junkware, and into watching advertisements. All Cash App "money generators", "infinite money hacks", and "glitches" are scams.
If you fall for a Cash App hack scam, you risk wasting your time, revealing your data to scammers, and downloading adware onto your device.
Cash App Hack Scams quicklinks
About Cash App scams:
Type of threat
Scam,

phishing.

How Cash App scams work
They promise to give your Cash App account free money,

then they ask you to complete small tasks – interacting with advertised products.

Potential problems
Leaked personal information -scammers could misuse your email address and other data,

wasted time,

malware infections,

unwanted subscription fees.

How to deal with Cash App scams
Don't trust anything that's too good to be true,

block malicious websites and intrusive ads,

check your computer for malware (with Spyhunter for PC, Combo Cleaner for Mac, others),

if needed, reset your passwords and keep an eye on your bank accounts for unexpected charges.
What are Cash App hack scams?
Fake money generators
Cash App is an app that allows users to trade money without using a bank. It's great – very convenient and quite secure.
Unfortunately, scammers use Cash App's name to lure vulnerable people to give away their login details (username and phone number), sign up for shady services and subscriptions, waste their time watching ads, and download and install worthless apps.
Scammers pretend to be cash flippers and create fake Cash App social media accounts to trick people into giving away their money (Zdnet.com has a great article on them). But this post is just about websites that claim to boost the money in your Cash App account.
Money generators, hack tools, infinite money glitches – all the ones that I saw were the same:
A webpage (nothing to download, usually) advertises a hack tool or a money generator for Cash App.
You go to the website, type in your Cash App ID, select your platform, and select the amount of money that you want.
A long animation plays out where the site pretends to do stuff. Loading bars display one after another.
The hack/generator site says that human verification is needed to complete the task.
You're given a bunch of errands, including completing surveys, installing apps, and signing up for subscriptions.
Of course, there's no money at the end of all this. Even if you manage to complete the unbearable Quizdiva.net surveys (Trustpilot.com – looks like people didn't get any of the rewards they were promised) and install all required items. That's it, that's what scammers wanted.
In other words, these Cash App scams are nothing more than vehicles for advertisements.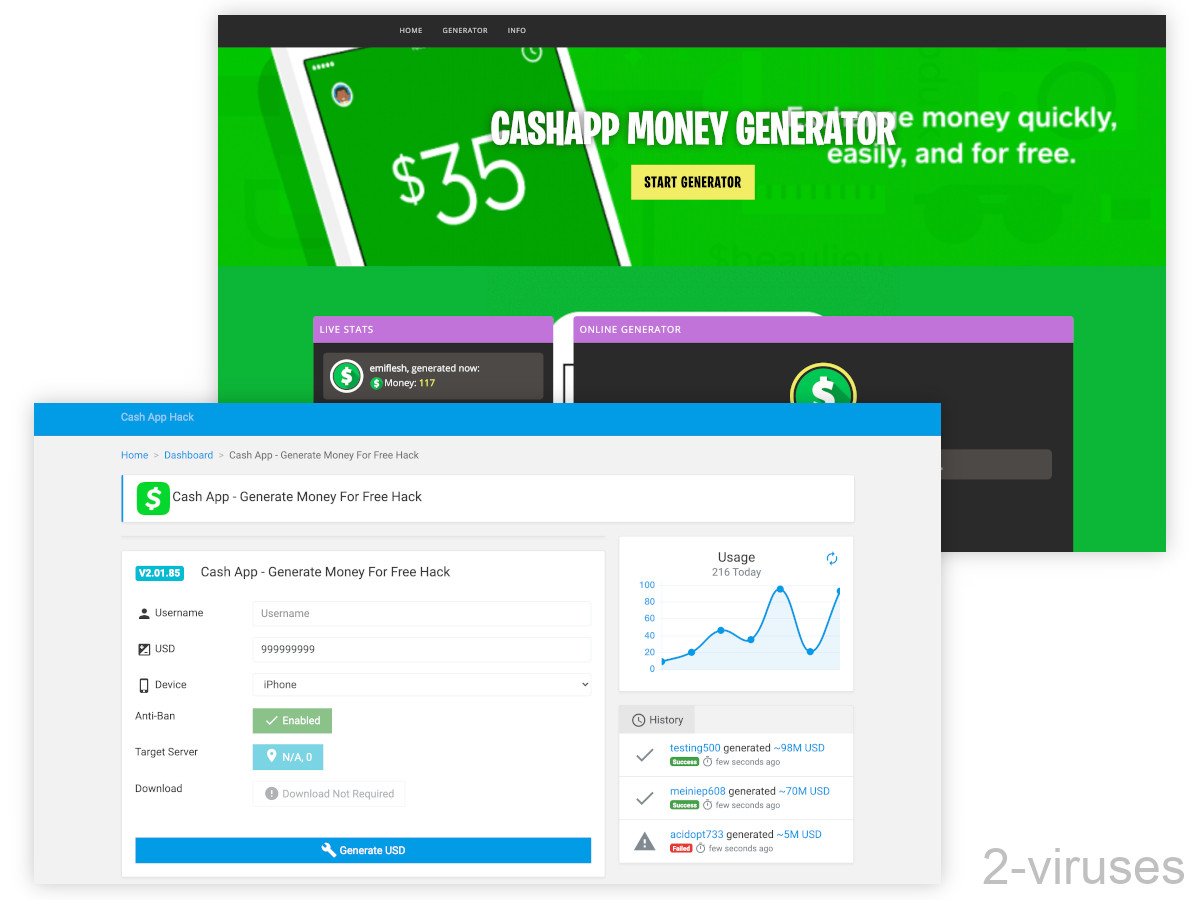 Are you in danger?
The good news is that Cash App has enough protections in place that crooks won't be able to do anything to your Cash App account. There's multi-factor authentication, plus, you would get all kinds of notifications if anyone tried to break into your account. So, your wallet should be okay.
But there are other dangers to watch out for.
First, there is the data that you might have revealed to scammers: your phone number, email address, etc. If you typed it into the Cash App money generator, then scammers got it. And they could use it to spam you with calls and emails.
If you followed the errands given by the Cash App scam, then you may also have shared your data with other sites. For example, often advertised by scams are certain media subscription sites characterized by paid free trials, abysmal libraries, and astronomical monthly fees (up to around $60 per month), such as Walemedia (Trustpilot.com). Never give your credit card data to a suspicious site like that.
Finally, you may have installed some apps that the Cash App scam wanted you to install. It would be best to remove them, as they can't be very safe if they get scammers to promote them.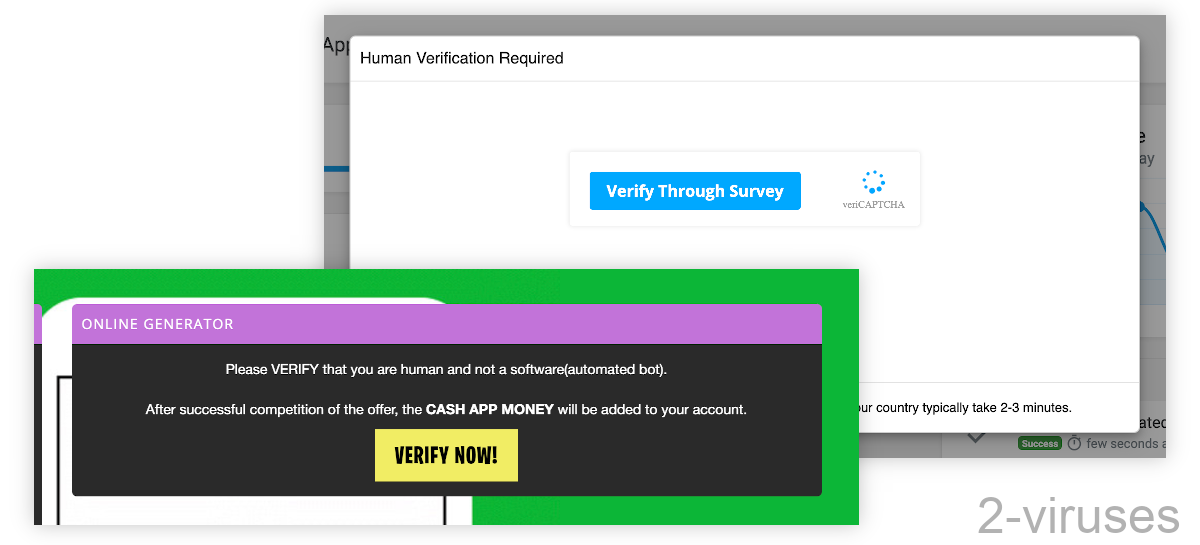 How to deal with Cash App hack scams
What if you fell for a scam?
Remove all the suspicious apps and programs that the Cash App scam told you to install. You can use an antivirus program, such as Spyhunter for Windows, Combo Cleaner for macOS, and others to check your device.
If you typed your password anywhere associated with the Cash App scam, reset it as soon as possible (after you're sure that there's no malware on your device).
If you typed your payment data anywhere suspicious, keep a close eye on your accounts. If you see money being charged by a scam site, ask your bank to reverse the charge. Ask your bank for advice.
How to avoid Cash App generator scams
Cash App did use to do a real giveaway. It was confined to Twitter and Instagram and asked people to enter by following Cash App's account and leaving a comment on a specific post. So, giveaways do happen. But you have to be careful. If you find one, always look for alternative information on it. If you can't find any independent confirmation, you might have stumbled on a scam.
Remember that too-good-to-be-true giveaways, whether it's Fortnite V-Bucks, a phone for just $1, they're all suspicious. Remember also that the names and images of reputable companies, such as Facebook and Google, are freely abused by scammers. Don't trust a site just because it looks familiar.
Use an ad blocker and/or an anti-malware program to block malicious websites. It's worth it if you see disruptive ads regularly.
Use a reputable anti-malware program and regularly scan your device for malware.
Automatic Malware removal tools