Buy4Less is a free price comparison browser add-on that is supposed to help you save time and money on your online shopping. If promises to help you find attractive offers while you browse your favorite stores. It sounds like a regular application for online shopping, however, it is supported by third parties and it has some additional goals that are not disclosed to the users.
We have seen tons of similar browser add-ons in the past, which are categorised as adware – GetCouponsFast or GroceryCoupons are just a few examples. Buy4Less operates by the same technique – it gets added to web browsers as a "useful add-on" and then starts interrupting your browsing experience with various unwanted web ads.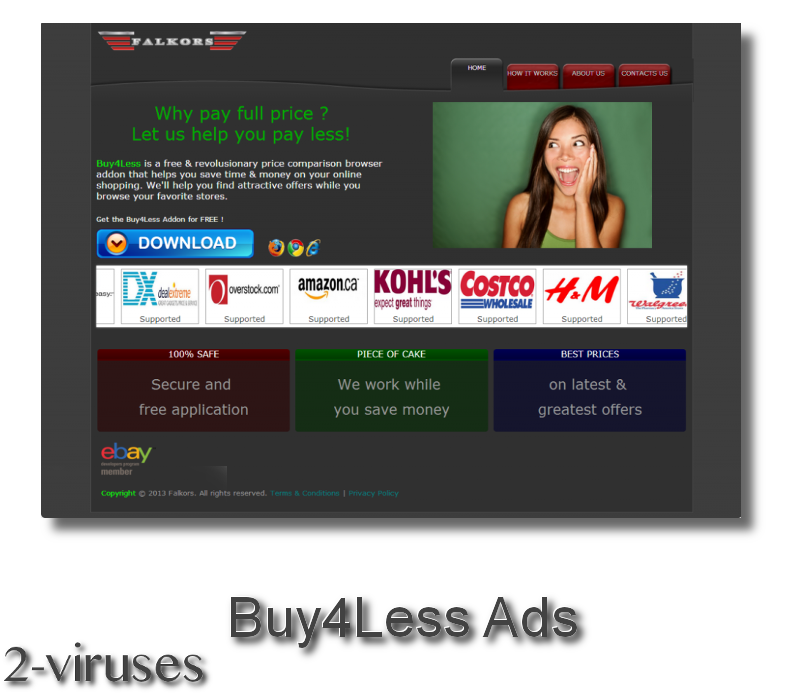 If you have encountered this computer virus but don't really know how to deal with it – keep reading the article and we will provide you with the instructions how to solve all problems regarding Buy4Less Ads.
Buy4Less as an add-on
If you take a look at the Definition of adware, almost every feature described as common to adware infection can be indicated in this particular Buy4Less tool.
There are two main ways for this malware to infect your computer – it can come as a bundle to some other software or you can install it yourself, thinking that this tool is useful and will bring benefits to you. Users often get tempted by various well-known brands displayed on promotional copies of this tool, as they are promised to receive big discounts and sale alerts for online shopping. However, usually that's not the case, as most of the time Buy4Less is installed as an additional tool to some free software. That's why you have to be extremely attentive during the installation of freeware. If you are offered some additional tools but you aren't 100 percent sure about it – do not give the permission for installation.
If Buy4Less virus gets inside of your computer one way or another, it will be added to your web browsers, as an add-on. As for now, it is compatible with Google Chrome, Internet Explorer and Mozilla Firefox – 3 of most popular web browsers on the Internet.
During the presence of this add-on, you will be experiencing additional ads in various forms, such as banner, new tab, new window or pop-up ads, as well as redirects to other webpages.
It would be OK if those ads actually promoted something useful, but it seems like there are only advertisements of random goods and services, that are not really relevant to you. That's because Buy4Less are making money by advertising products and websites of their partners, regardless of the actual content of the advertisement.
Removal of Buy4Less Ads
Luckily, viruses like this are easily removable. All you need is a good anti-malware tool. We suggest to select anti-malware program with a highest detection rate for adware – that would be either Reimage or SpyHunter. Those programs have proven to be deadly to malware like Buy4Less ads, so if you run a scan with one of them, it will surely detect and automatically remove the infection in no time.
It is possible to eliminate Buy4Less without downloading anti-malware software, yet the manual removal is a bit more complicated. To help you out, we have developed a step-by-step Buy4Less Ads manual removal guide, it can be found below this article.
at id=ExtensionAll h2="Remove Buy4Less Ads for good"]
Automatic Buy4Less Ads removal tools
We might be affiliated with some of these programs. Full information is available in disclosure
Manual removal
Important Note: Although it is possible to manually remove Buy4Less Ads, such activity can permanently damage your system if any mistakes are made in the process, as advanced spyware parasites are able to automatically repair themselves if not completely removed. Thus, manual spyware removal is recommended for experienced users only, such as IT specialists or highly qualified system administrators. For other users, we recommend using Reimage or other tools found on 2-viruses.com.
Processes:
External decryptor:
About the author