Archive Manager is a utility tool designed to fit Mac computers. It is supposed to compress files and folders into various formats and thus save space on your hard drive. It obviously sounds nice, however, there are some hidden features that you should know about before installing and using this application.

Archive Manager Virus quicklinks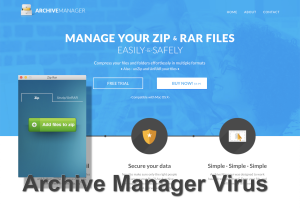 Most anti-malware applications consider this tool to be malicious, or at least potentially unwanted (
PUP
). There are several reasons for that – this program is distributed using unfair methods and forces users to pay for a premium version of the program, even though it is not efficient nor needed at all.
Another scary feature of Archive Manager – it might be difficult to get rid of it. Luckily, you have found a way to this article and we will help you to do that. It's much easier if you have a proper anti-malware program or at least some assistance. So just keep reading this article and learn why Archive Manager is considered to be unwanted and how you can completely eliminate it from your Apple computer.
Malicious Traits of Archive Manager
If Archive Manager is operating on your computer, most probably you got it by mistake. I.e. it was installed automatically, without you approving this action. Also, it is likely to start automatically when you turn on your computer.
It greets you with a minimalistic layout and only two functions – it can add your files and folders into a zip file, or vice versa, unzip or unrar archives. It actually can do that – Archive Manager is capable of archiving or extracting files. However, there are some other features in the background that make this application malicious or at least unwanted.
At some point, you will be asked to pay $9.99 for this program. A free version of Archive Manager doesn't even exist – they simply offer a 'free, but after that, you have to pay. Not to mention that there are tons of free applications on the market that can do the same, but there are also websites that offer this service for free, so purchasing or even downloading such software is irrational. Also, those suggestions to buy Archive Manager can be overly aggressive.
If that's not enough evidence for you to believe that Archive Manager is malicious, we have another obviously red flag – this program was developed and promoted by the same company that developed Search.bilabordnet.com browser hijacker. In fact, if your computer is infected with Archive Manager, your web browser is likely to be hijacked by bilabordnet and vice versa, because those two are promoting each other and infiltrating programs into infected systems.
Moreover, potentially unwanted programs are known for infiltrating various malware into a computer, so even if Archive Manager just sits there on your computer without causing much of the trouble to you, it can actually do a lot of harm by automatically installing other viruses into your computer. Those infiltrated viruses can be much more dangerous, such as ransomware infections or keyloggers.
Speaking of private information, Archive Manager can do some damage regarding it as well. Those malicious applications are always quietly running in the background and collecting all sorts of information about you. Obviously, it can cause a lot of harm if such data is leaked to third parties – you certainly don't want that to happen. That leads to a conclusion, that Archive Manager can be problematic even if it is only installed on your computer and you are not actively using it. And if you are using it and considering to purchase the license for this program, we suggest changing your mind before it's too late.
How To Eliminate Archive Manager From Mac
We have already mentioned that Archive Manager might come as a surprise. That's because this application is distributed bundled with other free software and also promoted by bilabordnet. It's not that surprising because it is a common method to distribute potentially unwanted programs. PUP's like PDFKing, MacRapidizer, or Super Tuneup are also distributed in the same way.
There is one solution to both protect your computer from such infections and remove them if your system is already infected – anti-malware tools. You can look them up in our reviews section, where we talk about most promising AM programs, or you can go straight for Spyhunter. This program features a brilliant version for Mac computers and is capable of detecting and removing such infections instantly. If you have any difficulties or further questions regarding this virus or its' removal, feel free to ask them in the comments section below.
Automatic Malware removal tools