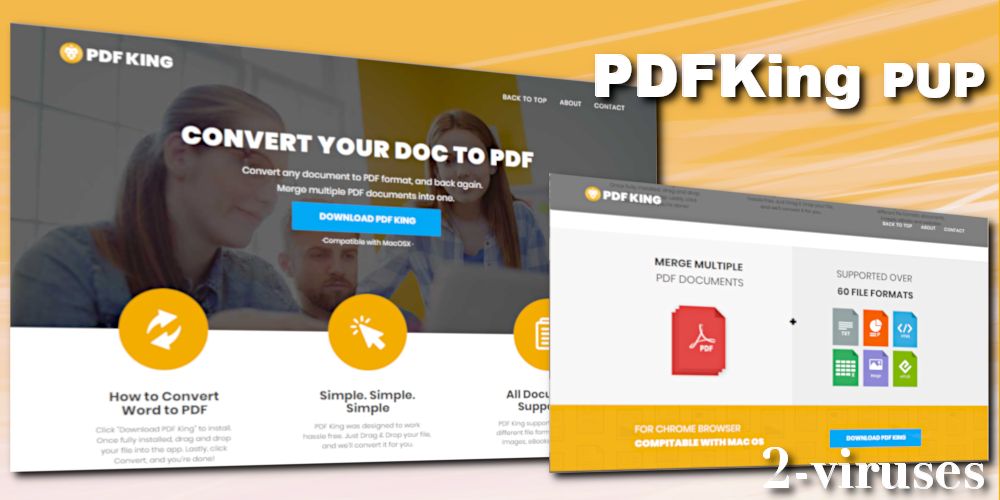 PDFKing is a potentially unwanted program for Mac OS, which can also install as Chrome's extension on any operating system. This deceitful tool uses the popular demand for file converting software to lure in tons of victims, who right after the set up are bombarded with shady third-party offers, redirects, and even a browser hijacker. At first, it is hard to tell that PDFKing is a malicious software, but those who decide to proceed with an install, quickly notice the negative changes on their computers.
Pdfking Pup quicklinks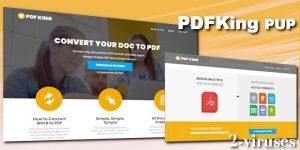 Alongside with the visual changes, PDFKing reveals in their Privacy Policy that they might as well silently collect users' personal and non-personal information, which later is shared with Third-party sources. That and other virus-like features puts a shade over this PDF converter, which at best should be avoided and if not, at least deleted from Mac and Chrome as soon as possible to secure your own privacy and computer's well-being. Knowing the persistence and the hard time these PUP's give to their victims, our researchers came up with a removal guide, that will be helpful to anyone dealing with PDFKing virus.
What is PDFKing virus
Recently, Mac users from the United States, the United Kingdom, Germany, France, and China reported a strange conversion tool from Tabatoo Ltd. ( aka Tabatoo) called PDFKing. This program supposedly should help to change file formats, but contains many additional features that change computer's settings and are threatening users' privacy. Even though PDFKing is a fairly new software, this behavior is well-known in the malware world for potentially unwanted programs and can be seen in many other examples, such as ViewMyPDF, FreePDFCombiner,   Pdf2DocPro,   PdfConverter.pro.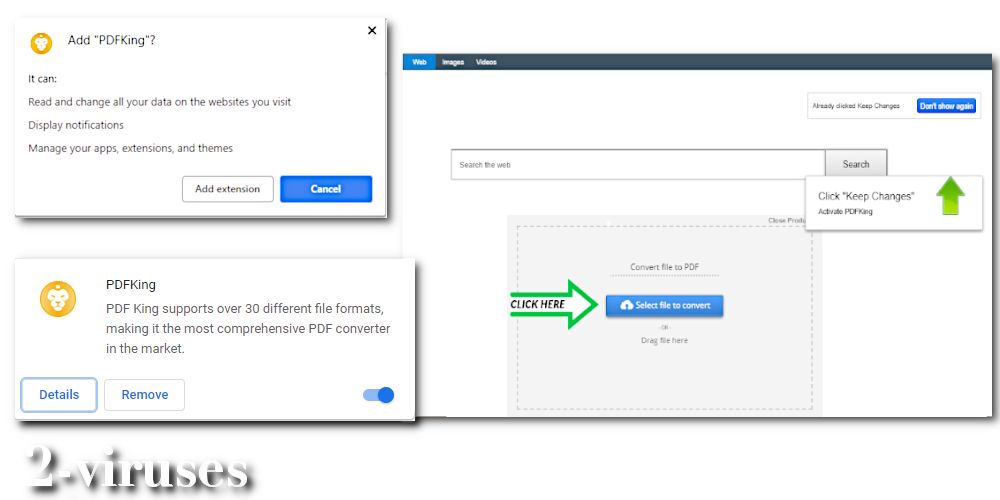 The developers present PDFKing as an amazing free program which can convert over 30 different file formats just in seconds, making it seem like a perfect comprehensive tool every user would benefit from. Unfortunately, this sounds to be good to be true and it is. Hackers know that Pdf file conversion is a routine action used every day, therefore everyone is constantly looking for something like PDFKing that offers everything in one place and free of charge. Using such camouflage of a popular format, creators of the utility tool install many other adware-like features which benefit them, making up for releasing PDFKing for free.
The malevolent behavior which is common for PDF King program is Installing without users consent, posting Aggressive advertisements, generating pop-ups and redirects to third-party offers, hijacking Chrome's default settings and setting Bing as the main search engine, moreover gathering data about the victim, including browsing history, credentials, logins and etc. Some of these actions allow the company to gain from pay-per-click, pay-per-view, increased traffic and Affiliate programs, and some, like collected data, pay-off once are sold for marketing companies or on the darknet.
As scary as it sounds, there is not much you can do legally, because everything is stated in PDFKing's Privacy Policy, that users often forget to read before using an app:
PDF King may include links to third party services and/or the third party service, which are not proprietary to Tabatoo or under its control in any manner.

The information that may be collected concerns your identity and personal preferences as they relate to PDF KING. Tabatoo may collect only personal information that you provide us voluntarily. and other non-personal information or anonymous information, such as the number of your page views, link clicks and IP address without the last 3 digits, as well as any other information you agreed to share with us.

WITH WHOM WE SHARE THE INFORMATION:
Third parties: Except as specifically described in this Privacy Policy, your personal information will not be shared with third parties without obtaining your consent.
Affiliated companies: Tabatoo may share the information with its subsidiaries and affiliated companies who have undertaken to protect your privacy in accordance with the Policy.
Service providers: Tabatoo may share the information with authorized service providers that were hired to provide certain services (e.g., cloud computing services, digital purchasing services) for Tabatoo and are under the strict confidentiality and privacy obligations.
Legal: Tabatoo may be required to disclose collected information when required by law or in circumstances that Tabatoo deems in good faith the disclosure is necessary to comply with a judicial proceeding or to protect Tabatoo and its users or third parties rights.
As you can see, continuing using this product can result in some serious consequences risking your online identity, accounts, savings and etc. Not to mention all the malvertising, which will be coming directly your way. Both the Chrome's extension, which you will be redirected from the main site, as well as the PDFKing software itself, are equally dangerous and should be removed as soon as possible, without further discussion.
How does PDFKing PUP spread
The more victims are infected, the more profit PDFKing PUP's creators generate, that is why there are a few methods this program uses to disseminate. Most importantly this software has a very nice and professional-looking design and presentation on their main website and Chrome's Web store, which creates the Illusion of a reputable tool. It comes in handy when unaware users come across the page when browsing for a converting program or when the targeted victim gets redirected to the same site after clicking on the link, planted somewhere online.
According to the SimilarWeb analysis, a lot of traffic comes from ninjajournalist.com, noteabley.com, hesgoal.com, wikiwand.com, lwv.thevoterguide.org and incometaxpro.net, clipart-library.com, christmas.phillipmartin.info, police-auctions.org.uk, lyricsochords.com which are legitimate websites, that simply agreed to put Google Display Network promotions on their sites. They do not pick what this ad network is going to show to their visitors, therefore it's only up to users themselves to be careful when surfing online.
Lastly, there is one last way PDF King PUP uses to sneak into computers – Bundling. This way the virus surprises the victim only after it's already in the system and nothing can be done to prevent it. This is done by developers paying some freeware distributing site, torrent page or etc. to compile their software with some other popular trustworthy programs so that involuntarily PDFKing would be installed together with the other product. This could be avoided by simply getting applications from their official sources and not some third-party vendors, as well as removed from the set up in Custom or Advanced mode on the Setup Assistant.
How to eliminate PDFKing PUP from Mac
Luckily, PDFKing is not as notorious as some other Mac viruses and can be eliminated either by dragging the icon to the Trash, just like any other application uninstalling, or the better option would be the termination with Combo Cleaner malware removal tool. Both methods will do the job but since PDFKing's installation your Mac became more vulnerable and exposed to online threats, that easily could've set up without your knowledge. Combo Cleaner anti-spyware software is able to detect all kinds of viruses, therefore it's best of your interest to use this security product and remove all malicious files together with PDFKing. All you need is to download the tool and run a free scan to figure what issues your Mac is dealing with.
Automatic Malware removal tools
How to uninstall PDFKing extension from Chrome
Getting rid of PDFKing extension from Chrome can be a really easy task if you know what you are doing. It's not different than removing any other plugin, yet not everyone is familiar with this browser's feature, therefore we prepared a visual instruction guide on how to do it. In addition to manual elimination, we highly recommend scanning your computer, whether it is a Mac or Windows with Spyhunter free anti-spyware scanners to check if you successfully deleted everything that is harmful from the system, just in case some other viruses sneaked in through the third-party ads and etc.
TopRemoving PDFKing PUP from Chrome
Click on the menu button on the top right corner of a Google Chrome window. Select "Settings".

Click "Extensions" on the left menu bar.
Go through the extensions list and remove programs you do not need, especially similar to PDFKing PUP. Click on the trash bin icon next to PDFKing PUP or other add-ons you want to remove.

Press on the "Remove" button on the Confirmation window.

If unsure, you can disable them temporarily.

Restart Chrome.
(Optional) Reset your browser's settings
If you are still experiencing any issues related to PDFKing PUP, reset the settings of your browser to its default settings.
Click on Chrome's menu button (three horizontal lines) and select Settings.

Scroll to the end of the page and click on the Reset settings button.

Click on the Reset button on the confirmation box.

If you cannot reset your browser settings and the problem persists, scan your system with an anti-malware program.