ArcadeFunNetwork is an extension for online entertainment lovers that can find all the most popular Flash games in one place and for free. While the idea of this gaming add-on looks pretty good and useful, yet we all know that everything costs something on the Web, one way or another. The price you have to pay for playing the ArcadeFunNetwork is tons of ads, which are displayed to you when you are playing or sometimes can even follow you to other websites. Online marketing grew significantly in the past few years, therefore more and more developers fall for it to generate easy money, ArcadeFunNetwork included.
Arcadefunnetwork Adware quicklinks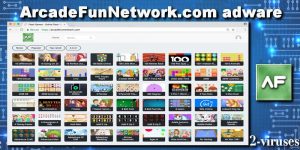 Even though ArcadeFunNetwork extension should not be considered to be a virus, because compared to some other PUPs and adware it does not demonstrate all malicious qualities, yet the intrusive pop-ups, banners, redirects are indeed an undesired feature. Plus it comes from third-parties which can post whatever content they want or Malvertise without having second thoughts. You will notice such promotions by the tiny phrase above or below saying "Powered by ArcadeFunNetwork", "Brought by ArcadeFunNetwork Ads", "by ArcadeFunNetwork". So if you are dealing with this ArcadeFunNetwork caused issue make sure to read this article to understand how and why is it worth removing it from your PC.
Is ArcadeFunNetwork malicious
You can access ArcadeFunNetwork.com games when you visit the website, but that's not dangerous and most likely you won't see as many offers as you would once you install the extension. But that is because through the browser add-on developers are capable of injecting certain Javascript codes, which enable the application to make alterations to your browser. In case of ArcadeFunNetwork, these changes will be minimal and practically invisible, unlike with AppMaster, MessengerTime, Maxi Buy, Powzip, meaning that your homepage, the search engine will not be altered but no one knows for how long, because of the malicious third-party content.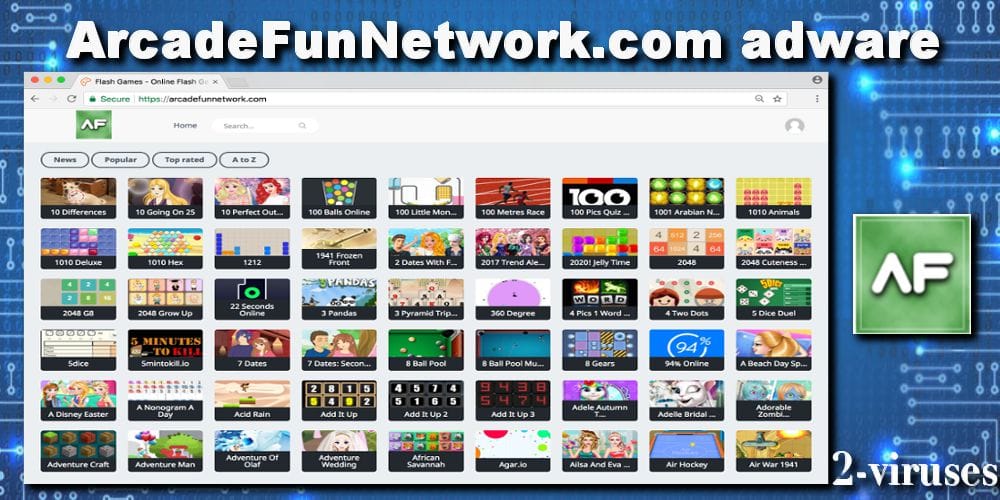 ArcadeFunNetwork actually is not that better or special. You can always simply just go to Miniclip.com and other flash game sites (or bookmark them) and play your favorite games without the additional mediating app since it doesn't save that much of your time. Pop-ups, scams, redirects and Affiliate marketing is going to be all the negative things which ArcadeFunNetwork adware will put you through each online surfing session because this generates creators a very good revenue for PPC/PPV and sponsored codes. And despite this extension not bringing any malware in themselves, the third party ads can definitely cause some damage. Take a look at the ArcadeFunNetwork Terms and Conditions:
In exchange for End Users installing our browser add-on/extension to receive advertisements, Arcadefunnetwork links End Users to games that are free to play. Arcadefunnetwork serves clickable ads to the End User through a variety of different types of advertisements, including, but not limited to, pop-ups, pop-unders, in-text, interstitials, banner, and video advertisements. Arcadefunnetwork does not collect any personally identifiable information. Arcadefunnetwork does not intentionally distribute Malware or Spyware. Arcadefunnetwork's add-on/extension does not alter any existing settings in your browser, including current homepage choice.

We do not collect any personally identifiable information from you. Additionally, the Site and the Games may display third-party advertisements before, during, or after gameplay. All third-party advertisements and applications from the Software, the Site, and the Services are not owned or controlled by us.

Clicking on, accessing, purchasing, participating, or any other type of involvement with any Third Party Content is your own risk and we shall have no liability whatsoever to you for any Third Party Content. We are not affiliated and does not endorse any Third Party Content, and is not therefore, not liable for any claims related to Third Party Content, including, but not limited to, the products or services linked to through Third Party Content.
As you can see, ArcadeFunNetwork.com is basically not a virus, but rather an encouraging factor. It does not regulate the third-party activities and if your computer is vulnerable it is not their responsibility if any of the ads will bring you some ransomware, trojan or hijacker. Therefore think twice if having such targeted advertising app is worth the risk. We think not.
How does ArcadeFunNetwork virus spread
At the moment most users are from the UK and US, but it's not limited where the ArcadeFunNetwork app can be distributed. As of right now, the most common method for the flash game app to spread is the legitimate self-advertisement on their official site ArcadeFunNetwork.com. Yet there is no secret that this extension travels and infects users' computers while hiding in some other software SetupWizards, aka bundling and through online ads, which reroute gullible users to the installation page. (How to protect yourself from malware)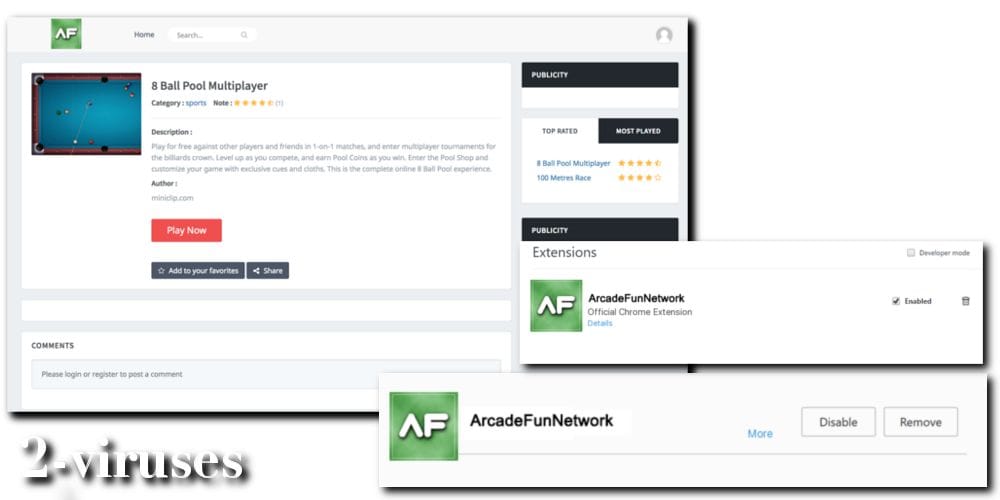 Bundling is a typical spreading technique for adware and PUPs because it is easy and can really end up in many computers just because of the absent-minded software installation habits of most users, who skip through all steps before even reading anything about the application. It is crucially important to familiarize with the new program you are installing and the rights it requests from your PC, which you cannot always do when you pick Standart/Recommended installation. In this case, ArcadeFunNetwork.com or its subdomain inter.arcadefunnetwork.com are hiding in the Custom model programs to install section, which needs to be manually unmarked to avoid this threat. For more facts what happens when you install adware please Read this article.
How to remove ArcadeFunNetwork virus fast
Since ArcadeFunNetwork is not the most persistent or notorious virus, even amongst other adware, it is fairly easy to get rid of. All you need to do is to disable and remove installed extension from your Mozilla or Chrome settings, just like shown in the picture above. To find the path to it, you can see the removal instructions below. Yet if the virus stayed in the PC for too long it would be best to download a spyware removal tool which is going to take care of the ArcadeFunNetwork.com deleting all related files, together with additional malicious software that sneaked in once vulnerabilities were exposed. We use Spyhunter, Malwarebytes. All three have trustworthy detection and termination techniques moreover can provide future protection.
Automatic Malware removal tools
How to uninstall ArcadeFunNetwork adware with no program
Below you will find the instructions that we promised that will help to get rid of the ArcadeFunNetwork virus from Chrome and Mozilla. If you know for sure that you installed ArcadeFunNetwork extension but can't find it either on your browser settings or Control Panel, that means that virus got more sneaky and you will need either Spyhunter help to get rid of it. (Main ways how malware hide from Antiviruses)
TopRemoving ArcadeFunNetwork adware from Chrome
Click on the menu button on the top right corner of a Google Chrome window. Select "Settings".

Click "Extensions" on the left menu bar.
Go through the extensions list and remove programs you do not need, especially similar to ArcadeFunNetwork. Click on the trash bin icon next to Inter.arcadefunnetwork.com or other add-ons you want to remove.

Press on the "Remove" button on the Confirmation window.

If unsure, you can disable them temporarily.

Restart Chrome.
(Optional) Reset your browser's settings
If you are still experiencing any issues related to ArcadeFunNetwork adware, reset the settings of your browser to its default settings.
Click on Chrome's menu button (three horizontal lines) and select Settings.

Scroll to the end of the page and click on the Reset settings button.

Click on the Reset button on the confirmation box.

If you cannot reset your browser settings and the problem persists, scan your system with an anti-malware program.
TopRemoving ArcadeFunNetwork adware from Firefox
Click on the menu button on the top right corner of a Mozilla window and select the "Add-ons" icon (or press Ctrl+Shift+A on your keyboard).

Go through Extensions and Addons list, remove everything ArcadeFunNetwork related and items you do not recognise. If you do not know the extension and it is not made by Mozilla, Google, Microsoft, Oracle or Adobe then you probably do not need it.

(Optional)
Reset your browser's settings
If you are still experiencing any issues related to Inter.arcadefunnetwork.com, reset the settings of your browser to its default settings.
Click on the menu button on the top right corner of a Mozilla Firefox window. Click on the Help button.

Choose Troubleshooting Information on the Help menu.

Click on the Reset Firefox button.

Click on the Reset Firefox button on the confirmation box. Mozilla Firefox will close and change the settings to default.

If you cannot reset your browser settings and the problem persists, scan your system with an anti-malware program.