AppMaster or AppMaster.exe is known in a cyber world as an adware virus, which can slighter into computers without a sign and cause some severe irritation and damage to the system. If you have recently installed a program called PDF PRO 100, you can be sure that AppMaster adware came with it and all these ads that you are seeing are there because of it. Maybe right now the issue is not that bothersome, however, if you wait any longer then you might experience the true aggressive online marketing at its worst.
Appmaster Virus quicklinks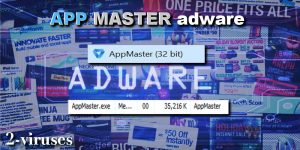 We all know that online promotions are not just annoying but dangerous too, so you can imagine what dangerous position you place yourself when AppMaster adware has access to your browser. Not to mention the ability to bring new malware or steal your data. If you do not want to become a victim of the Identity theft or destroy your system we suggest for you to read this 2-viruses.com article about the AppMaster adware and all the horrible things it may do and how to stop that. Therefore, without further ado, let's get to what's important.
Is AppMaster adware malicious
As you know now, AppMaster is an advertising threat, which is designed to generate money for the developers from online marketing and selling gathered data to third-parties. At first, these promotions can seem innocent but in reality, they hide much more than just a link to a sponsoring store/service. You won't be able to avoid Malvertising (which can install more dangerous malware into your PC just from clicking on a flashy ad), because AppMaster virus gives permission to same third-parties, which are unknown to post anything directly to the user. Excessive pop-ups and redirects from randomly placed links will also become your everyday routine if you will keep AppMaster adware in your system.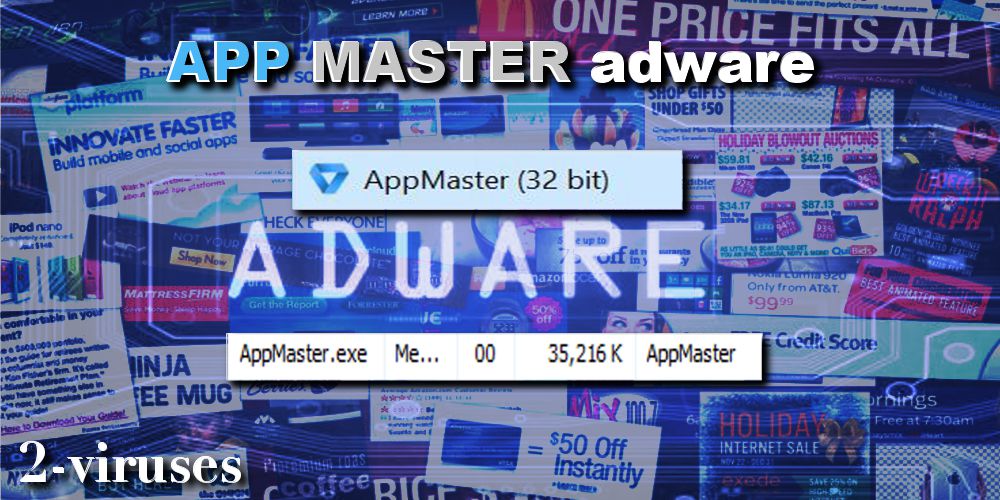 Apart from the Shady affiliate marketing AppMaster virus will make sure to log every step on the internet you will make. The data that you will enter through your browser will not be personal anymore. Not even your personal data will be known only to you either. Banking details (including your credit card info), credentials, address, passwords, and logins will be known to crooks, which will collect this sensitive information together with search queries and browsing history for third-party statistics. But AppMaster adware will be so silent that you won't even notice it until one day your accounts will be hacked, bank account emptied and all the other data will get on the DarkWeb. Although this may not happen to everyone, it is best to avoid it. (Here is how hackers are stealing your data)
If you still are not ready to separate with the PDF PRO 100 and AppMaster virus, then take a look at their both VirusTotal and Hybrid-Analysis reports, which clearly state that analyzed programs are threats and recognized as PUA.Gen (potentially unwanted application or PUP). The AppMaster threat is no different than other adware viruses like  MessengerTime, Maxi Buy, Powzip, and will only cause more troubles than benefit you. And also there are so many free file converter tools online that you don't even need to keep any of this malicious software.
How does AppMaster virus spread
Adware type of viruses tend to spread in bundles. It has been like this for a long time and usually, these bundles are created by third-party vendors or Freeware sites which get paid in order to spread malware with legitimate popular programs to unsuspecting and gullible users. AppMaster, on the other hand, is distributed still in a bundle,mainly – PDF PRO 100 and recently discovered bundler called AbsoluteConverter.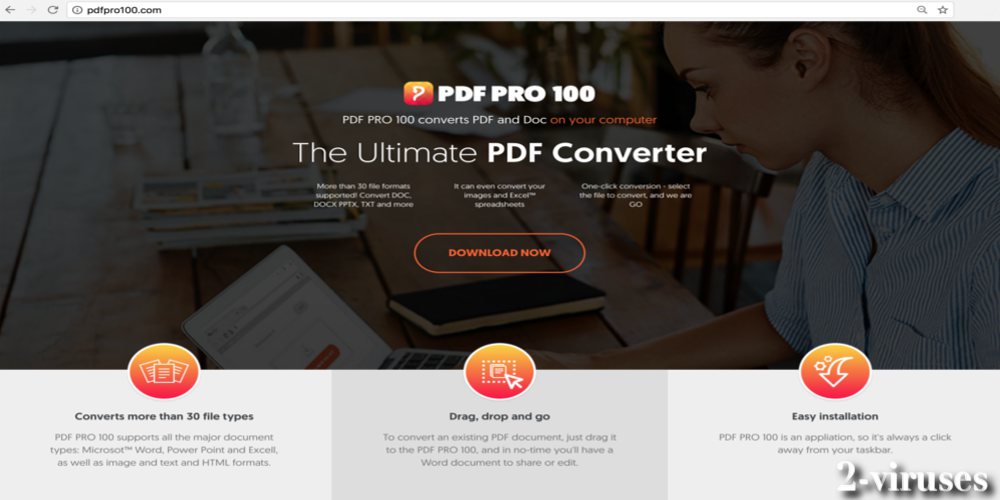 This application is a legitimate converter, but as you can guess, not a very good one. PDF PRO 100 program is offering free file converting features, yet they are earning their revenue by distributing malware like AppMaster in their installer. Unlike the other Bundles, this one does not allow to deselect additional application setup in the Custom installation and just places AppMaster whether you want it or not. This is why you should avoid this program if you did not have it yet, at all costs.
How to remove AppMaster adware
Installation of the AppMaster virus is rather tricky and secretive, therefore the removal can get confusing as well. Such adware threats can change their names once installed or hide from the user by using invisibility functions. But while these tricks can fool a person without technical knowledge, they mean nothing to reputable malware removal tools. Anti-spyware programs like SpyHunter and Malwarebytes have been taking care of infected computers for years, therefore, detecting AppMaster adware is not a difficult task.
Behavior, name, hash, processes and many other details help these security tools to hunt down AppMaster virus and other malware that may be in your compromised and vulnerable system no matter how well and where they are hiding. The other advantage of investing in such a product is that it saves lots of time and can be useful in the future if you will find yourself in a similar situation not knowing whether it is safe to use the program or not because it will right away match it with files in the large database and block the installation interrupting virus setup. But of course, if you keep surfing mindlessly no antivirus can help you, so please review Tips on how to stay safe online.
Automatic Malware removal tools
How to uninstall AppMaster virus on your own
If you decide to go with the manual removal of various malware, no matter if it is just a simple AppMaster adware or a dangerous ransomware, have in mind, that there are more possibilities that things will go wrong when you do it by yourself, rather than using a special tool, which is designed specifically to take care of cyber viruses. Therefore we cannot promise that such removal will achieve the best results and a clean PC, yet it is worth trying because some threats may not be very strong and persistent.
Below we offer you an AppMaster virus termination guide from Control Panel, where you should be looking for programs named AppMaster or PDF Pro 100. Once you find them simply press uninstall button and follow the instructions as in our presentation. If your PC will still be running slow and you will be seeing ads, then you may want to actually try some security tool from our Reviews page.
How to remove AppMaster virus using Windows Control Panel
Many hijackers and adware like
AppMaster
install some of their components as regular Windows programs as well as additional software. This part of malware can be uninstalled from the Control Panel. To access it, do the following.
Start→Control Panel (older Windows) or press Windows Key→Search and enter Control Panel and then press Enter (Windows 8, Windows 10).
Choose Uninstall Program (if you don't see it, click in the upper right next to "View by" and select Category).
Go through the list of programs and select entries related to Pdfpro100 . You can click on "Name" or "Installed On" to reorder your programs and make AppMaster virus easier to find.
Click the Uninstall button. If you're asked if you really want to remove the program, click Yes.
In many cases anti-malware programs are better at detecting related parasites, thus I recommend installing Spyhunter to identify other programs that might be a part of this infection.