MessengerTime is a free program that is supposed to help users effectively communicate with their Facebook contacts on their desktops and laptops. It claims to be the perfect tool for those who do not fancy Facebook's messaging platform. But you should think twice before using it, as it's considered dangerous by some antivirus vendors.
In order to work, the MessengerTime program requires users to sign in with their Facebook accounts. But this is where things become shady. After logging in, people start noticing more ads than ever, various posts from their social media that they haven't made, additional applications in their systems that were installed without permission, slower browser, etc. That is all because MessengerTime is actually an adware virus.
Messengertime Virus quicklinks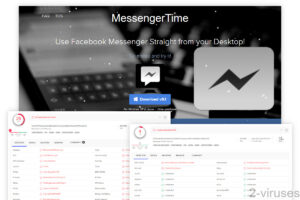 About MessengerTime:
Classification
Adware.
Problems and issues
It tracks user information,

it opens affiliated sites and displays ads to its users.

How MessengerTime gets installed
Downloaded from its home page,

downloaded from a freeware site,

bundled with other programs.

How to remove MessengerTime
Uninstall it manually,

remove it with an anti-malware tool such as Spyhunter, Malwarebytes, others.
There are more than half a million installs of MessengerTime adware, despite the fact that various antivirus tools detect this app. In this article, the 2-viruses.com team will try to show you why it is best to avoid this application and how to remove it once and for all. You may want to take a look at this LifeLock article Which will show how to deal with possible identity theft and leaked information.
Is MessengerTime malicious?
It's important to note that MessengerTime shouldn't be mistaken for being official Facebook software. It is a separate service, not affiliated with Facebook and created by SoftNinjas Ltd. This company has other applications like MessengerTime but different platforms, eg. TwitterTime, InstaTime, WhatsappTime.
In a nutshell, MessengerTime is not a virus. But it does demonstrate some malicious features that should not be present in a trustworthy program.
The first problem is how it spreads. There are so many people that discover MessengerTime unexpectedly on their computer. They have never installed anything similar themselves, yet there is MessengerTime.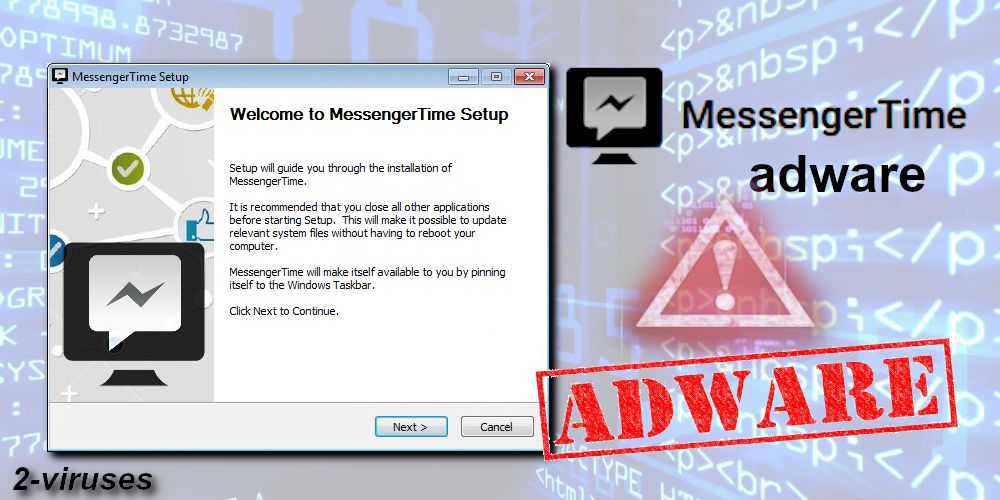 It's important to recognize that if you use MessengerTime, you're trusting your Facebook credentials to a third-party program. This is risky. It's really not advised to reveal your Facebook credentials to a company, program, or website that you don't completely trust.
Another problem with MessengerTime is the ads that it displays. When you use this program or browse the web on your browser, you might notice a few more ads than what you're used to. You might also notice mysterious browser redirects, reloads, unusual webpage layout, and longer webpage load times.
Aggressive ads, malicious advertising, slower browser, and constant pop-ups/redirects can be caused by advertising programs such as MessengerTime.
It would be best for your privacy and your browsing experience to delete the MessengerTime adware and use the official website instead.
How the MessengerTime virus spreads
There are a few ways in which you might end up with MessengerTime on your PC.
You might have downloaded it yourself from the internet. MessengerTime has its own home page from which you can download its Windows version. (a macOS version is "coming soon"). This installer is detected by a few antivirus scanners as a potentially unwanted program: Virustotal.com.
There are many free software repositories (Softonic, Softfamous, etc.) that also carry MessengerTime. These sites sometimes wrap the installers that they offer in adware. As a result, programs downloaded from them might install additional and unexpected items.
On the other hand, MessengerTime might have been bundled with another program. You might have installed it unintentionally while installing another app. We suggest skimming the EULAs of the programs you install, using the Advanced/Custom installation features when possible, and using a reliable anti-malware app that could warn you about suspicious arrivals on your PC. Top 10 Ways PUPs Sneak Onto Your Computer..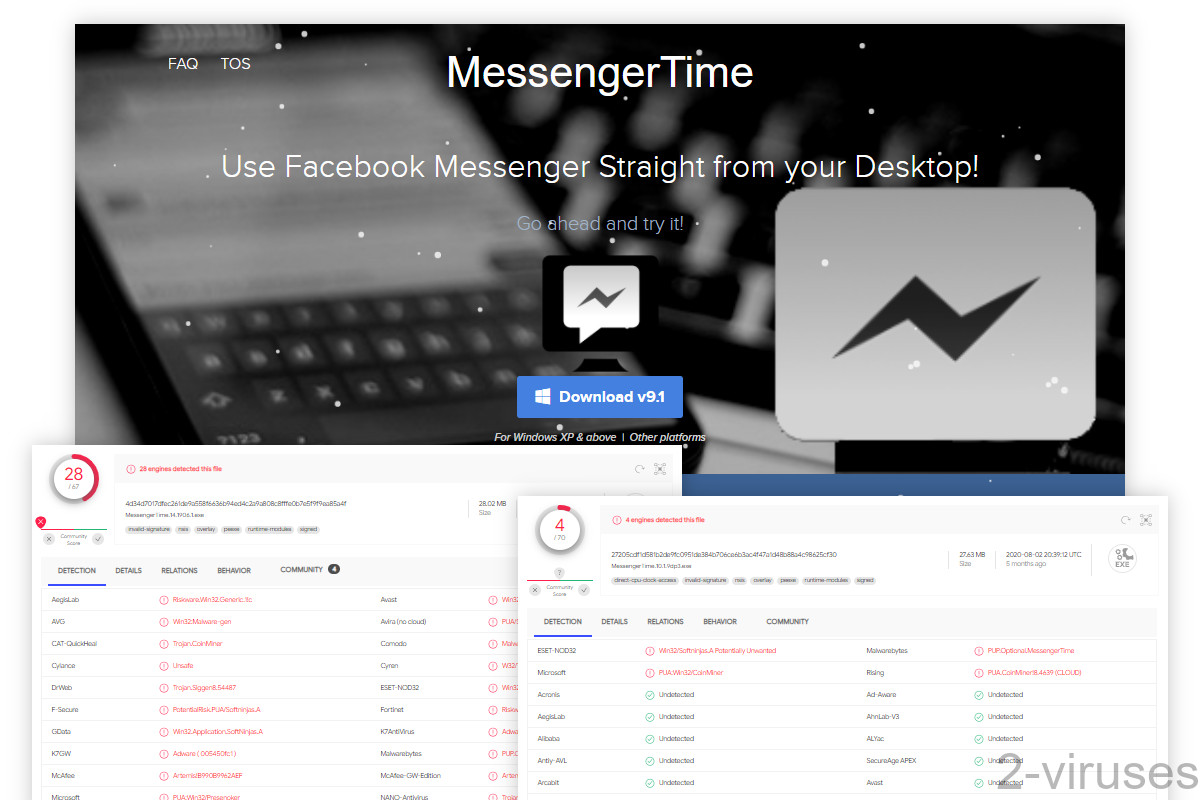 How to uninstall MessengerTime adware
If you want to get rid of the MessengerTime virus, the easiest way to do that would be to uninstall it from the Control Panel or from the Settings -> Apps and features page.
However, because MessengerTime might have been installed by/with a bundler, it's important to check for other adware programs and potentially unwanted software. You can do that by scanning your computer with an anti-malware program, such as Spyhunter, Malwarebytes, or others. Since these anti-spyware programs are well developed, trustworthy, and have sophisticated detection and termination features, they should be able to recognize most malicious, as well as potentially unwanted and low-reputation programs.
We also advise you to reset your passwords (not just your Facebook password) and make sure that you have 2-factor authentication where it's available. This will help you keep your accounts safe.
Automatic Malware removal tools
How to remove MessengerTime Virus using Windows Control Panel
Many hijackers and adware like
MessengerTime
install some of their components as regular Windows programs as well as additional software. This part of malware can be uninstalled from the Control Panel. To access it, do the following.
Start→Control Panel (older Windows) or press Windows Key→Search and enter Control Panel and then press Enter (Windows 8, Windows 10).
Choose Uninstall Program (if you don't see it, click in the upper right next to "View by" and select Category).
Go through the list of programs and select entries related to MessengerTime Virus . You can click on "Name" or "Installed On" to reorder your programs and make MessengerTime easier to find.
Click the Uninstall button. If you're asked if you really want to remove the program, click Yes.
In many cases anti-malware programs are better at detecting related parasites, thus I recommend installing Spyhunter to identify other programs that might be a part of this infection.