Apple virus is a generalized term that applies to a variety of cyber threats that affect Apple devices, including Macs. Most Apple viruses are spread through deceptive ads that impersonate Apple by stealing its logos and visual style. These ads trick Mac users into downloading and installing potentially unwanted apps and adware. Malicious macOS apps threaten people into paying for them, steal personal data, fill the web browser with ads, and otherwise disrupt the use of the Mac.
Apple Virus quicklinks
Several years ago, Macs were considered to be much safer than Windows computers. Even now, people say that there's no such thing as an Apple virus. Unfortunately, Macs are catching up when it comes to malware detected. The reasons include rising numbers of Apple computers and the lack of antivirus adoption on Macs. Cybercriminals aren't sitting on their hands – they see Mac users as potential victims and develop malware to exploit them. This guide will talk about the symptoms of real Apple viruses, list a few examples, and show the infection strategies that criminals use. We'll also talk about fake Apple virus warnings that are used by scammers.
In short about Apple viruses:
Types of Mac malware
Fake tech support and rogue security programs,

scams and scareware,

adware and browser hijackers,

data-stealing malware.

Dangers of Apple viruses
Annoying ads and pop-ups,

money spent on fake security,

stolen personal info and banking details,

hacked online accounts,

stolen money.

How Apple viruses spread
Downloaded with pirated and low-quality apps,

promoted by sites that impersonate Apple, Adobe, and other trusted companies,

shown by pop-ups on shady websites.

Avoiding and removing Mac malware
Block malicious ads and websites with an antivirus program,

scan your Mac for malware periodically with a security program (like Combo Cleaner, Malwarebytes, etc.),

don't reveal your login credentials to anyone,

don't reveal your personal and payment info without verifying who you are talking to.
How to establish a real Apple virus on your Mac?
The word "virus" here is used colloquially and refers to a variety of Mac issues. The problems that people experience when attacked by Apple viruses include these:
Web browsers get hijacked, resulting in changed default home page and search engine settings;
apps crash and freeze, the system is slow, the internet connection goes out;
intrusive and irrelevant ads, pop-ups, banners, and discounts appear in web browsers on every website;
pseudo system cleaners, rogue security apps, other potentially unwanted apps show constant pop-ups warning about issues and asking you to buy the full version.
The list above is not exhaustive – Apple viruses may cause other symptoms, too. One of the more serious recent Mac infections was the Shlayer trojan, which was very widespread and could result in all of the symptoms listed above, and more. Another typical example is Smart Mac Booster, a fake security program sold by scammers after they scare people into thinking that their Mac is infected. Meanwhile, some of the smallest Apple viruses are various browser hijackers and notification spammers.
Your Mac behaving unusually, even if it's just a few pop-ups, is a valid reason to investigate it for malware with a reliable security program. Apple virus infections can hurt your productivity and even steal your data, so it's important to get rid of them ASAP. At the same time, it's important to recognize fabricated threats like those described in the following section.
Examples of fake Apple virus alerts.
Online criminals work hard to trick as many Mac users as possible. Cybercriminals' main mission is to make money, for which they employ fraud, scams, and other illegal means. The most frequent scam is to impersonate Apple. That allows fake Apple viruses to gain people's trust and do pretty much anything they want:
get people to subscribe to fake or scam customer support services;
spread rogue security software and fake system optimization tools;
collect personal details of the victims.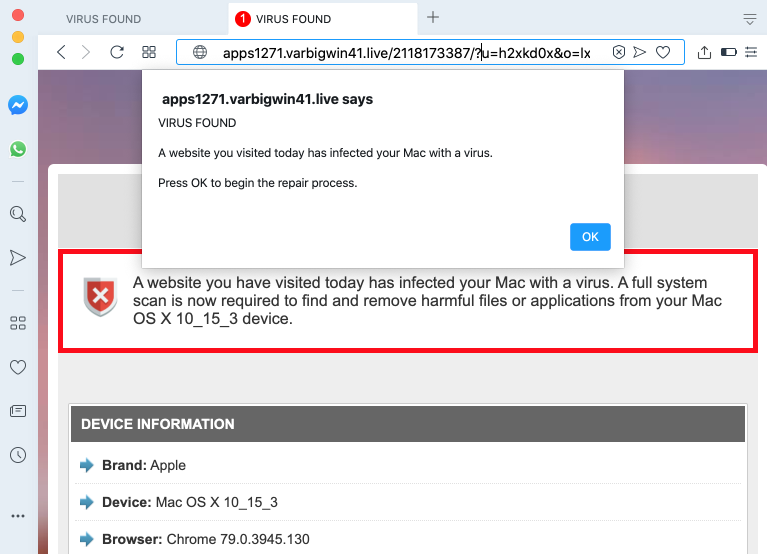 Fake Apple support sites and pop-ups that tell you that you've got a virus on your Mac are used by cyber frauds to hunt for victims. Sometimes the name of the Apple virus is totally made-up, like Bankworm or Tapsnake. The Apple virus scams may be entirely digital, or they may include a helpline with scammers on the other end. The fake tech support sites abuse Apple's copyright and lie about being the official Apple support. Luckily, we can recognize a fake Apple virus by a few features:
pop-ups appear in your browser, reporting that you've got a virus, hijacking the screen and playing obnoxious warning sounds;
browser pop-ups show fake scans that find some malware on your Mac;
fake Apple support sites recommend third-party software to remove the "detected" Apple viruses;
you're encouraged by the pop-ups (or by a rogue security program on your Mac) to call a toll-free helpline;
pseudo tech support technicians try to sell you support worth hundreds of dollars and/or to get remote access to your Mac;
scam support helplines often suffer from a poor connection and low audio quality, the scammers' claimed location doesn't match their accent, and they often lack technical knowledge;
people call you on the phone and claim to be from Apple, then ask you to give your username and password.
Such fake Apple virus warnings tend to appear alongside other unwanted ads, pop-ups, and redirects. Your browser's home page and default search engine may have been set to some strange website you'd never heard of before. Rather than an Apple virus, this situation is closer to a scam. Nevertheless, scams are very dangerous and can cost hundreds or even thousands of dollars to the victims.
Fake Apple virus warnings are very pushy. They show countdown timers, threaten that your data will be stolen and that your files will be deleted if you don't follow the scammers' instructions. Fake tech support technicians are even more forceful, sometimes threatening to permanently disable your Mac if you don't follow their instructions.
Example of a fake Apple support site: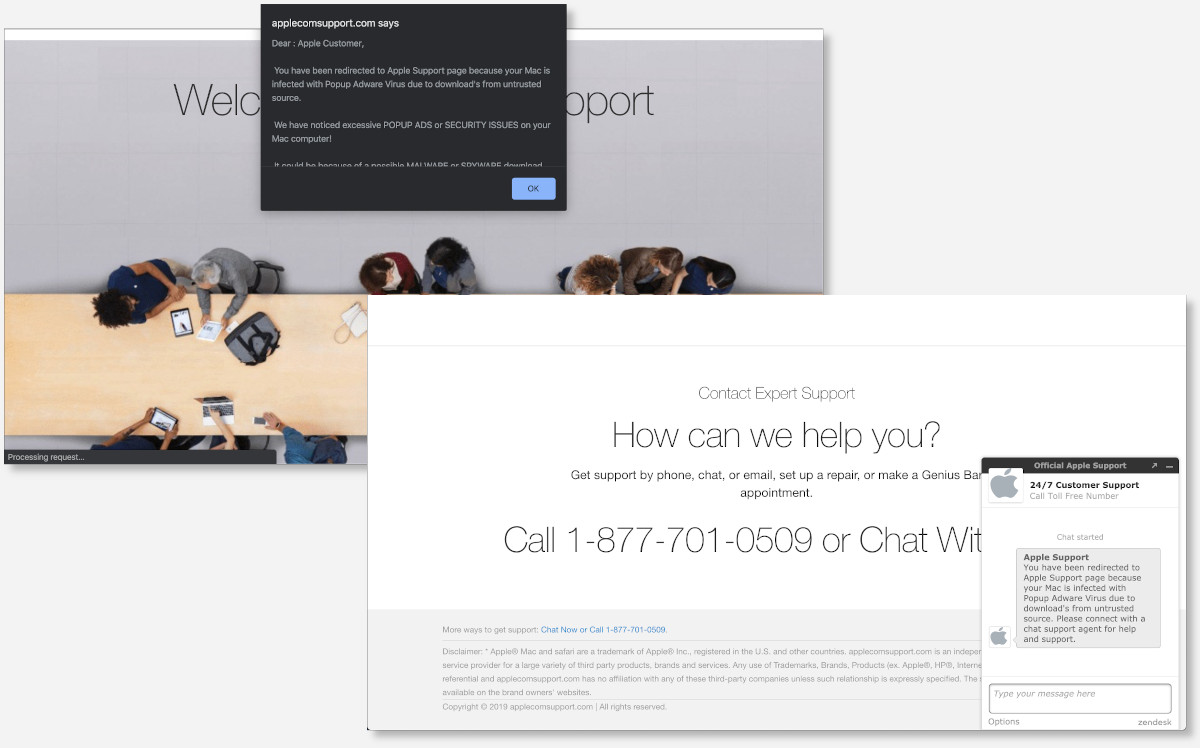 In reality, Apple's technical support site is Support.apple.com, its only tech support phone numbers are the ones listed on this page. Apple support does not call you first, does not threaten you, does not ask you for your login credentials, and does not push you to install anything.
How to secure your Mac from Apple viruses?
Right not it's a good time to establish the true security status of your Mac. How to find out whether your device is really infected with adware, browser hijackers or even more serious malware that can be referred to as the Apple virus?
Before we lay out the steps to detecting and removing Apple viruses, let's explore how to keep a Mac safe. First, your caution matters a lot in avoiding malware. You ought to be careful not to visit suspicious websites and not to download cracked software, and to be careful of pirating. Pirated apps and even legal freeware often bring real Apple viruses and potentially unwanted apps with them. Also, don't install software updates from random webpages because they're usually fake. Here's an example of a fake Flash Player download: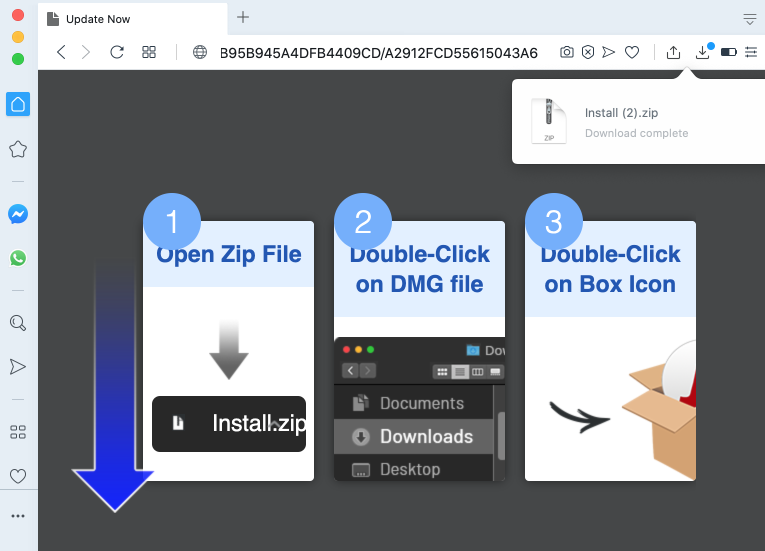 When you proceed with such a "recommended "installation and double-click on the box icon, the third-party downloader will pop up and instruct you to provide the Administrator password. Then, a lot of junk programs may be installed and gain control over your Mac. No doubt, you may soon experience complex problems that may be generalized under the term of "Apple virus".
As long as you don't run that downloaded installed, you're safe. If you're in doubt, you should scan it with an antivirus program that you trust, such as Combo Cleaner, Malwarebytes, etc. For small files, you can also use online tools like Virustotal.com.
Apple viruses infect Macs, steal personal data, fill the browser with ads, and slow down the computer. Fake Apple virus warnings are used by scammers to spread malware and to manipulate people into paying money and revealing personal data. Real Apple viruses and Apple virus scams are often intertwined. To avoid them, it helps to use an antivirus program to block malicious sites and ads, as well as to scan suspicious downloads.
If you find yourself in the middle of a scam, shut down your computer. If you revealed any banking data, contact your bank. If you revealed your passwords, change them. Consider reporting the scam to the relevant authority in your country and to Apple.
To investigate the true picture of what is going on with your Mac right now and whether there's any sign of a real Apple virus on it, consider scanning your system with the recommended security software as explained below. This method will get rid of true threats and remove any suspicious software that attempts to mislead you with the variety of fake Apple virus warnings.
Automatic Malware removal tools