Antispam Cyber Privacy offers to protect your privacy (if you buy it). But is it helpful at all? After all, it is detected by many antivirus programs as a Deceptor, Unwanted, or Adware (Virustotal.com).
Antispam Cyber Privacy quicklinks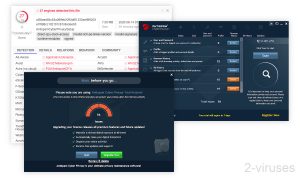 About Antispam Cyber Privacy:
Type of threat
Potentially unwanted program.
Privacy features by Antispam Cyber Privacy
Deletes browsing history, cookies,

looks for files that contain privacy details,

detects malicious sites.

Problems and issues
Does not reliably detect private details,

does not reliably block malicious sites,

seems to be very expensive.

How to remove Antispam Cyber Privacy
Uninstall it,

look for other malware with an anti-malware scanner (Spyhunter, Malwarebytes, others).
Antispam Cyber Privacy is not great for privacy
Antispam Cyber Privacy claims to protect your privacy from identity theft and targeted advertisers. It cares about:
Cookies.
Passwords.
Browsing history.
Chat history.
So, Antispam Cyber Privacy detects files that have some personal info in them. Nevermind that personal computer are for hosting your personal files, or that you can always delete your history and cookies for free by using tools built into your web browsers, or how strange it is that Antispam Cyber Privacy asks for money to do such a simple thing (Antispam Cyber Privacy's free trial version doesn't delete things).
Deleting cookies, cache, and other data hardly does anything for your online privacy. Antispam Cyber Privacy can delete all those files but your ISP (internet search provider) or your VPN provider (if you use a commercial VPN) still has your logs. The search sites that you use still save your search history (although you can request it to be deleted).
I'm not saying that Antispam Cyber Privacy is entirely unhelpful, but you should be aware of its massive limitations when it comes to protecting your privacy. Those limitations are such that I just don't see how it's worth it to use Antispam Cyber Privacy over free solutions like private browsing mode.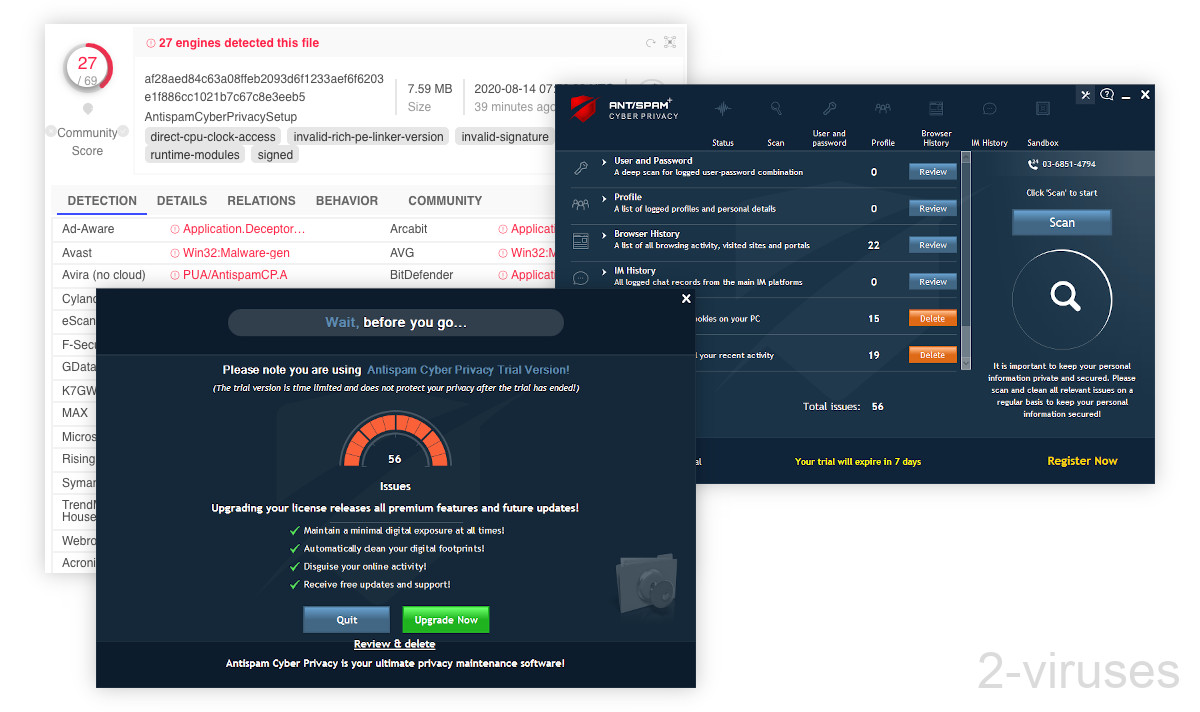 Other features and faults
Subpar user experience
There were a bunch of small things that made Antispam Cyber Privacy unpleasant to use:
It wasn't flagging the files I thought it should flag.
It wasn't blocking sites that I thought it should block.
It was aggressive in its promotion of the paid version of the program.
Antispam Cyber Privacy claims to block malicious sites. I tried a few (malicious redirects, browser hijackers, adware sites) and they didn't get blocked so I'm not sure how helpful Antispam Cyber Privacy is in this regard.
Antispam Cyber Privacy also scans your computer to find files where personal information is stored. This might be helpful if it worked. I tried creating files with phone numbers, credit card numbers, emails, and passwords and Antispam Cyber Privacy just did not flag them.
To be "helpful", Antispam Cyber Privacy creates multiple scheduled tasks that run in the background, such as at 3PM and 3:15PM. One of the tasks is to preapprove those prompts that ask you to grant administrator access for a program. For an app that claims to want to give you control over all of your information, Antispam Cyber Privacy is being a little hypocritical here.

Like other potentially unwanted programs (PrivacyProTech, Wise Care 365, etc.), Antispam Cyber Privacy nags you when you try to close it. Also, pressing the Quit button only minimizes the program instead of actually quitting it. It's still running in the background, failing to block malicious sites in my browser.
Tech support and price
While Antispam Cyber Privacy seems to be a self-contained program, its home website, Antiscamplus.com, is actually a tech support site. Maybe that's why Antispam Cyber Privacy prominently features a support phone number.
According to Antiscamplus.com's terms of service, there's a monthly subscription fee for that tech support. It's hard to know what it is because of the way that Antiscamplus.com is set up (which is a bit of a red flag).
But there's an ad saying that a yearly cost of the package of three programs – including Antispam Cyber Privacy, a cleaner, and an antivirus – cost $349. This is a lot! Over three times more than some other, far more reputable antivirus and cleaner programs.
Also, described in Antiscamplus.com's terms of service is a bizarre pyramid scheme where users who invite friends to join the site make a bit of money.
How to remove Antispam Cyber Privacy
Like you saw in that Virustotal.com page, a lot of security vendors warn their users to stay away from Antispam Cyber Privacy. Luckily, you can just uninstall it and you should be fine. You can change your passwords if you're feeling a little paranoid.
You can also scan your computer with a more reputable antivirus program (Spyhunter, Malwarebytes, or whatever program you're comfortable with) and review the scan results. If some of your programs are detected as potentially unwanted, consider those warnings. There are usually good reasons why certain programs are detected as such.
In case you did sign up for Antispam Cyber Privacy and aren't happy with it, there seems to be a refund policy where, within 14 days, you can get your money back if you send an email. If that doesn't work, you should ask your bank for advice.
Automatic Malware removal tools
How to remove Antispam Cyber Privacy using Windows Control Panel
Many hijackers and adware like
Antispam Cyber Privacy
install some of their components as regular Windows programs as well as additional software. This part of malware can be uninstalled from the Control Panel. To access it, do the following.
Start→Control Panel (older Windows) or press Windows Key→Search and enter Control Panel and then press Enter (Windows 8, Windows 10).
Choose Uninstall Program (if you don't see it, click in the upper right next to "View by" and select Category).
Go through the list of programs and select entries related to Antispam Cyber Privacy . You can click on "Name" or "Installed On" to reorder your programs and make Antispam Cyber Privacy easier to find.
Click the Uninstall button. If you're asked if you really want to remove the program, click Yes.
In many cases anti-malware programs are better at detecting related parasites, thus I recommend installing Spyhunter to identify other programs that might be a part of this infection.