PrivacyProTech is presented as a privacy-focused anti-malware tool and a password manager. PrivacyProTech is considered to be potentially unsafe by some anti-malware scanners, as are some other products that were released by PrivacyProTech's developer. PrivacyProTech has the same problems as other PUPS – redundant or not good enough features and misleading presentation.
Privacyprotech quicklinks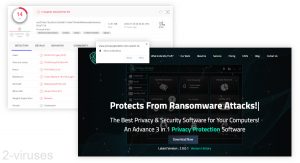 About PrivacyProTech:
Type of threat
PUP (potentially unwanted program).
How PrivacyProTech is installed
Promoted online as a privacy tool and an anti-malware scanner,

has a free version and a paid (subscription) version.

Problems and issues
Redundant and strange features that might not be very useful,

detections by anti-malware programs,

notifications used to promote other products.

How to remove PrivacyProTech
Uninstall it and other PUPs,

scan for malware with an anti-malware program (Spyhunter, others),

block notifications.
Problems with PrivacyProTech
Flagged by antivirus scanners
PrivacyProTech by IHA Softwares is a potentially unwanted program that is described as 3 in 1 privacy protection software.
PrivacyProTech's home page, Privacyprotech.com, claims that PrivacyProTech protects from ransomware attacks, keeps your passwords secure, and overall is "the future of privacy". PrivacyProTech's description implies that it can help avoid identity theft. Supposedly, it does this by scanning the computer for ransomware, other malware, and for sensitive information.
However, when I downloaded PrivacyProTech's installer and had it scanned, a lot of antivirus programs flagged it as unwanted, misleading, or malicious – Virustotal.com. And IHA Softwares' other products, like Password Armor and especially Driver Armor. PrivacyProTech is somewhat similar to other dubious privacy tools, such as Advanced Password Manager and SAntivirus.
Maybe it's because antivirus vendors detected it that the home page of PrivacyProTech now displays a message about it being currently unavailable. But it's still there and the Download button still works.
Potentially unwanted program
PrivacyProTech promises to protect your privacy by:
Detecting personal data and allowing you to delete it easily.
Encrypting credentials.
Detecting and blocking ransomware.
PrivacyProTech is a little strange in that it puts a lot of focus on defending users from ransomware when it is spyware that poses the real danger to people's privacy. Ransomware is all about corrupting and destroying data. Also, PrivacyProTech appears to be promoted for personal use but cybercriminals who operate ransomware tend to focus on businesses and organizations rather than individual users. And the most common PC ransomware doesn't steal data, it installs a spyware trojan that's a separate program.
Other than that, there is some merit to what PrivacyProTech claims to do. For example, if you let your browser save your passwords and payment information and then a banking trojan or some other spyware infects your computer, it could steal that information.
But you could just choose not to save them and type them in every time. PrivacyProTech offers to encrypt those passwords and ask you to type in another password to unlock them, so it's not any more convenient than just typing your passwords yourself. Not to mention, PrivacyProTech is not free to use – it costs a few dollars per year. Though it does look like you can't buy it at the moment.
There are password managers that help manage passwords. Some are paid like PrivacyProTech and some are free. If you care a lot about your passwords always being secure, look into using a password manager, as well as a reputable anti-malware program.
PrivacyProTech scans the computer for certain types of private information and certain types of malware. It's better to use dedicated anti-malware and other tools.
How to remove PrivacyProTech
Privacytrotech.com doesn't seem to have any link to instructions for uninstalling PrivacyProTech but it should be as easy as going into the Control Panel and removing it from there.
You can also use an anti-malware program that detects potentially unwanted programs, such as Spyhunter.
If needed, you can also check these folders for IHA Softwares or for PrivacyProTech:
C:\Documents and Settings\Administrator\Application Data\
C:\Users\[name]\AppData\Local\Temp\
C:\Users\[name]\AppData\Roaming\
[name] is your account's on your computer name. The AppData\Roaming folder can be accessed by typing %appdata% in the file explorer address bar. Once you're there, click on the AppData section in the address bar.
Also, if you accepted notifications from Privacytrotech.com, you might want to block them. Privacyprotech.com uses them to display alerts and "associated product offerings". I'm linking an article on web push notifications and how to block them.
Automatic Malware removal tools
How to remove PrivacyProTech using Windows Control Panel
Many hijackers and adware like
PrivacyProTech
install some of their components as regular Windows programs as well as additional software. This part of malware can be uninstalled from the Control Panel. To access it, do the following.
Start→Control Panel (older Windows) or press Windows Key→Search and enter Control Panel and then press Enter (Windows 8, Windows 10).
Choose Uninstall Program (if you don't see it, click in the upper right next to "View by" and select Category).
Go through the list of programs and select entries related to PrivacyProTech . You can click on "Name" or "Installed On" to reorder your programs and make PrivacyProTech easier to find.
Click the Uninstall button. If you're asked if you really want to remove the program, click Yes.
In many cases anti-malware programs are better at detecting related parasites, thus I recommend installing Spyhunter to identify other programs that might be a part of this infection.