Amoviemedia.com is a fake streaming site similar to Just-watch-it.com and Sports-today.club. It promises visitors free movies in order to trick them to sign up for a paid subscription.
You can discover it while looking for free films and TV shows to watch. Anti-malware programs might be able to stop Amoviemedia.com, as it's considered a malicious site.
Amoviemedia Com Scam quicklinks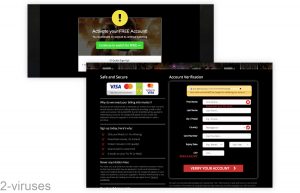 About Amoviemedia.com in short:
Threat type
Scam.
How the scam spreads
Fake movie, sports, TV, and other streaming sites,

real streaming sites that show unsafe advertisements.

Dangers of Amoviemedia.com
You could lose time and money,

your private information might end up in the hands of untrustworthy people.

How to deal with the Amoviemedia.com scam
Cancel the subscription,

check your computer with antivirus tools (Combo Cleaner for Mac, Spyhunter for PC, and others).
How the Amoviemedia.com scam works
Fake streaming sites
Amoviemedia.com is a fake movie streaming site. It teases you with film thumbnails and the opening seconds of various new films, however, it does not actually allow visitors to view any of the content that it pretends to have.
Instead, Amoviemedia.com requires you to create an account. Supposedly, this will allow you to watch videos for free. But that's not true. Instead, Amoviemedia.com redirects to another media site, one that's quite expensive (up to around $60 per month) but whose selection is really lacking, and tells you to sign up there. In my case, Amoviemedia.com was promoting Popplayz.com
This media subscription site (Popplayz.com or others) won't allow you to watch videos on Amoviemedia.com. All that Amoviemedia.com is is an advertising site.
Signing up with your payment information
The subscription signup asks you to type in your email and password, then you're asked to fill in your information, including your payment details, your name, and address. You're told that this is for account validation, but that's not true – it's for a monthly paid subscription.
Reading the terms of service on Popplayz.com tells the story:
By starting your Jolastic LTD membership, you are expressly agreeing that we are authorized to charge you a monthly membership fee at the then current rate, and any other charges you may incur in connection with your use of the Jolastic LTD service to the Payment Method you provided during registration (or to a different Payment Method if you change your account information).
And here's the price:
We offer several memberships including:
5 day trial, which Renews to a 1 month Premium Download membership at €57,95 EUR/month if not cancelled prior to the end date.
Well, neither Amoviemedia.com nor Popplayz.com clearly tell you that you just signed up for a paid subscription. In fact, they try to hide this from you. So, it'll be hard to cancel that membership to avoid being charged.
Here are some experiences of those who had to deal with Popplayz: Trustpilot.com. Many of the victims were trying to watch free movies, free sports streams, and other videos online.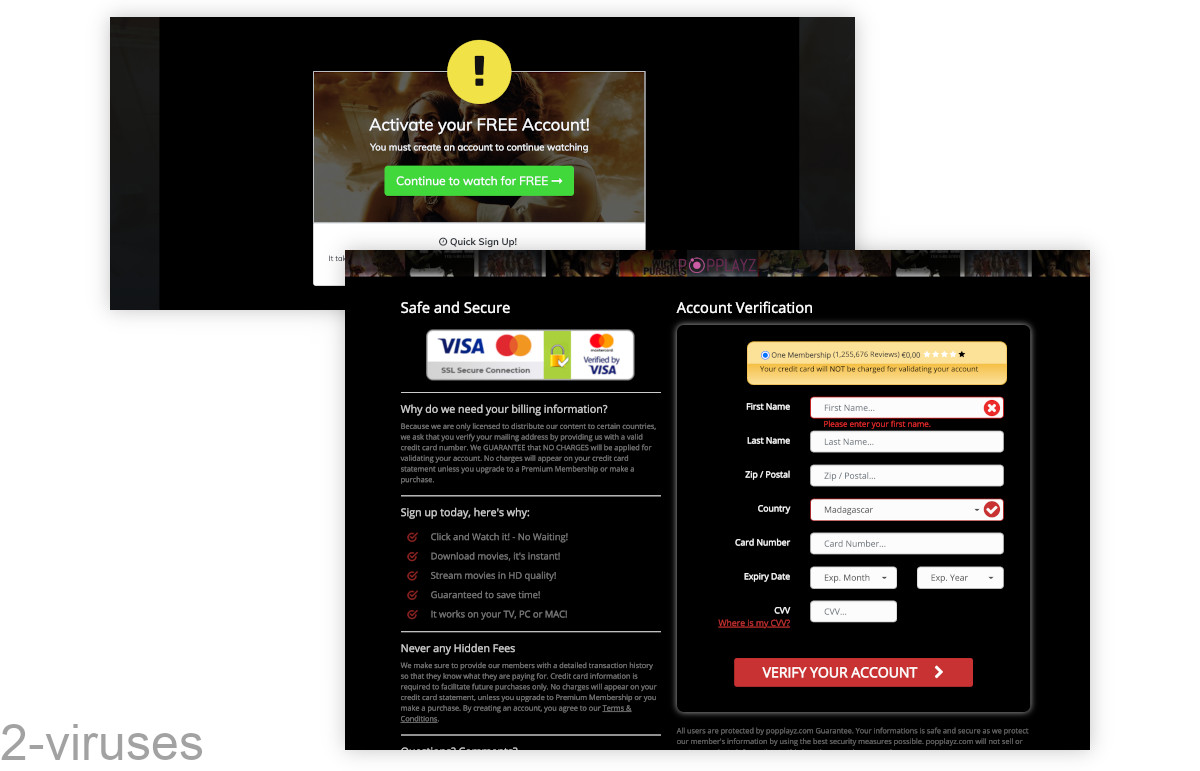 Other sites promoted by Amoviemedia.com are Bookzenn.com, Musiczum.com, 611music.com, Boxnmedia.com, and others.
How to deal with the Amoviemedia.com scam
Dangers of the scam
If you sign up on whatever site Amoviemedia.com was advertising, you could lose somewhere between $50 and $60. If you don't notice that this money is gone, you could keep losing it each month.
But that's not all. Now, these people who are willing to use deception and lies – they've got your personal information. They can't be trusted with it.
How to avoid Amoviemedia.com ads
Use ad blockers and anti-malware tools to block malicious websites. As you can see on this Virustotal.com page, some scanners already consider Amoviemedia.com to be bad.
You must know that pirating sites are risky. They tend to display ads that lead to scams, hijackers, adware, and other unwanted and even dangerous content. If you can afford to stick to legal sites, that would be the safest.
Most importantly, don't believe it when a site asks for you to provide your payment details but says that it will not charge you. They will, after the initial free trial. Don't give your personal details to unfamiliar websites.
How to deal with the scam
Cancel the unwanted subscription. You may need to call your bank. If you want to get your money back, then you probably need to contact your bank, as well.
Check your computer with Combo Cleaner for macOS, Spyhunter for Windows, or other security programs for malware and for potentially unwanted programs. If you visit pirating sites, then you may have been exposed to more malicious ads than just Amoviemedia.com.
Automatic Malware removal tools