Advanced Password Manager is advertised as a password-managing application. Based on the information describing this program on its official landing page, it is the tool to help people in managing their passwords, storing them all in one place without the necessity to remember each particular password separately. At first glance, it might seem that the Advanced Password Manager is some beneficial program, especially when dealing with several password-protected accounts. On the other hand, the danger of Advanced Password Manager is that its distributors' user some illegal methods to promote it. For example, they refer to "bundling". Very often additional installation of Advanced Password Manager is not clearly mentioned and thus users find this program active without their real intention to install it initially. This is the reason why the Advanced Password Manager is correctly classified as a PUP (Potentially Unwanted Program).

Advanced Password Manager quicklinks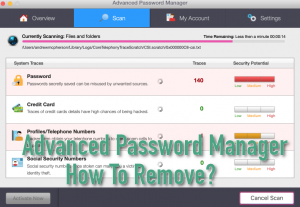 Advanced Password Manager application looks pretty similar to other unwanted utilities of the same nature, such as
Advanced Mac Cleaner
, Mac Mechanic,
Mac Cleanup Pro
, and some other applications. The similarity lies in their common distribution methods, which are not fully legitimate, and in intrusive behavior after successful installation. Advanced Password Manager is intrusive because it always tries to convince you to buy its so-called full version in order to enable all the features it supposedly renders. However, most often Mac users do not download Advanced Password Manager based on their personal intention. Still, after the unauthorized installation, the program keeps disturbing the user's attention essentially and causes many other unwanted side effects. In general, Advanced Password Manager is not the program worth spending money for.
Negative side effects of Advanced Password Manager
It is not a coincidence that the Advanced Password Manager is identified as a potentially unwanted program by many reputable anti-virus programs today. For example, Avast detects it as MacOS:AMC-AZ [PUP], AVG identifies it as MacOS:AMC-AZ [PUP], the detection of BitDefender regarding Advanced Password Manager is Gen:Variant.Application.MAC.OSX.AMCleanerCA.2, whereas ESET-NOD32 speaks of it as a variant of OSX/GT32SupportGeeks.AS. These anti-virus utilities do not report Advanced Password Manager as a virus or malware, however, the term PUP means that this is a program that does not represent any essential value and may even damage the system. So, uninstalling Advanced Password Manager is the right decision.
Here is what you may expect to happen with your Mac when Advanced Password Manager is active in it:
the system functions slower than normal;
unexpected pop-up ads distract your attention;
continuous redirections to suspicious websites;
tracking your browsing activities without your consent;
loss of private data.
Distribution channels of Advanced Password Manager
In the introductory paragraph to this article, we have already mentioned that the Advanced Password Manager is actively promoted using the method of bundling. The installer of Advanced Password Manager is interconnected with installers of many free programs. Often the pop-up promoting Advanced Password Manager may appear as a result of certain adware to be already enabled and controlling your browser settings. For example, the adware may produce the fictitious pop-up message supposedly telling you about the need to implement some update of Adobe Flash Player or other software. Finally, some torrent file downloads may also contain Advanced Password Manager installer.
It is very important that you exercise caution while surfing the Internet today and especially when downloading and installing free software. Make sure you always take time to carefully read the EULAs (End User License Agreements) related to these free programs. So, in you find the information about Advanced Password Manager or some other extra programs you do not need, immediately cancel the installation or at least switch to the Advanced or Custom installation mode to prevent such unauthorized software intrusion.
How to get rid of Advanced Password Manager
Advanced Password Manager removal is not a very complex accomplishment. You may simply access the list of all available Mac applications, locate Advanced Password Manager in the list and put it to the trash. Note that sometimes the installer of this PUP additionally implants its special add-ons (extensions) into certain browsers, so it is a good idea that you additionally check the list of browser extensions and remove items that could be associated with Advanced Password Manager.
Scanning your Mac with either Combo cleaner or Malwarebytes Anti-Malware for Mac is one more important step you need to implement. This way you will be able to locate other programs that might be slowing down the work of your Mac and might cause unwanted pop-up ads and browser redirections. Keep in mind that to have your Mac protected by decent security software is not just an alternative but rather an essential part of system integrity and trouble-free operation of your computer.

Automatic Malware removal tools