Ads by Provider a.k.a. Provider ads is an adware infection that belongs to Privox malware family, the same as the Media-hubs.com virus. While most adware and browser hijacker infections operate as add-ons designed to fit a specific web browser, Provider advertisements are inserted directly to every website you visit by using special JavaScript code.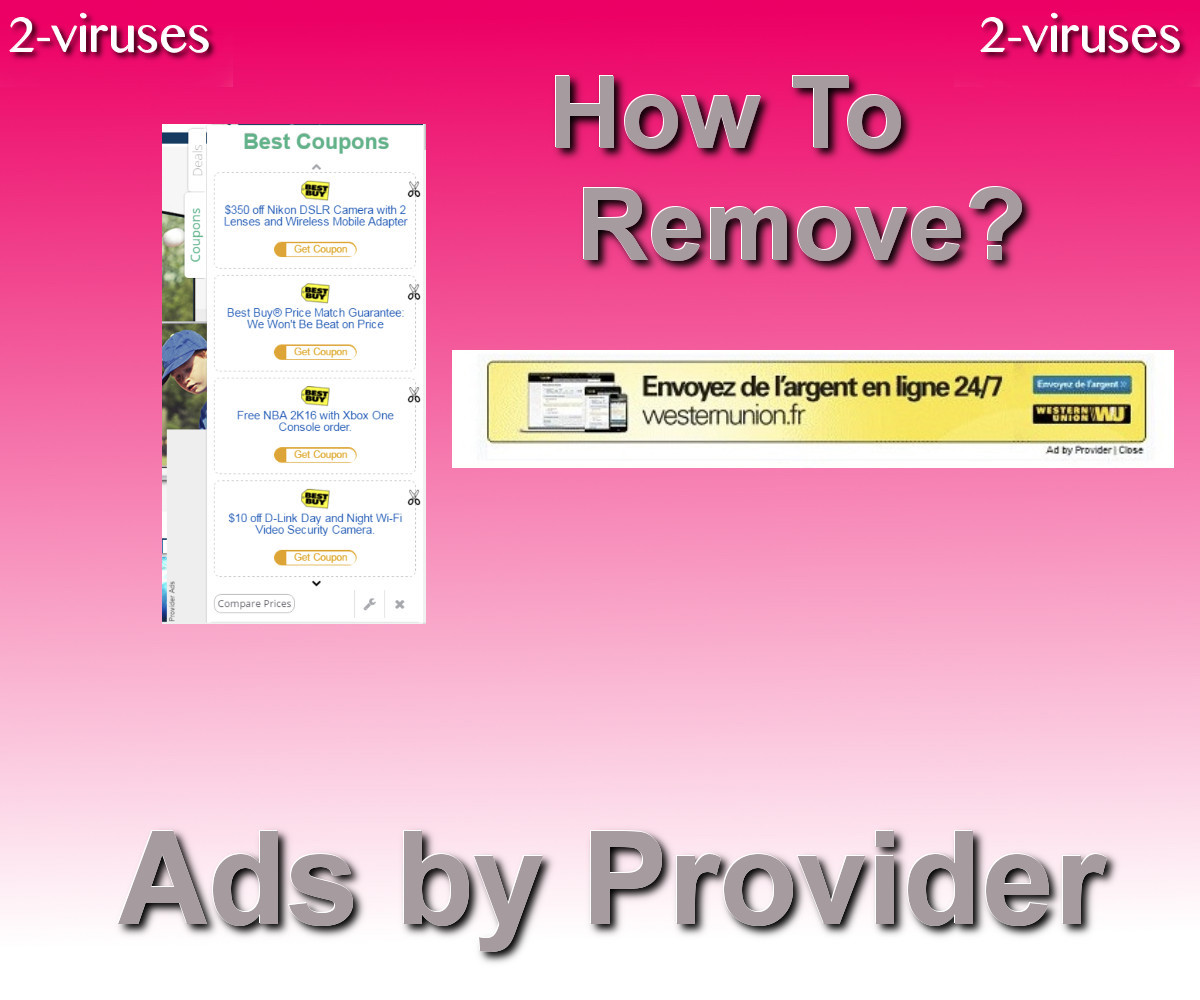 Ads By Provider quicklinks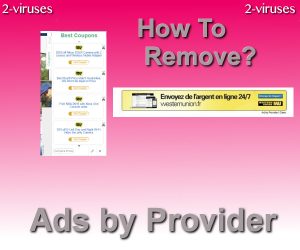 Probably the best thing about this infection is that it's not that hard to identify whether you have it or not. In case you are bothered by excessive web advertisements and it seems like they weren't showing up before, take a closer look at those ads – most of the time they have a slogan "Provider Ads" or "Ads by Provider". That means your computer is definitely infected and you should do something about it.
After all, Ads by Provider not only distract you and waste your time, but they sometimes include dangerous content like scams and junkware promotions.
Removing this malware from your computer is a must and we will help you to do that – by the end of this article, you will learn how to eliminate Ads by Provider manually or what kind of tool you should use that would solve this problem.
Ads by Provider features and removal – short description:
Symptoms of the infection

Pop-ups labeled "Ads by Provider" show up on many websites
Redirects and new tabs constantly open

Distribution

Downloaded and installed together with another program in the background
Deceptive ads on shady websites

Dangers

Low-quality ads not reviewed for dangerous material
Distracting pop-ups and redirects

Remove Ads by Provider

Uninstall Privoxy proxy server
Remove all malware from your computer (SpyHunter)
How Provider ads virus works
In case you are not yet familiar with the term , it's a piece of software that is infiltrated on a computer and displays additional advertisements on various programs and web browsers. Most of the time the main target of such malware is web browsers – the programs used to display websites. In this particular case, Provider ads are also targeted to them and as far as we know it can affect all most popular ones – Microsoft Edge, Mozilla Firefox, Google Chrome, and Safari.
The main goal of adware infections, including Ads by Provider, is to generate revenue. They get paid every time someone clicks on an advertisement displayed by them. Actually, it's not a new business model – malware like Norassie and Multitimer are just a couple of examples of infections that are operating the same.
Cybercriminals behind such viruses try to infect as many computers as possible. They want to build a big audience because more users can generate bigger revenue. To achieve this goal, they employ various distribution methods. Most of the time it's very hard or even impossible to stop the virus from entering your system, therefore we recommend to keep your computer secured by reliable anti-malware software all the time. If you do not have one yet – feel free to take a look at our reviews section. A real-time security feature is a must in order to protect your computer because it will help stop malicious websites from loading and dangerous activity from being carried out on your machine.
Malicious activity of Provider ads
As you already know, JavaScript. Ads by Provider will show up on your computer only if special JavaScript code is infected in every website you visit.
In order to be able to insert that JavaScript code, it has to install the Privoxy proxy server. Once that is done, all websites you reach connect through it and this allows additional advertisements to infiltrate. So you have to understand that it's not the problem of the websites you are visiting neither your web browser – ads are caused by Privoxy and it needs to be removed in order to completely eliminate this infection.
Speaking of those  — they will take a lot of space on your browsers' window and literally make it hard for you to browse the web. They can be displayed in various forms, including but not limited to pop-up, in-text, banner or contextual advertisements. The ads might even be loud or flashy, distracting you and sapping hardware resources. New tabs or windows with an ad can be opened at any time or you can simply get redirected to other websites, too.
So those ads are not only annoying but also might lead you to dangerous websites. We do not recommend to click on any of the advertisements delivered by Provider ads because you might end up on a website owned by cybercriminals and get scammed or infected with other viruses. Bad ads include tech support scams, pyramid schemes, fake lotteries, and other genuinely dangerous content.
Also, you might suffer other symptoms due to the presence of this infection – your web browser can suddenly freeze, it will definitely work slower and might even crash your entire system.
How Provider ads are distributed
The Privoxy proxy server usually is distributed bundled with other free software. It gets installed on the computer secretly, without notifying users about what's about to happen. We have already mentioned that anti-malware software with real-time protection features could prevent viruses like this one coming to your computer, but if for some reason you don't want to keep such a program installed on your computer, you should be really attentive during the installation of freeware.
We don't recommend to skip any steps during the installation – read all the information that is provided. In fact, you should opt for custom or advanced install mode, as this will provide you with more options later on.
Also, only download software from sources that are legitimate. Do not follow fishy web ads that offer you something for free – most of the time it's just a trick to get naive users to install some kind of PUP.
How to eliminate Ads by Provider for good
If you are sick and tired of ads delivered by Provider, you need to get rid of that Privoxy proxy software. Unfortunately, it's not that easy as it could look like – you won't find it on the list of programs installed on your computer. Folders of this malicious tool might be hidden somewhere on your hard drive, therefore we suggest to get yourself some assistance to find and remove the virus.
Scan your computer with Spyhunter – it should have no problem in detecting and removing the virus from your computer. It will take around 10 minutes to complete the job and your computer will be free from viruses.
For more detailed instructions, please follow our removal guide provided below.

Automatic Malware removal tools
How to remove Ads by Provider using Windows Control Panel
Many hijackers and adware like
Ads by Provider
install some of their components as regular Windows programs as well as additional software. This part of malware can be uninstalled from the Control Panel. To access it, do the following.
Start→Control Panel (older Windows) or press Windows Key→Search and enter Control Panel and then press Enter (Windows 8, Windows 10).
Choose Uninstall Program (if you don't see it, click in the upper right next to "View by" and select Category).
Go through the list of programs and select entries related to Ads by Provider . You can click on "Name" or "Installed On" to reorder your programs and make Ads by Provider easier to find.
Click the Uninstall button. If you're asked if you really want to remove the program, click Yes.
In many cases anti-malware programs are better at detecting related parasites, thus I recommend installing Spyhunter to identify other programs that might be a part of this infection.