Marketgid.com redirect virus leads infected users into a domain, filled with disturbing imagery and articles that are written in the Russian language. These adverts have been noticed to be integrated into Ad.adpop-1.com ads and have been detected to be promoted by News1free.org browser hijacker. The activity of MarketGid domain is most evident in Russia.
In this country, the domain has earned the 227th place in the rankings of top visited domains. When we say "earn" we do not mean that it deserved to be introduced to millions of people with its useless and graphically disturbing content. Worldwide, Marketgid.com redirect is estimated to be in the 1,669 place.
Marketgid.com pop-ups present offensive and misleading content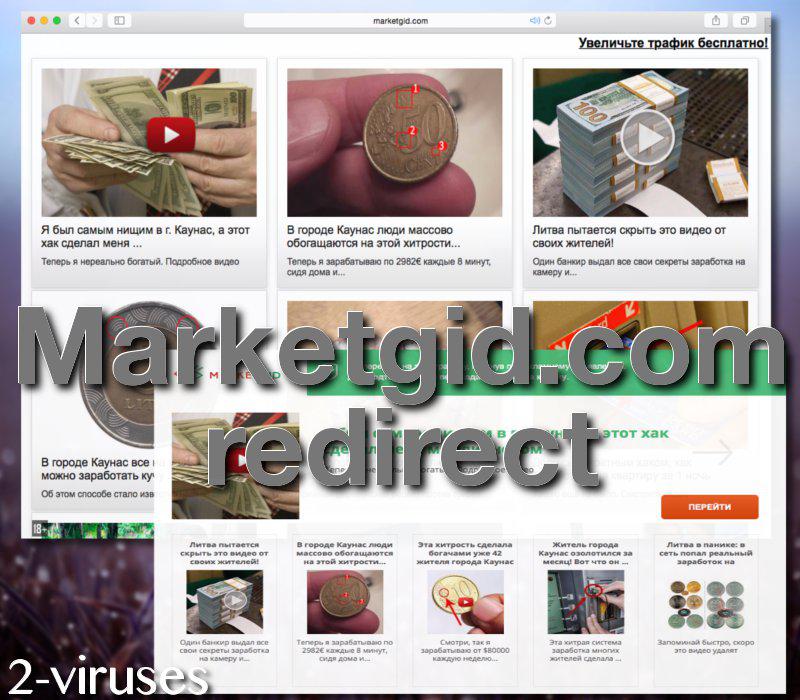 MarketGid is explained to be a teaser advertising network, owned and controlled by an international information and advertising network MIRS. Teaser ads are supposed to trigger interest in a specific event or a product (Teaser). Despite the fact that the company might be proceeding in Russia legitimately, security researchers worry that its advertisements are anything but intriguing and useful. Their layout resembles deceptive Russian ads that are labeled as unfit to be viewed or interacted with. The Marketgid.com pop-ups are intended to users over 18, but adware parasites deliver them to computers automatically without being certain that recipients are of appropriate ages.
Ads from Marketgid.com fraudulent website have also been noticed in other Russian-speaking countries like Ukraine, Belarus and Kazakhstan. Redirection has also been reported by people in Italy, but could extend much more. Why? A majority of referrals to this suspicious domain will be generated from websites in English. This leads to a conclusion that millions of could be redirected to the suspicious domain.
Marketgid.com redirect also operates with such ad-networks like Propeller Ads Media, Advmaker, Direct/ADVERT, TrafMag and others. For the most part, promotional material is expected to be witnessed by people who have become victims of adware parasites. However, ads from ad networks could also be the reason of an infection because promotional material transmit malware (Malware). Russian adware programs could be behind the regular deliveries of Marketgid.com pop-ups. Here are some of the recent ad-supported tools that should be avoided: Dentesk and Your Mini Truetest.
Furthermore, dozen Russian browser hijackers will open new windows to display material from Marketgid.com virus: Onepagesnews.net, Go-search.ru and Hitnews1.org threats. By exploring ads from unknown sources, you might be unknowingly allowing malware parasites to be automatically installed into your operating system. In other cases, your personal information might be stolen due to the fact that tracking cookies have been implanted into devices (How).
Also, we figured out that Marketgid.com website is included into the list of not recommended websites, compiled by Dr.Web. It is actually a Russian anti-malware company. If it finds this domain unsuitable for visitation, users should follow their researchers' recommendations.
Ways to keep operating systems properly-secured
Probably the best decision would be to run a scan with Spyhunter and detect the threat which is responsible for repetitive displays of Ads by MarketGid. They usually lead to other Russian websites, and some of them might be developed for the purpose of learning users' private information and browsing habits. Please do not interact with the displayed material as most of them present fake news. Fake news are polluting the web more and more, and users should not help creators of these vicious ads to earn even more money.
Basically any adware parasite could be redirected people to the latter pop-ups. If you are interested in the manual removal, we hope you will select the first option. If not, then please consider reviewing the active programs in your OS and removing suspicious ones from Control Panel. However, these fake alerts can also be triggered by specific websites. Some of them are the following: newinform.com, lentainform.com, seasonvar.ru, koolinar.ru, clickppcbuzz.com, obozrevetal.com and mfatallp.com. Stay away from these domains at all times.
How to remove Marketgid.com redirect using Windows Control Panel
Many hijackers and adware like
Marketgid.com redirect
install some of their components as regular Windows programs as well as additional software. This part of malware can be uninstalled from the Control Panel. To access it, do the following.
Start→Control Panel (older Windows) or press Windows Key→Search and enter Control Panel and then press Enter (Windows 8, Windows 10).
Choose Uninstall Program (if you don't see it, click in the upper right next to "View by" and select Category).
Go through the list of programs and select entries related to Marketgid.com redirect . You can click on "Name" or "Installed On" to reorder your programs and make Marketgid.com redirect easier to find.
Click the Uninstall button. If you're asked if you really want to remove the program, click Yes.
In many cases anti-malware programs are better at detecting related parasites, thus I recommend installing Spyhunter to identify other programs that might be a part of this infection.
Automatic Malware removal tools