Criminals are pretending to be Apple support and sending emails to Mac users about supposed account suspensions and content deletion. Ignore these emails, as they're meant to steal your personal information. If you're not sure, contact Apple support yourself, but do not click any of the links in the email.
Account Suspended Email Scam quicklinks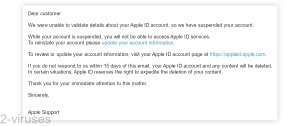 About the "account suspended" scam:
Threat type
Scam,

phishing.

How the scam spreads
Emails made to look like they came from Apple.
How to avoid the scam
Report the emails and do not click on any of the links in the email,

if you have doubts, contact Apple Support from the official website.

How to protect yourself
Remove suspicious apps and browser extensions (you can use anti-malware apps like Combo Cleaner, Malwarebytes, and others),

if you revealed your payment details to scammers, ask your bank for help.
How the "account suspended" scam spreads
Threat emails and phone calls
Macs are safer than PCs from viruses and certain types of malware. However, criminals don't always use sophisticated hacking techniques to hurt people. Sometimes, they just lie to us.
For example, scammers call the phones of Mac users and claim that people's iCloud accounts have been breached (Example 1, Example 2), even though Apple Support does not make such phone calls.
Tech support scams also come in the form of fake support sites, such as Contact-apple.net.
They also send fraudulent emails, claiming that users must provide their account information if they don't want to lose their account (Example 1, Example 2).
Emails spoofing Apple
Emails that the criminals send are mode to look like they come from Apple. Sometimes, this is done by using addresses that have "apple" or "mac" in their name. Other times, scammers forge the sender address and disguise malicious links.
The text of these emails varies, as the crooks try to change it up to avoid being blocked by spam filters. But here's one example:
We were unable to validate details about your Apple ID account, so we have suspended your account.

While your account is suspended, you will not be able to access Apple ID services.
To reinstate your account please update your account information.

To review or update your account information, visit your Apple ID account page at https://appleid.apple.com.

If you do not respond to us within 15 days of this email, your Apple ID account and any content will be deleted.
In certain situations, Apple ID reserves the right to expedite the deletion of your content.

Thank you for your immediate attention to this matter.
The subject of this scam email is "Privacy Policy update: your account has been placed on pending additional verification information".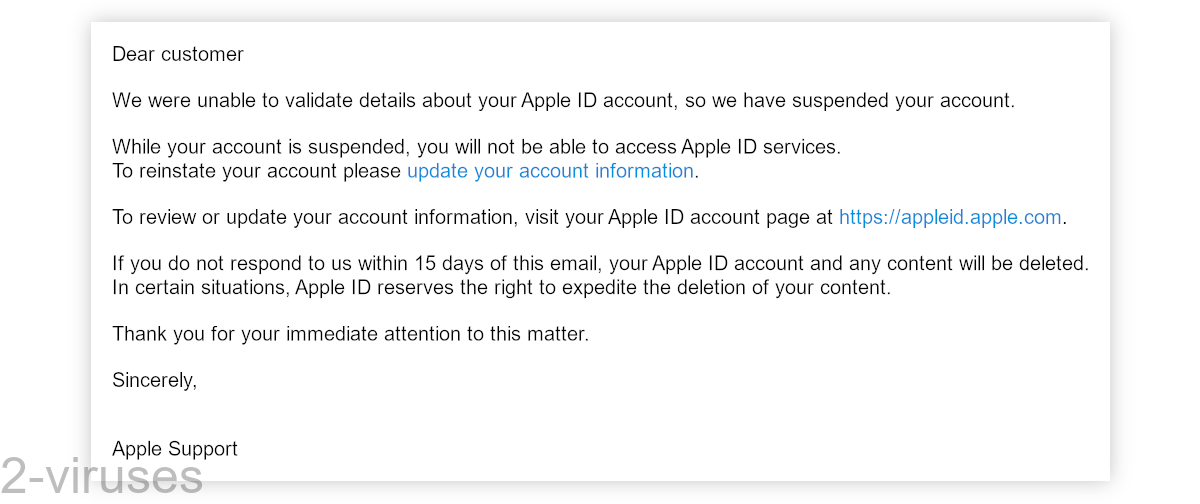 Leaked email addresses
But how did the scammers get your phone number or your email address?
There are a few ways in which your email might have ended up in the hands of criminals:
You may have signed up for a website by using your email address. This website could have had user data stolen by a hack, such as by a skimmer.
Your information may have been stolen by another malware infection – or collected by an intrusive browser extension.
Your friend could have had their email contacts stolen by a spyware infection.
The scammers could have guessed – generated random addresses and sent out the scam email to all of them.
The same applies to phone numbers. If you share your contact details with a company that sells it, doesn't protect it, etc., then that information may end up in the hands of scammers.
How to deal with the "account suspended" emails
Ignore the emails
Don't interact with the emails. Just report them as spam – this way, your email provider will be better able to filter these emails and protect you and other people who will be targeted.
If you want assurance, advice, and support, don't hesitate to contact Support.apple.com or Discussions.apple.com.
You may want to check your apps and browser extensions, read their privacy policies, and remove those items that are suspicious. A lot of free apps and extensions make money by advertising, so keep that in mind.
You can use an anti-malware tool like Combo Cleaner, Malwarebytes, and others to check if there are any potentially unwanted apps on your Mac. "Potentially unwanted" apps are not malicious, but still risky to use, often because they use shady tactics to get installed.
Protect yourself
The "account suspended" emails seek to get you to provide your personal information and to get you to contact "support" staff. Here's how scammers use that:
Your information can be used in other scams or sold to marketers.
The scammers hope to sell you fake security software and tech support, often charging hundreds of dollars.
Phishing is the name for the "account suspended" attack. Phishing attacks are also used to hack business companies and to deliver malware.
That is to say, be very careful of emails that ask you to click on a link and fill in your information. Be especially careful of emails that try to scare you.
If you think you may have revealed your payment information to scammers, call your bank and ask for advice.
Automatic Malware removal tools