You might have seen some pop-ups labeled with "1Music-online.me". These are ads that are sent as browser notifications from the site 1Music-online.me. This looks like an adware infection, but it's much less serious – you only need to go into your browser settings and block all notifications from 1Music-online.me.
Sites like 1Music-online.me are able to send advertising spam because they trick people into subscribing to their notifications. It's good to recognize these tricks to avoid other hijackers.
1music Online Me Ad Spam quicklinks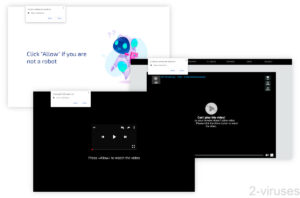 1Music-online.me in short:
Threat type
Adware,

browser hijacker.

How 1Music-online.me hijacks browsers
It's advertised online,

it pretends to be a captcha, a video player, a loading screen, etc.,

it implies that you must agree to its notifications to keep browsing the site.

Effects of the hijacking
Ads appear regularly on your screen,

these ads lead to various third-party sites, some of which might be dangerous.

How to stop ads from 1Music-online.me
Block unwanted notifications in your settings,

check for adware and malware with anti-malware scanners (Spyhunter for Mac, Combo Cleaner for Mac, Spyhunter for PC, etc.).
1Music-online.me
How does 1Music-online.me get access to browsers?
1Music-online.me is advertised online. It's shown in new tab pop-ups.
Free movie sites and other pirating sites might advertise 1Music-online.me.
When 1Music-online.me shows up, it shows one of a few templates – whatever can help it blend in with the site that promotes it:
Captcha asking you to prove that you're not a robot by clicking Allow,
loading bar saying tap the Allow button to continue,
video player saying "press Allow to watch the video".
1Music-online.me is lying in all these cases. All it wants is for people to allow it to show notifications in their browsers. It's just hoping that users won't look closely at the prompt and just click the "Allow" button:

Each site that wants to send notifications must show this prompt and the user must click "Allow". This way, the user always agrees to receive notifications. But sites like 1Music-online.me lie and deceive people to make them agree unknowingly and unintentionally.
Many sites use notifications to inform users about events like new messages and emails. Sadly, lots of sites use them for advertising. Notifications are kind of like an email subscription, but more direct and harder to ignore. When a site asks you to allow notifications, think carefully if you trust the site to not spam you.
What does 1Music-online.me advertise?
First, 1Music-online.me promotes other ad spammers like Download-app.net, Zfresh-news.com, 1Video-online.me, etc. These sits do the same that 1Music-online.me does – send advertisements.
When 1Music-online.me sends a notification, it appears on your screen. It is labeled with 1Music-online.me's name but besides that, it could look like almost anything:
virus alert or security warning,
operating system update,
notification about a missed call or SMS,
friend request from a social media site,
offer to make lots of money quickly or to lose weight.
Fake virus alerts lead to junkware and to tech support scams. Fake software updates promote adware infections and other malware. Get rich quick schemes and weight loss ads promote potentially unsafe products.
Not all the ads that 1Music-online.me shows are dangerous, but a lot of them are.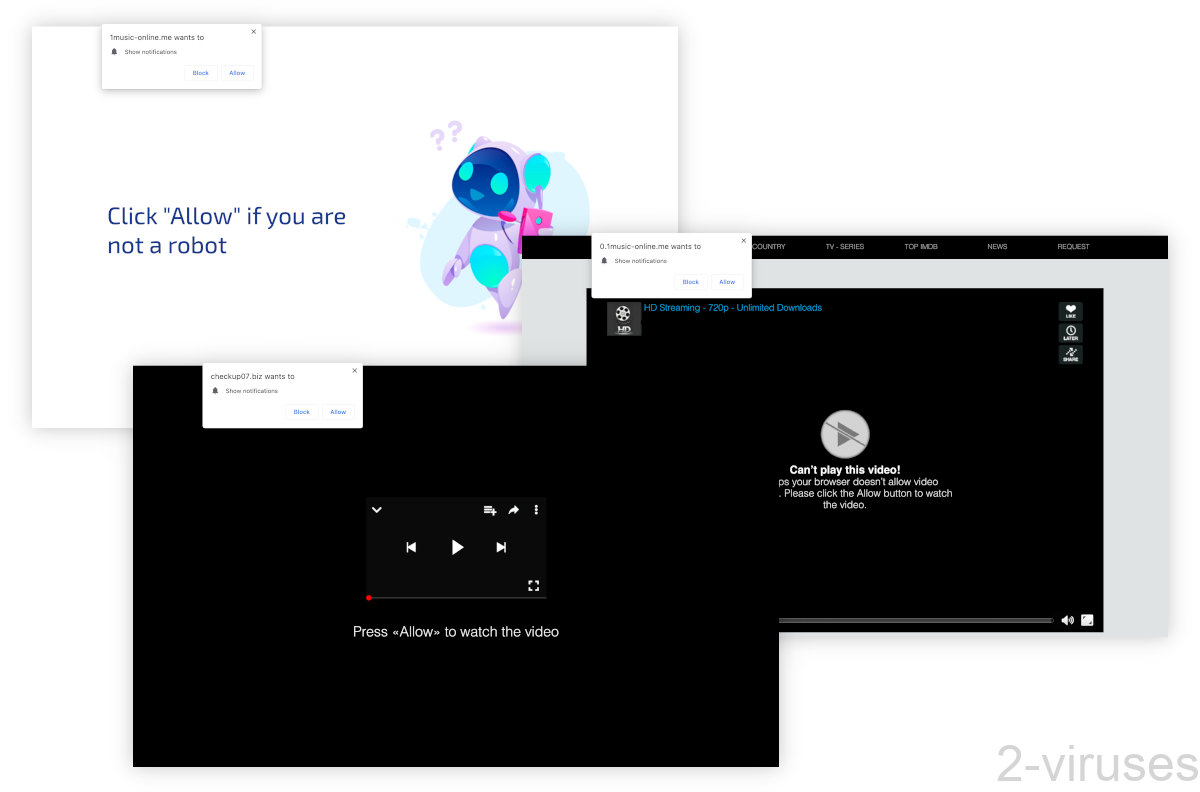 How to stop ad spam by 1Music-online.me
Block notifications from 1Music-online.me
To stop ads from 1Music-online.me, open your site settings in your browser.
Chrome – open Settings, scroll down to Site settings (under Privacy and security), click on Notifications.
Edge – open Settings, click Site Permissions, Notifications.
Safari – in the Safari menu, choose Preferences, Websites, Notifications.
Firefox – open Settings, Privacy & Security, scroll down to Permissions, and click on Settings next to Notifications.
Then, find the entry for 1Music-online.me. Click the button next to it and choose the Block/Deny option.
This tells your browser to no longer accept any notifications from 1Music-online.me.
Avoid adware sites
You can avoid malicious sites by using ad blockers to block ads on certain dangerous sites: pirating sites, shady file and software download sites, etc.
You can also disable all notification prompts to make it so no site can ask you to allow its notifications.
You can avoid malware with the help of anti-malware tools like Spyhunter for Mac, Combo Cleaner for Mac, Spyhunter for PC, and others. They won't help you much in avoiding notification spam, but they can stop malicious programs and files.
Automatic Malware removal tools