"This Site Has Been Reported As Unsafe" - How To Remove?
This is a fake warning, created by the developers of Cyber Security rogue anti-spyware. Please do not take it seriously as this is quite and old trick to get Internet users frighten and acting completely irrationally.
About "This website has been reported as unsafe" pop-up
"This website has been reported as unsafe
We strongly recommend to discontinue the use of this website.
Activate my Web protection software
This website has been reported to Microsoft for containing threats that might steal personal of financial information from your computer"
The information provided in this fake alert is exaggerated and should not be taken seriously. Via such messages as this one, Cyber Security tries to make people believe that they are facing huge system protection problems and that the commercial version of Cyber Security is required to take care of them. Using a reputable anti-spyware and removing Cyber Security is a much better idea.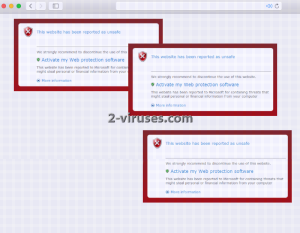 It is very likely that the preposition to install an application is not going to prepare a full program for usage but rather a mere short-term tryout variant. During this trial, you will notice that unknown security tools act on their own and have little regard to users wishes and intentions. Mostly all of the software that is offered via pop-ups like This website has been reported as unsafe are ran automatically after you start your computer system. Usually, the first thing you see will a new initiated scan. During this process application can block your interaction with other programs or just slow your device down. After the scan is concluded, people will be introduced to a critical state of their system. For the sake of properly removing yourself from this unfortunate situation, users will be strongly advised to run a full security scan.
This "This website has been reported as unsafe" pop-ups are old as time as we wrote about this technical scam back in 2009. We are not sure if it is still around but we gan guarantee that there are enough new variants to feed a continent. All sorts of "Mac Security Threatened" and similar alerts are brought to Internet users if they are infected with advertising-supported applications or visit domains that feature tons of not 100% secure content.
Whenever you are feeling unsure about the state of your device, we highly recommend to run a full security scan to be certain that everything is going accordingly. If your stability has been jeopardized and the device is showing significant signs of an infection or similar disturbances, then utilize an appropriate anti-malware tool to remove it. We can give you a hint that experimenting with Reimage or a similar application will let you take a more relaxed breath and enjoy your browsing once again without the interruptions from "This website has been reported as unsafe" pop-ups or its copy-cats.
Distribution Methods of "This website has been reported as unsafe" pop-up
This pop-up might have bothered users due to an infection with adware. To find out if this is the case, run a full security scan with an adware and eliminate all of the detected threats. After this, the generation of untrustworthy pop-ups should come to an end. If you are wondering how to avoid such programs, please download software from legitimate distributors. Furthermore, install them in advanced/custom modes to make sure that no additional content is getting access to your device as an addition. Such pop-ups can themselves cause malware infections and you are highly advised to stop visiting domains that feature such content. If you follow couple of these tips and have a powerful security tool, than your device will be immune to unwanted infections.
Automatic "This site has been reported as unsafe" removal tools
We might be affiliated with some of these programs. Full information is available in disclosure
Manual removal
Important Note: Although it is possible to manually remove "This site has been reported as unsafe", such activity can permanently damage your system if any mistakes are made in the process, as advanced spyware parasites are able to automatically repair themselves if not completely removed. Thus, manual spyware removal is recommended for experienced users only, such as IT specialists or highly qualified system administrators. For other users, we recommend using Reimage or other tools found on 2-viruses.com.
Processes:
Files:
Dll:
Registers:
"This site has been reported as unsafe" screenshots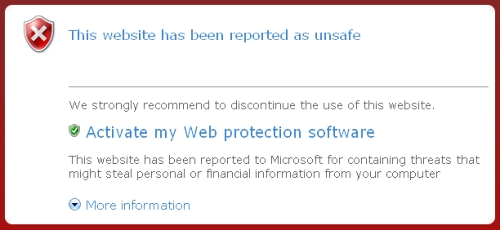 About the author