"Harmful Software Detected" Popup - How To Remove?
"Harmful software detected" popup is a fake security alert produced by rogue anti-spyware program called System Security. Basically, this fake alert states that your computer has been infected with malicious software and that you should use System Security program to remove harmful software form your computer. The message reads as follows:
System Security
Harmful software detected
System Security has detected harmful software that can lead to your PC crash. Remove them now by clicking Remove All button below.
System Security provides numerous fake security threats, for example: Spyware.IEMonster.d, Spyware.KnownBadSites and others. "Harmful software detected" popup is one of them. The main goal of this particular scam popup is to make you think that your computer is infected and that you should purchase System Security in order to protect your PC by removing the accumulations of malware.
However, if you are constantly popped this type of alerts on your computer up, there is one thing you need to do. You ought to remove "Harmful software detected" popup in the two different ways possible. You can apply automatic malware removal utilities such as Reimage, Spyhunter or Malwarebytes. Or you can use the free removal guide below to remove System Security and related malware. Automatic removal provides you the better chances that you will get rid of "Harmful software detected" app permanently versus manual removal, since this method is more comprehensive in comparison with the manual approach.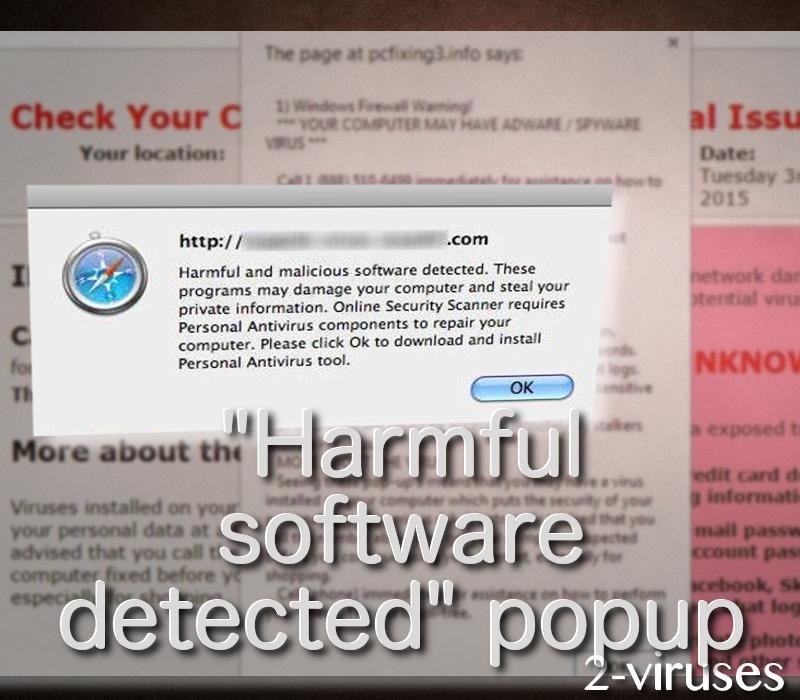 "Harmful software detected" is rogue advertising software or, simply, malvertising software, as it advertises malicious software in a devious manner. The most worrying fact about this adware is that the purchase offer for System Security rogue anti-spyware application includes the request to give your credit card number. This kind of request alone is a clear indication that you are dealing with online frauds. Once you receive such suggestions, you have to decline any purchase orders and restrain from any software downloads.
Another point worth mentioning is that "Harmful software detected" bogus application can prevent you from installing legitimate security software. To solve this issue you have to reboot your computer into the Safe Mode with networking and only then perform the installation of your chosen antivirus utility. Once you have this done, you can get your wind and scan your computer's system with one of the security scanners indicated above. If any of the issues related with "Harmful software detected" pop-up persists, you can contact us by writing a comment below.
Automatic "Harmful software detected" Popup removal tools
disclosure
How to remove "Harmful software detected" Popup using Windows Control Panel
Many hijackers and adware like
"Harmful software detected" Popup
install some of their components as regular windows programs as well as additional software. This part of malware can be uninstalled from Control Panel. To access it, do the following.
Start→Control Panel (older Windows) or press Windows Key→Search and enter Control Panel (Windows 8);

Choose Uninstall Program;

Go through a list of programs and select entries related to "Harmful software detected" Popup .

Click uninstall button.

This method will not remove some of browser plugins therefore proceed to the next part of the removal guide.
Removing "Harmful software detected" Popup from your browsers
About the author