DealPly - How To Remove?
DealPly is an adware that is installed to Internet Explorer, Mozilla Firefox or Google Chrome while you are downloading some other software from the Internet. It is one of those applications that you can choose whether to download or not at one of the last steps of other software installations. You are usually asked to select which other components you wish to install. The trick that distributors use is marking additional programs to be added by default and all you need to do to agree is not to take the check boxes off. If you skip this step and leave the ticks on, Dealply will be downloaded automatically.
In some cases trojans aka programs disguised to perform useful function are used to distribute DealPly. e.g. on June 2013 we saw some fake download sites that distributed "downloader" for various software. The latter did not perform its function, but distributed Dealply only. All downloads magically stopped at 30% of completion, but the adware was still installed on PCs.
Once inside, Dealply starts displaying ads on some popular websites that you are visiting, for example, Amazon, eBay, Walmart and others. These ads contain coupons for various services. If you click on them, you will see some advertisement saying that it was brought by Dealply. This kind of promotions are not really fair as they are pushed by force. Besides, DealPly collects information about your browsing habits and later uses this data for various marketing purposes. Additionally, it may redirect you to malicious websites that are full of infections and that could cause harm to your system. It's clearly an unwanted program and you should remove it without any hesitations.
Try looking for anything related to DealPly in Windows Control Panel and uninstall it from there. If you don't find anything there or the same ads still bother you after uninstalling the application, we recommend scanning your system with a reputable antispyware program. Please note that not all of antimalware tools have the feature of detecting such type of applications. We recommend using Spyhunter for several reasons. It will not only detect and remove DealPly automatically, but it will also scan your computer and locate any other unwanted applications that might have come to your system with it.
Automatic DealPly removal tools
We might be affiliated with some of these programs. Full information is available in disclosure
DealPly screenshots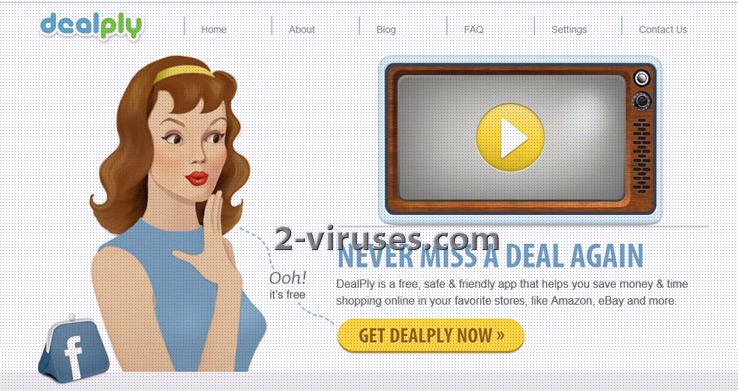 About the author