Wsoyourwi.fun is a malicious site that hijacks browser notifications and uses them to show unwanted ads on your screen. Wsoyourwi.fun shows fake messages in order to trick people into subscribing to its ads. Then, it shows ads whenever the browser is open.
To stop Wsoyourwi.fun from showing you unwanted ads, you need to block them in your browser settings.
Wsoyourwi Fun Notification Spam quicklinks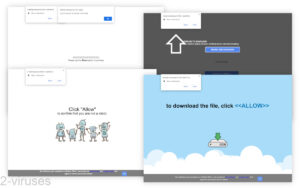 Wsoyourwi.fun in short:
Classification
Adware,

browser hijacker.

How Wsoyourwi.fun works
It shows ads on your screen by using browser notifications,

its ads open potentially unsafe websites.

How to avoid notification spammers
Disable notification prompts,

block malicious sites and ads,

don't interact with suspicious websites.

How to disable Wsoyourwi.fun ads
Disable unwanted notifications in browser settings (instructions below),

if needed, remove adware and PUPs from your device (Combo Cleaner for Mac, Spyhunter for PC, others).
Wsoyourwi.fun shows unwanted ads
Wsoyourwi.fun is a website, but it can hijack web browsers in a way that feels like having an adware virus on your computer or phone.
Wsoyourwi.fun causes ads to appear on your screen. Notifications pop up constantly, either in the corner of your screen or at the top. Some look like ads, while others are disguised to look like new messages or system alerts. They're always labeled with the address "Wsoyourwi.fun".
Clicking on these ads opens a new browser tab with the promoted webpage. It's best to avoid clicking on these ads. As some of the ads from Wsoyourwi.fun are disguised as system alerts and chat messages, you really never know where you'll end up after clicking one of them.
Often, it's some scammy place, such as a fake article promoting a crypto investment scam (Down the Bitcoin Funnel: The Tech Firms Driving Investors to Ruin with Fake Celebrity News) or a fake virus alert promoting a fake tech support center. In short, Wsoyourwi.fun shows ads that can be dangerous.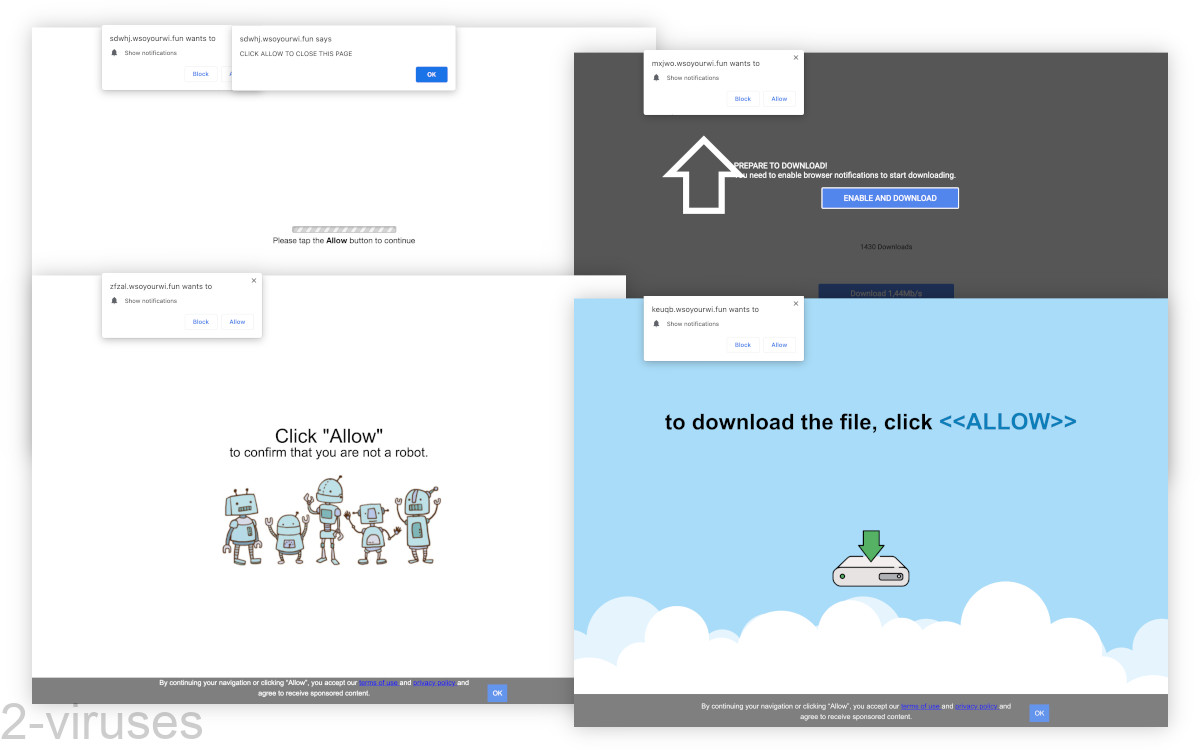 How to avoid browser hijackers
The web is full of sites like Wsoyourwi.fun. Revercecaptcha.com, Download-app.net, Newslive35.com, are just a few examples. New notification hijackers are being released all the time. It's a known problem and browser developers have taken steps to curb malicious notification requests (Web Browsers Are Silencing Annoying Notification Popups), but it just doesn't seem to be enough.
These sites lie to visitors to hijack their notifications. Here are some examples of the kinds of pages that Wsoyourwi.fun shows:
"To download the file, click Allow"
"Click Allow to confirm that you are not a robot"
"Click Allow to close the page"
"You need to enable browser notifications to start downloading".
Go into your browser notification settings and disable notification prompts. This will make it so that when you find yourself on sites like Wsoyourwi.fun, they won't be able to show you the notification permission prompt.
If you do this, you will still be able to enable sites to send you messages, but you'll have to do it manually, by entering notification settings and adding the website to your list of "Allowed" sites.
By the way, even when you disable notification prompts, some websites will still show fake ones. I'm not sure why they do this, but it's probably to force interaction with the site. It's best to just close these sites without clicking anything on them.
How to stop ads from Wsoyourwi.fun
Open the browser that's affected by the Wsoyourwi.fun ads. Open its settings (usually, it's the button in the upper right corner) and block notifications from Wsoyourwi.fun and all other potentially unwanted sites:
Chrome – open Settings, scroll down to Site settings (under Privacy and security), click on Notifications.
Edge – open Settings, click Site Permissions, Notifications.
Safari – in the Safari menu, choose Preferences, Websites, Notifications.
Firefox – open Settings, Privacy & Security, scroll down to Permissions, and click on Settings next to Notifications.
It's also a good idea to check your device for adware and other malware with an antivirus tool, such as Combo Cleaner for macOS, Spyhunter for Windows, others. This is in case the Wsoyourwi.fun ads caused you to  download anything shady, such as an iffy program (like TotalAV) or some sort of a browser hijacker (such as Cactus Search). Remove suspicious programs and files with antivirus tools or uninstall them manually.
Automatic Malware removal tools