Winmanager.online pop-up is presented to users that have become infected with adware parasites, constantly generating pop-ups, pop-unders, banners and in-text ads. Unwanted tools like NoterSave or Weather Inspect could be installed without authorization and promote all sorts of suspicious material.
Winmanager.online scam shows a fake technical support message
Winmanager.online fake alert hopes to be associated with Microsoft Corporation and be regarded as a respectable technical support message. However, this notification has nothing to do with legitimate technicians. It falsely explains to all users that their operating systems are in danger and they have to (Increasing).
The fake notification emphasizes that visitors' browsing, search history and personal information has been exposed to unidentified parties. If this statement was correlating with the actual privacy status of an operating system, the message would be treated differently (Personal info is key to identity theft). However, we have noticed many similar scams: "Windows Detected Alureon" and "Your Windows Licence has Expired" pop-ups.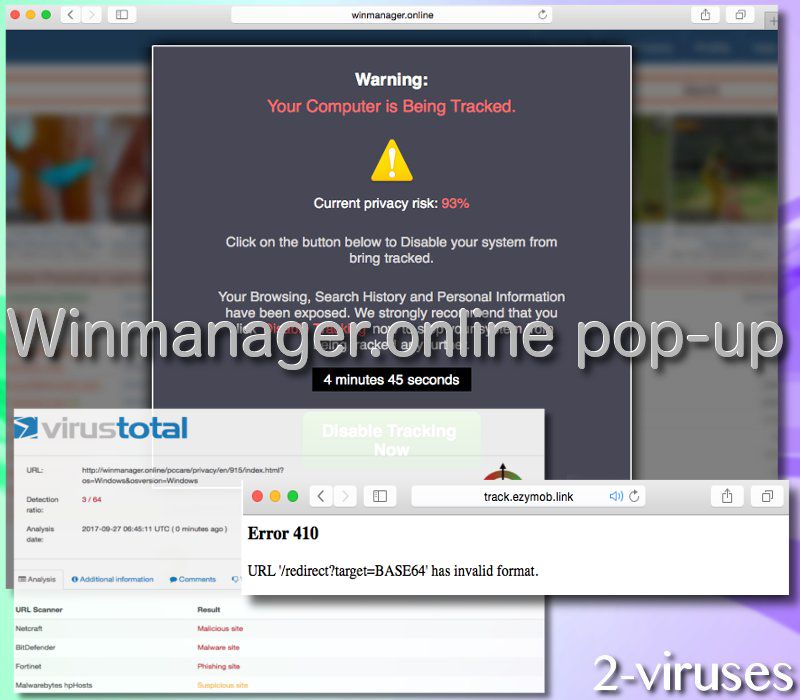 We decided to scan Winmanager.online URL with respectable security tools. Some of them indicated this domain as a malicious, malware, phishing or suspicious site (VirusTotal analysis). We found 25 other domains hosted on the same web server as Winmanager.online website. Some of them are definitely involved in deceptive activities, aiming to have negative impact on users' operating systems. Some of the examples are the following:
authorizedwinner.com (labeled as a malware/phishing page),
spinbonus.xyz (browsers warn people that this is a deceptive website, capable of installing software or disclosing personal/financial information),
techservice.world (displays Windows technical support scams,
beautybox.today (labeled as a suspicious website, leading to offers to install rogue software tools).
Winmanager.online pop-up has been actively-displayed in India, Argentina, Brazil, Mexico and Belgium. However, this does not mean that people from other countries have to chance of seeing Winmanager.online/pccare/privacy/en/915/index.html?os=Windows&osversion=Windows domain. It is hosted on a LiteSpeed server like most of the othe deceptive domains we mentioned above.
The Winmanager.online scam gives 5 minutes for the user to respond to its warning. We waited to see the result after this countdown hits zero. However, nothing happened and 93% of privacy risk was just a trap. For what? So that people would click the suggested button and be introduced to a new tab with Track.ezymob.link domain which is similar to Track.spzan.com redirect. This is also a fraudulent website which will be very interested in users' private information and browsing habits. To be blunt, the domain will be attempting to pursue scams like getting information about users' banking accounts (Online banking theft ).
Information about the removal of viruses
Do not believe Winmanager.online scam. It will cause setbacks in operating systems and make it difficult for infected users to enjoy browsing. As we have indicated, this pop-up could be triggered by an adware infection. You could open your task manager and try to find any processes that are not regular. If you find any suspicious entries, do some research whether they are normal or are indicating potential dangers.
To have a stable operating system, one must have an anti-malware tool. Spyhunter is constantly updated to detect the malware parasites and protect users from them. Furthermore, you could attempt to pursue a manual removal which is explained below. If in addition to noticing the pop-up we investigated in this article your browsers' preferences have also experienced some changes, it is possible that a browser hijacker is disrupting your browsing. Please also check active browser extensions. All add-ons you did not install yourself should be removed.
To keep a device running without any glitches, update software and patch detected vulnerabilities. This will prevent success of exploit kits. Also, do not click on suspicious links and never retrieve software from bizarre sources. Lastly, choose advanced/custom modes for Setup Wizards and read their conditions. If you follow these guidelines, then malware parasites should not be able to reach your operating system.
How to remove Winmanager.online pop-up using Windows Control Panel
Many hijackers and adware like
Winmanager.online pop-up
install some of their components as regular Windows programs as well as additional software. This part of malware can be uninstalled from the Control Panel. To access it, do the following.
Start→Control Panel (older Windows) or press Windows Key→Search and enter Control Panel and then press Enter (Windows 8, Windows 10).
Choose Uninstall Program (if you don't see it, click in the upper right next to "View by" and select Category).
Go through the list of programs and select entries related to Winmanager.online pop-up . You can click on "Name" or "Installed On" to reorder your programs and make Winmanager.online pop-up  easier to find.
Click the Uninstall button. If you're asked if you really want to remove the program, click Yes.
In many cases anti-malware programs are better at detecting related parasites, thus I recommend installing Spyhunter to identify other programs that might be a part of this infection.
Automatic Malware removal tools