Win 7 Security 2011 - How To Remove?
Win 7 Security 2011 scam is the fresh rogue antivirus program distinguished by generic names that are dependent on Operating system version running on PC. In the beginning of 2011, this malware has renewed its activity and has started to annoy computer users again. You get asked to update Microsoft's security programs, you download and install some update and as a result you will get your computer infected with one of these fake antiviruses like Win 7 Security. This version is particularly nasty, as it blocks all programs from launching.
First symptom after infection is that instead of legitimate programs you launch Win 7 Security 2011 executable. It will claim that the process is infected and had to be closed, but in fact the program files are not checked at all. The scans Win 7 security 2011 makes are false, the resulting files are harmless or non-existent on the PC at all.
Only browsers launch normally, but the browsing itself is blocked by malware. Most of legitimate anti-malware websites are blocked, thus you might need to download the programs on another PC or from secondary locations like here: spyhunter. Some of the executables might be launched by right-clicking on them and running them as administrator. However, it will not allways work.
You are also bombarded by various system alerts like these:
System danger!
Your system security is in danger. Privacy threats detected. Spyware, keyloggers or Trojans may be working the background right now. Perform an in-depth scan and removal now, click here.
System Hijack! >
System security threat was detected. Viruses and/or spyware may be damaging your system now. Prevent infection and data loss or stealing by running a free security scan.
You can ignore them as everything that Win 7 Security 2011 says. Everything is false and only to convince you to give away your credit card details. This would pay the scammers and malware developers, thus I would suggest not doing so. You should remove Win 7 Security as soon as possible to prevent something breaking further what would require a complete reinstall of your Windows 7 OS.
How to get rid of Win 7 Security 2011
To remove Win 7 Security 2011 you will need to download and burn into cd several programs on clean PC or Alternate OS scaner. You might also want to try righclicking on some spyware remover like spyhunter and choosing run as administrator. If this method fails, there is an option (announced by security researcher Siri) using old keys for the same family of rogues: 1145-17884799-7733 and 1147-175591-6550 (the new one published by Xylitol). This should disable popups and restore exe execution which would allow running scanners like spyhunter to remove Win 7 Security 2011 or Win 7 Security virus.
Here instructions how to remove Win 7 Security using alternate PC:
a) Burn these programs to CD or write them to USB disk (you can use an MP3 player):
Spyware Doctor ( https://www.2-viruses.com/spdoc.exe )
Registry fix : https://www.2-viruses.com/wp-content/uploads/exeregfix.reg to restore normal execution of registry
You might want to download Hitman Pro or Malwarebytes as alternate scanners. Though you are likely to be able to download them later on.
b). Boot normally. wait for Win 7 Security 2011 to launch, and run exeregfix.reg . This should allow launching legitimate programs
c) Delete or remove the files that are mentioned in our files box. You can use spyhunter to identify the infected files and additional infections. Do not forget update it before scanning. Remove what it finds.
d) Scan with spyhunter and secondary tools and reboot your PC. This should fully get rid of Win 7 Security 2011.
In some cases virus mutates and you cannot perform some part of these instructions. In such cases we recommend trying scans from within safe mode, or doing Alternate OS scans by tools from one of antivirus program makers, for example this : http://pctools.com/aoss
Multiname
Automatic Win 7 Security 2011 removal tools
We might be affiliated with some of these programs. Full information is available in disclosure
Manual removal
Important Note: Although it is possible to manually remove Win 7 Security 2011, such activity can permanently damage your system if any mistakes are made in the process, as advanced spyware parasites are able to automatically repair themselves if not completely removed. Thus, manual spyware removal is recommended for experienced users only, such as IT specialists or highly qualified system administrators. For other users, we recommend using Reimage or other tools found on 2-viruses.com.
Processes:
Files:
Registers:
Win 7 Security 2011 screenshots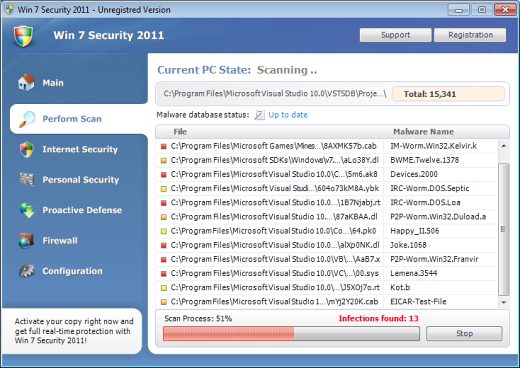 About the author