Win 7 Antispyware 2012 - How To Remove?
Braviax
Win 7 Antispyware 2012 is another scam created by computer hackers in order to rip computer users off. Don't confuse it with a reputable antispyware program. Win 7 Antispyware only pretends to be one, but in fact it only creates an illusion of antivirus. The program is secretly installed to random computer systems using Trojan viruses.
Once inside, it is configured to start automatically when computer boots up. Win 7 Antispyware 2012 runs its fake scanner and imitates checking the system for infections. It will warn you claiming that your computer is badly infected and even display a list of infections. In order to remove supposedly harmful files, Win 7 Antispyware 2012 will offer purchasing its full version. This version of the program says to be able to detect and remove every single malicious file. However, the reality is that such powers doesn't even exist and Win 7 Antispyware 2012 is just another scam from dangerous family of malwares changing their names according to OS found running on the targetted PC.
Win 7 Ani-Spyware 2012 also disturbs activity of other programs that you try to run on your computer. Instead of allowing using them normally, Win 7 Antispyware 2012 generates various pop up ads and security notifications claiming that the program could not be started or something like that. Some computer users also complain that Win 7 Antispyware hijacks their browsers. Basically, the situation on your system will look miserable while Win 7 Antispyware is running on your system and you will be warned by numerous alerts reporting:
Malware Intrusion
Sensitive areas of your system were found to be under attack. Spy software attack or virus infection possible. Prevent further damage or your private data will get stolen. Run an anti-spyware scan now. Click here to start.
System danger!
Your system security is in danger. Privacy threats detected. Spyware, keyloggers or Trojans may be working the background right now. Perform an in-depth scan and removal now, click here.
System Hijack!
System security threat was detected. Viruses and/or spyware may be damaging your system now. Prevent infection and data loss or stealing by running a free security scan.
This trick is made only to fool computer users and mislead them into purchasing something that doesn't provide any services and is completely useless. You are strongly recommended to remove Win 7 Antispyware 2012 from your computer as soon as you notice its malicious activity there. It is the only way to stop this kind of activities on your computer.
How to remove Win 7 AntiSpyware 2012 fake av
Win 7 Antispyware 2012 will block execution of legitimate programs, namely .exe files. However, it is possible to overcome this.
1. First, try fake-registering it by entering this registration key: 1147-175591-6550, 2233-298080-3424 or 3425-814615-3990 (updated on 2011.11.29) or 9443-077673-5028 (updated 2012.01.14) . This should disable Win 7 Antispyware 2012 by letting it think you have paid for it.
2. Next, if download of legitimate software still fails, try changing system date to 7 days in the future. You can try to do so even if registration failed. Reboot your PC afterwards and reset date back.
3. Thirdly, if Win 7 Anti-Spyware 2012 is still blocking legitimate programs, download process explorer https://www.2-viruses.com/wp-content/uploads/PE/eXplorer.exe (backup location). Launch it, and stop all 3-letter application processes from %AppData% or %TEMP%.
4. Important. Scan with spyhunter or Spyhunter for remaining trojans that resulted in Win 7 AntiSpyware 2012 infection.
Automatic Win 7 Antispyware 2012 removal tools
We might be affiliated with some of these programs. Full information is available in disclosure
Manual removal
Important Note: Although it is possible to manually remove Win 7 Antispyware 2012, such activity can permanently damage your system if any mistakes are made in the process, as advanced spyware parasites are able to automatically repair themselves if not completely removed. Thus, manual spyware removal is recommended for experienced users only, such as IT specialists or highly qualified system administrators. For other users, we recommend using Reimage or other tools found on 2-viruses.com.
Processes:
Files:
Registers:
Win 7 Antispyware 2012 screenshots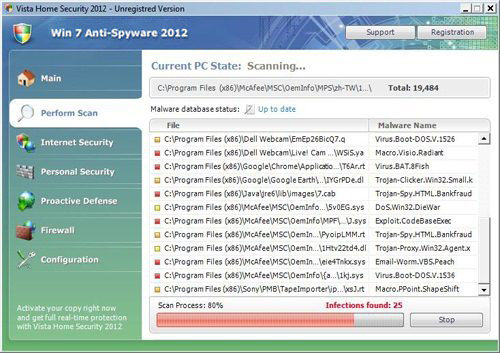 About the author