Webhelper is a virus that pretends to be a Windows process while spies on everything you do. It can even control other programs. If Webhelper isn't removed, it can lead to your accounts being hijacked by cybercriminals. The Webhelper virus is widely classified as malware by cybersecurity researchers, as this VirusTotal page shows. If you found Webhelper on your system, remove it as soon as possible.
Webhelper Virus quicklinks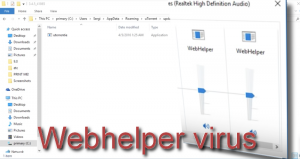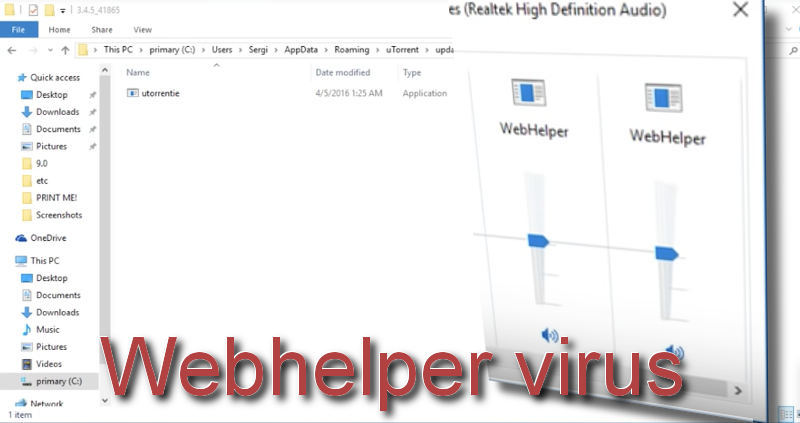 Webhelper usually gets installed with another program, in secret, and it can be very difficult to detect, especially if your anti-malware is not up-to-date. The potential harm of allowing this malicious piece of software to remain on your computer is hard to measure, though – it can be incredibly destructive. Stolen information and installed malware can cost a lot of time and money at the end of the line.
In this post, we will talk about where the Webhelper virus comes from, how to avoid it. and, if you are already infected – how to remove it. So if any of those 3 topics are relevant to you, please continue reading this article.
Features of the Webhelper virus and ways to get rid of this infection:
WebHelper's Classification
Malware – used to hijack computers and steal private information

Trojan – is installed under false pretenses

Spyware – records user's activities and track other processes

Adware – displays ads and redirects links

Symptoms of the infection
Windows system sounds play at inappropriate times

Webhelper.exe is visible in the Task Manager

Some of your online accounts are hacked

New programs are installed without your permission

Ads are displayed unusually

Solutions
Scan every file before you run it

Only download software from trusted websites

Use real-time protection

Update your anti-malware tools and other software frequently

Removal of Webhelper virus
Delete and uninstall the WebHelper virus manually

Detect and remove it automatically (Spyhunter)

Reset passwords

Stop updates of the program that installed Webhelper
How did Webhelper infect your system?
Bundled with another program
You probably have already heard of a malware distribution method called bundling – a lot of browser hijackers and adware infections like Dubalub.com or SimCleaner Plus are distributed this way. It's when a trusted free program, during its installation, also installs some other software in the background.
Developers do this because they get paid for each successful installation of the bundled software. It's good because it allows the developers to monetise their software while keeping it free to use. But it's bad because bundling is often misused to spread unwanted and dangerous software, such as the Webhelper virus.
Downloaded as an update
Most of the time, the programs distributing malware are small and unknown. But Webhelper comes bundled with a well-known and extremely popular program – uTorrent. The funny thing is that Webhelper is not installed the same moment you install uTorrent – instead, it comes as an update to the uTorrent program. So the first thing you want to do if your computer is not yet infected or if you have successfully removed Webhelper virus – go to the settings section on the uTorrent program and turn off the "automatically install updates" function: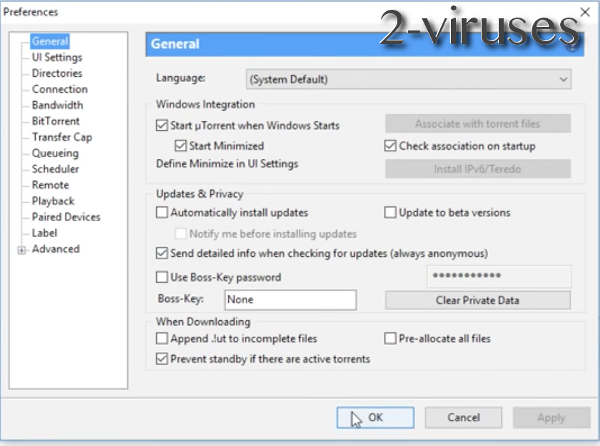 WebHelper isn't the first to use a well-known and widely trusted program to spread. For example, the Floxif virus hacked CCleaner, the Magento store was hijacked to distribute malware. And the owners of the illegally modified product don't even realise the problem until it started affecting innocent people.
How WebHelper virus is dangerous
Spyware that runs in the background
Now, you might be wondering why Webhelper is considered to be an unwanted application? While it might not be bothering you that much, it is always operating in the background from the moment you turn on your computer – it can be seen by looking at the Task Manager (use the keyboard shortcut Ctrl+Shift+Esc to open it). The malware looks like "Webhelper.exe" there.
Webhelper can do a lot of harmful things in the background:
Record your keystrokes, catching all the text that you type, including your passwords and personal messages.
Steal private data saved on your computer or in your browser.
Observe the activity of the other processes, such as your browser.
Manipulate other programs on your computer.
Download and install other malware.
Play Windows system sounds.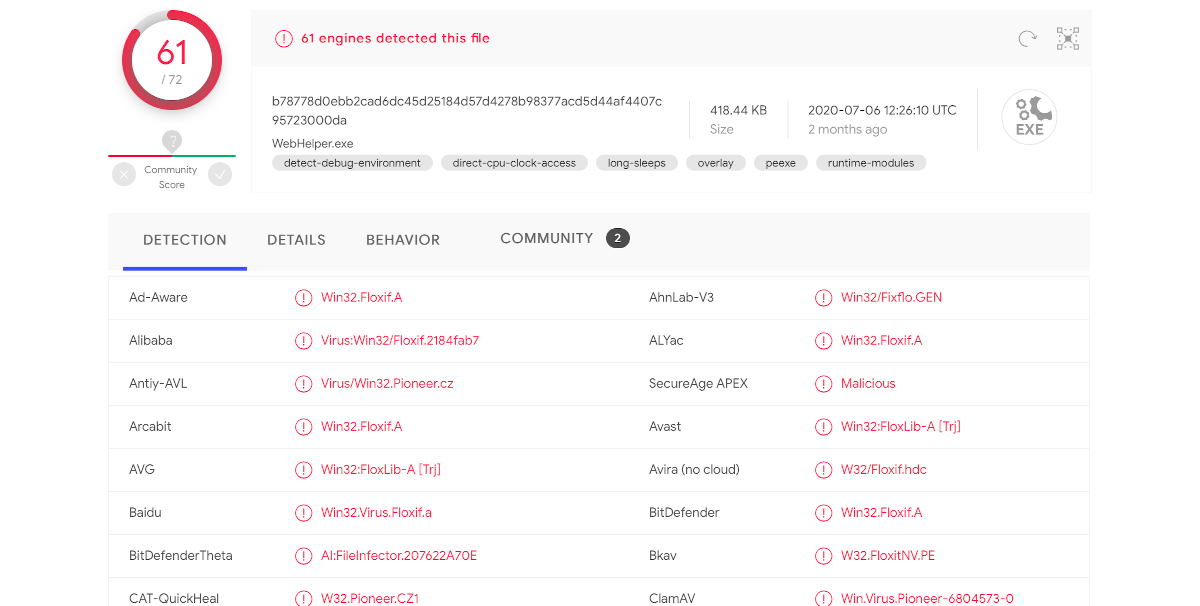 Displaying ads and stealing information
Consuming some of your computer resources and making it run slower is an effect that is the least of the problems with Webhelper. It also tracks your browsing history and messes with your web browser, displaying advertisements.
Even worse, if you use your credit card or some other online payment system to buy things online, your finances are put in danger by the Webhelper virus. Having your credit card compromised is a real problem, considering that cybercriminals are trying to make money from their victims.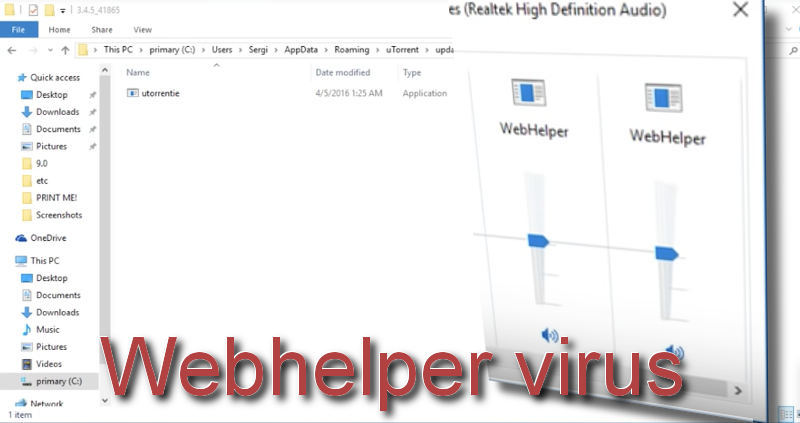 Ultimately, Webhelper exists to make money off of its victims. Whether that is by displaying ads, stealing their private information, or selling their browsing data.
How to uninstall the WebHelper virus by yourself?
Delete WebHelper
As for deleting the virus, basically, you have to options – you can either remove Webhelper manually or download a professional anti-malware application and let it do the work for you. We are assured that a program like Spyhunter will detect and remove all files associated with WebHelper and resolve the problem.
In case you would like to dig deeper and try to do it by yourself, here's a brief instruction manual on how to eliminate WebHelper:
Open file manager and navigate to the disk C;
Find the folder "AppData" (if it is hidden, here're the instructions on how to view hidden files);
On the AppData folder open the "Roaming" folder, then navigate to "uTorrent" and "Updates";
In that folder you will discover the application "uTorrentie", which is actually causing WebHelper to happen on your computer;
Delete that file and restart the uTorrent program and your computer.
You might want to scan your computer again just to make sure that the Webhelper virus is really gone. Some viruses can be very persistent. If Webhelper refuses to be deleted, you might find our post on killing malicious processes helpful.
Protect your online accounts
If you suspect that WebHelper exposed your private data to criminals, the most important thing to do is to reset your passwords and use 2-step verification where possible. Then, if someone tries to take over your accounts, you'll be warned.
And remember to be careful of targeted phishing emails – if fraudsters use the data that WebHelper sent them to trick you, they can be very persuasive.
Automatic Malware removal tools