WebGamerWorld.com (or rather, Web Gamer World) is a browser extension by HyperConnect Media, a company that's already released a few extensions that have hijacker features. WebGamerWorld.com is not dangerous or anything, but it does cause web search results to be returned in Yahoo.com like a lot of other search hijackers.
Webgamerworld Com Hijacker quicklinks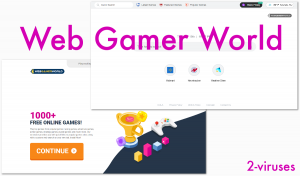 WebGamerWorld.com is basically a browser extension that's mostly useless for users, but great for its creators who want to be able to influence your web browsing and to see what your browsing habits are. Some advertising companies release add-ons like WebGamerWorld.com as a response to the increased usage of encryption online. It's hard to call WebGamerWorld.com malicious, it's not really dangerous, it's just advertising that might infringe on some people's privacy expectations or their consent.
WebGamerWorld.com features in short:
Type of threat
Issues with hijackers

Bad for privacy
Needlessly locked browser settings

How WebGamerWorld.com gets installed

Free programs install hijackers
Pop-up ads and redirects install WebGamerWorld.com instead of expected files
Normal ads

Removing WebGamerWorld.com

Uninstall hijackers manually
Remove potentially unwanted programs using scanners (Spyhunter for PC, Combo Cleaner for Mac, and similar)
Problems with WebGamerWorld.com
Limited functionality
WebGamerWorld.com promises to give you quick access to over 100.000 games from your new tab, as it says on its homepage. This is not exactly accurate. WebGamerWorld.com doesn't play games in your new tab window, in a floating pop-up, or in some unique way that's integrated with your browser and requires an extension. Instead, WebGamerWorld.com just provides you with a few links to websites for browser games.
Web Gamer World replaces your new tab page just so it can give you links to a few websites? That's not how it's supposed to be, browser add-ons should not interfere with the browser any more than what's needed for it to work. WebGamerWorld.com as a gaming extension could easily be replaced by you bookmarking links in your browser (most browsers map this functionality to Ctrl+D or Cmd+D).
Search hijacking
The real reason for why WebGamerWorld.com exists is the "custom web search", which means that the WebGamerWorld.com search box redirects search queries to a page that it can read the contents of. This is kind of bad for privacy. WebGamerWorld.com can see what you search for, on top of being able to read your browsing history. Like other hijackers, WebGamerWorld.com just uses its access to your browser to spy on your activities, which is useful for advertising.
At least, WebGamerWorld.com doesn't take over your search bar – its hijacking is contained in a search box in the middle of the new tab page. But this is supplemented by WebGamerWorld.com railroading people into installing Search Defender Prime, another browser extension that only takes over the address bar. It's common for hijackers to try to get installed in groups like this, where one of the extensions (WebGamerWorld.com in this case) will take over the new tab, and another will replace the search engine. Together, they thoroughly hijack your search.
Distribution
The installation of WebGamerWorld.com is like other "custom web search" pushing extensions, too:
It comes bundled with freeware.
Its homepage is opened instead of file downloads.
It's advertised by redirects and pop-up ads.
It's common for browser add-ons, usually search hijackers, to come bundled with various free programs: media players, photo editors, gaming tools. The browser extensions are installed automatically. You should actually see a warning about WebGamerWorld.com being an additional offer, but if you miss it (and these disclaimers are usually hidden in custom settings and not featured prominently), WebGamerWorld.com is installed by default. And then you're left to wonder why in the world Yahoo is delivering your search results and why Chrome's homepage looks so different.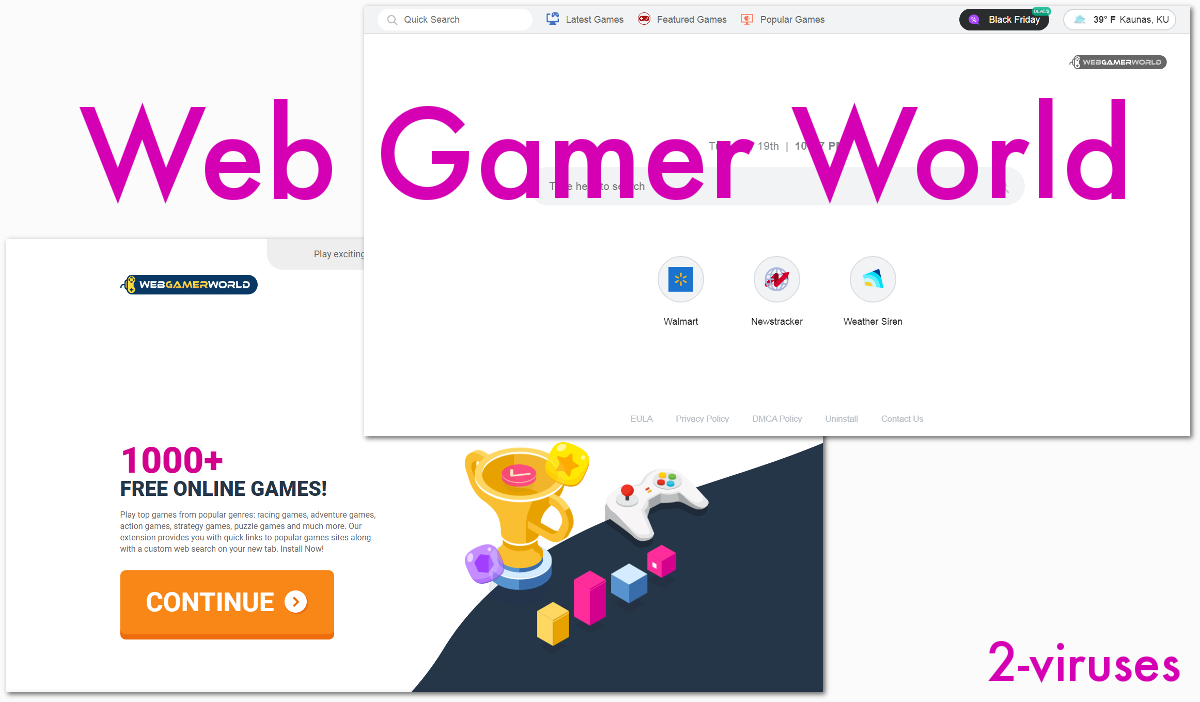 I encountered WebGamerWorld.com when on sites for pirating videogames. WebGamerWorld.com was sometimes shown as an ad – a new browser tab that opens when clicking on some random spot on the pirating site. WebGamerWorld.com would also be opened when trying to download a file from one of these sites. Safer normal ads were also used, mostly published on browser games sites.
The problem with how WebGamerWorld.com is distributed is that many of the people who get this add-on on their browser could well have missed it and installed it by accident. They might be seamlessly redirected form downloading a file to downloading WebGamerWorld.com. The hijacker might get installed together with a free application without getting the user's explicit permission. It's a constant complaint with these hijackers that they just showed up, seemingly downloaded randomly.
How to remove WebGamerWorld.com
Luckily, Web Gamer World can be uninstalled normally, like any other browser extension. Don't forget to check for Search Defender and look through other add-ons that you have – like Search Secure Prime, Get Easy Maps, Travel Deals Center, and others. And be careful whenever you're installing free applications – avoid choosing express installation so that no options are hidden from you and check the text next to every checkbox to avoid "additional offers" being snuck in.
Scan your computer with an anti-malware tool like Combo Cleaner for MacOS or SpyHunter for Windows if you want to check for potentially unwanted programs and/or to remove them automatically. Considering the shady methods WebGamerWorld.com uses to get on people's computers, it wouldn't be surprising if other unwanted programs made it, too.
Automatic Malware removal tools
TopRemoving WebGamerWorld.com Hijacker from Chrome
Click on the menu button on the top right corner of a Google Chrome window. Select "Settings".

Click "Extensions" on the left menu bar.
Go through the extensions list and remove programs you do not need, especially similar to WebGamerWorld.com Hijacker. Click on the trash bin icon next to WebGamerWorld.com Hijacker or other add-ons you want to remove.

Press on the "Remove" button on the Confirmation window.

If unsure, you can disable them temporarily.

Restart Chrome.
(Optional) Reset your browser's settings
If you are still experiencing any issues related to WebGamerWorld.com Hijacker, reset the settings of your browser to its default settings.
Click on Chrome's menu button (three horizontal lines) and select Settings.

Scroll to the end of the page and click on the Reset settings button.

Click on the Reset button on the confirmation box.

If you cannot reset your browser settings and the problem persists, scan your system with an anti-malware program.
How To remove WebGamerWorld.com Hijacker from Firefox:Top
Click on the menu button on the top right corner of a Mozilla window and select the "Add-ons" icon (Or press Ctrl+Shift+A on your keyboard).

Go through Extensions and Addons list, remove everything WebGamerWorld.com Hijacker related and items you do not recognise. If you do not know the extension and it is not made by Mozilla, Google, Microsoft, Oracle or Adobe then you probably do not need it.

If your homepage was changed, click on the Firefox menu in the top right corner, select Options → General. Enter a preferable URL to the homepage field and click Restore to Default.

(Optional)
Reset your browser's settings
If you are still experiencing any issues related to
WebGamerWorld.com Hijacker
, reset the settings of your browser to its default settings.
Click on the menu button on the top right corner of a Mozilla Firefox window. Click on the Help button.

ChooseTroubleshooting Information on the Help menu.

Click on theReset Firefox button.

Click on the Reset Firefox button on the confirmation box. Mozilla Firefox will close and change the settings to default.

If the problem persists, scan your system with an anti-malware program to identify malicious entries.