Trojan Spyware Alert appears as a warning on a Microsoft webpage, threatens that your computer has a spyware infection, all while a synthesized voice is reading the warning out loud. But really, Trojan Spyware Alert is a tech support scam that seeks to scare you into paying for fake tech support services. Likely, your PC is totally fine.
Trojan Spyware Alert is used by scammers who pretend to be Microsoft employees. Their goal is to get you to pay them money. At worst, the scammers might try to set a new password for your PC and to install actual spyware.
Trojan Spyware Alert Scam quicklinks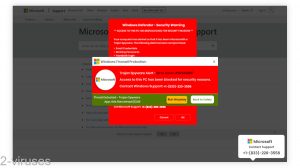 About the Trojan Spyware Alert scam:
Threat type
Scam,

scareware.

The appearance of Trojan Spyware Alert
It claims that your computer is in danger and that your information is being stolen,

the alert is designed to look like Microsoft is showing it (it's not).

Dangers posed by the scam
Stolen money and personal information,

time wasted and unnecessary stress caused.

How to deal with the Trojan Spyware Alert scam
Close the page, don't interact with it,

check your computer for malware with antivirus programs (Spyhunter, Malwarebytes, etc.),

if needed, reset your Windows,

protect your identity and your payment information.
What Trojan Spyware Alert looks like
Trojan Spyware Alert is one of many misleading webpages that show up online and try to scare people into calling the provided phone number. It's not your fault if you ended up on Trojan Spyware Alert – if you browse the internet for long enough, you're likely to run into a few of such scam alerts.
The Trojan Spyware Alert page shows a fake Windows box titled "Windows Firewall Protection". Windows Defender Firewall is a real thing, you can manage it in your Settings app (Support.microsoft.com). The warning claims to come from Windows Defender and it says that there's spyware on your computer ("Fiancetrack(2).dll"). It also tells you to call a phone number:
Trojan Spyware Alert – Error Code: #0x564897

Access to this PC has been blocked for security reasons.

Contact Windows Support: +1-(833)-220-3558

Threat Detected – Trojan Spyware

App: Ads.fiancetrack(2).dll
And behind this box, there's another alert that says that passwords and other information have been compromised:
Windows Defender – Security Warning

** ACCESS TO THIS PC HAS BEEN BLOCKED FOR SECURITY REASONS **

Your computer has alerted us that it has been infected with a Trojan Spyware. The following information has been compromised.

Email Credentials
Banking Passwords
Facebook Login
All this – on a background that looks like a Microsoft Support page.
It's all very scary. Spyware on your computer? Information being stolen? Microsoft itself giving you this warning?
The truth is that Trojan Spyware Alert is nothing but a scam meant to scare you into contacting scammers and paying for their "support".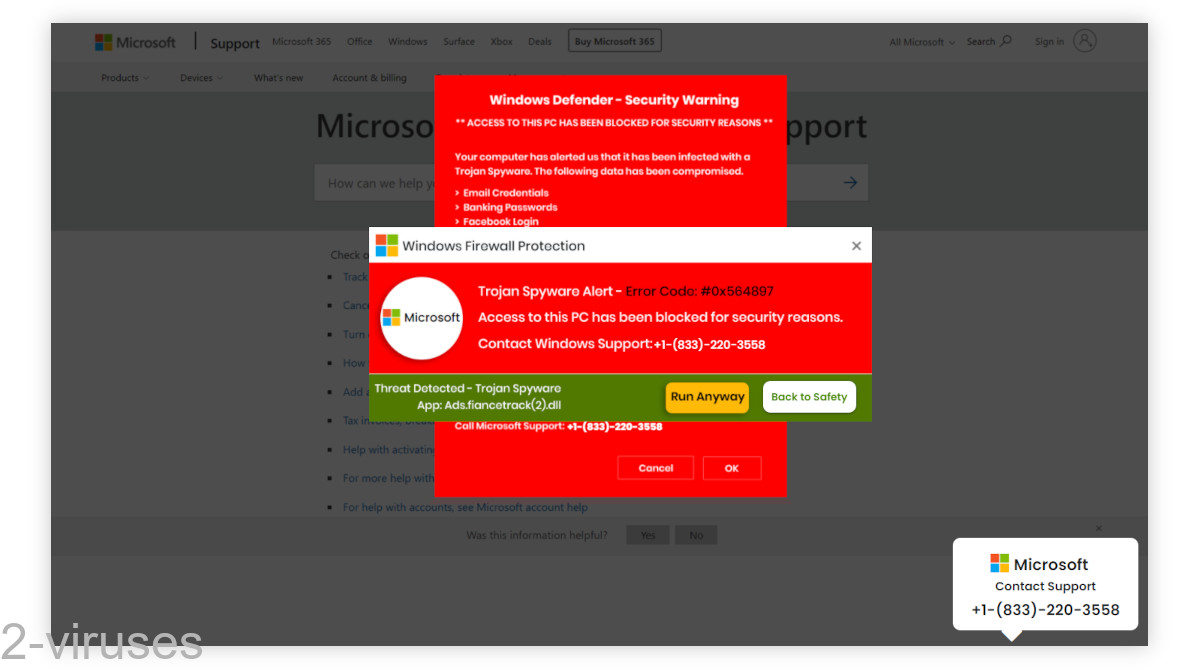 Dangers of the scam
The Trojan Spyware Alert scam is not just a mean joke meant to cause you stress. It also wants you to call the given phone number to contact the people behind this fake warning.
These people will pretend to be Microsoft representatives, official support staff. They'll try to get you to give them remote access to your personal computer by installing legitimate remote support programs (Helpme.net scam). The Trojan Spyware Alert scammers can do a lot of harm once they have remote access to your PC:
They can scare you by showing (completely ordinary) error logs, file lists. They can show fake errors and other custom alerts (Wikihow.com).
They might actually install real spyware. Some scammers also check your files and take what they think might be valuable.
The scammers might change your password or PIN code to make it harder for you to access your own computer. They might claim that your computer was blocked for being infected with malware, but once again, it's a lie.
Finally, the people behind the Trojan Spyware Alert scam want to get your money, so they offer a paid service that might cost up to a few hundred dollars.
The scammers want to get your payment information, which includes sensitive personal information. This is the biggest problem with the Trojan Spyware Alert scam – the potential of it being used to steal your personal information and your money.
That said, Trojan Spyware Alert causes other problems, too: it wastes your time, causes unnecessary stress, and might result in unwanted software being installed on your machine.
How to deal with the Trojan Spyware Alert scam
How to protect yourself from scams
Tech support scams are a known problem. Microsoft warns about them (Support.microsoft.com), as do consumer protection agencies in various countries. In fact, Microsoft helped catch scammers, which resulted in arrests.
And yet, tech support scams still infect the internet. It's likely that you'll encounter more of them thanks to malicious redirects and ads. When you see a website claiming that your computer is in danger, maybe even a 5-minute countdown until irreversible damage – just close the page. If the page takes over your screen and locks your computer, check out this article on how to close stubborn webpages.
It's advisable to use ad blockers or anti-malware programs to block malicious pages. Scams like Trojan Spyware Alert are most likely to show up on sites that already have lax standards for their ads: pirating, file download, free movie streaming sites, etc.
It's also advisable to have antivirus software, such as Spyhunter, Malwarebytes, or others, protecting your device.
If you contacted the scammers
If, after seeing the Trojan Spyware Alert warning, you called the scammers and followed their instructions to install remote access or other software, then it's important to remove that software. You can uninstall it manually, but it's also important to have an antivirus program check your computer to see if anything suspicious is still lurking.
If scammers got to mess with your computer, there are a few issues to consider. You might need to review your security settings and other settings. To recover from the harm that the scammers behind Trojan Spyware Alert did, it might be worth it to reset your computer, as Microsoft described in its post. I still recommend that you scan your files for malware if you decide to reset and keep your files.
As for your personal information and payment information, you should ask your bank for help. You might be able to get your money back, but you might also need to get a new card to be sure that your payment info won't be misused. Be honest with your bank about what happened and they should know what to do.
Automatic Malware removal tools
How to remove Trojan Spyware Alert Scam using Windows Control Panel
Many hijackers and adware like
Trojan Spyware Alert Scam
install some of their components as regular Windows programs as well as additional software. This part of malware can be uninstalled from the Control Panel. To access it, do the following.
Start→Control Panel (older Windows) or press Windows Key→Search and enter Control Panel and then press Enter (Windows 8, Windows 10).
Choose Uninstall Program (if you don't see it, click in the upper right next to "View by" and select Category).
Go through the list of programs and select entries related to Trojan Spyware Alert Scam . You can click on "Name" or "Installed On" to reorder your programs and make Trojan Spyware Alert Scam easier to find.
Click the Uninstall button. If you're asked if you really want to remove the program, click Yes.
In many cases anti-malware programs are better at detecting related parasites, thus I recommend installing Spyhunter to identify other programs that might be a part of this infection.