Swagbucks is a Toolbar that once installed causes your home page, default search engine and new tab page to be changed to search.swagbucks.com. It might also be called the SBTV Toolbar or Swag Code Toolbar. Swagbucks.com allows web users to earn virtual currency by searching the web, shopping at their favorite retailers, engaging in other activities such as phone recycling, submitting polls, and completing special offers. It is owed by Prodege LLC. Copybinary.me is a comparable infection, possibly aiming to trick people into utilizing for the purpose of earning money.
While the toolbar itself as well as the website search.swagbucks.com are not malicious and do not cause any direct harm to your computer, having these might be very annoying.
Update of Swagbucks scam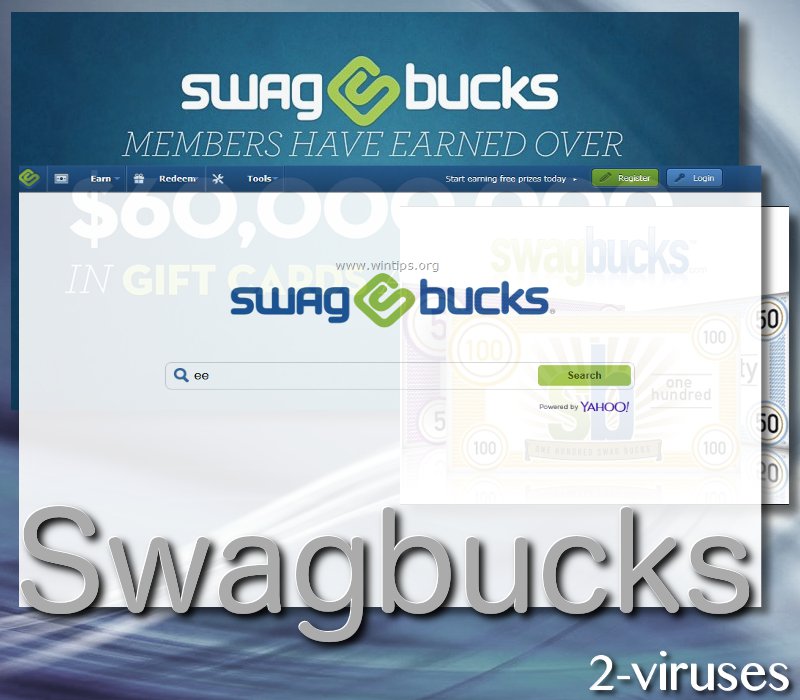 Swagbucks and its browser hijacker have been around for long: 9 years and 9 months. However, most of its visitors derive from a couple of countries: United States, United Kingdom, India, Canada and Germany (1). If you are a user from the latter country, we think you would find the instructions and analysis more convenient when written in your native German language. In America, the Swagbucks scam service has received so much attention that it ranked in 446th place.
Its search platform, Search.swagbucks.com virus might not be the worst engine around, but definitely not the best. It is supposed to be a platform for earning prizes, but many people have reported that this platform opens as a new tab without permission (2).
It has been stressed out that this service is nothing but a scam and it is basically impossible to earn gifts from visiting certain websites, watching videos, taking surveys and responding to certain deals. Swagbucks is indicated to be available in US, UK, Australia, Ireland, Canada, Germany, France and India. Also, most of the techniques to earn money via this service have been indicated to be ridiculous (3). For instance, the technique of watching movies and answering surveys has been indicated as waste of time. Also, earning money via the original search engine is not labeled as the best choice as it is extremely cluttered with ads.
While many visitors have agreed to call this service as actually profitable, you would suggest users to steer clear of such easy-money as the cost of a couple of dollars could be your cyber security and confidentiality. We have determined that advertisements from a bunch of networks will be presented via this service: Media.net. Adf.ly, Skimlinks, ClixSense.
Swagbucks service has received contradicting opinions: for some, it is a good or average website which can help people earn some profits. However, for others, its existence is nothing of a pleasant nature as constant redirection to malware and spyware-laden websites, and other scamming activities have been explained in multiple testimonials (4):
Swagbucks is nothing but a lie, a scam, and a waste of time. I used their search engine for several months because I figured I could click on their ads and earn points to get rewards. Well I did just that and ordered a reward which I rightfully verified and deserved and they cancelled it on me claiming that I never verified it. So I deleted my account. I'm not supporting a scamming site.
Okay the site itself is straight forward, however any iteration be it unsubscribing from the site itself is done by third party sourcing leaving you to the terms of that provider be it additional swag points to removing your account.
Leaving you open to malware, hijack-ware, data mining, key logging the works. Meaning a dummy e-mail will not mitigate the problem, so user beware.
This site is a fake make quick money phishing site that spams Facebook and other sites with links telling about how much the poster "earned".
This site is just another pyramid scheme.
They make you install this toolbar in hopes of earning points to win things, although its impossible ever win anything worth the time you spent getting the points! Additionally its chock full of adware!
Further analysis of Swagbucks
First of all, whenever you perform any search, you will be redirected to Swagbucks search page or any other web page that is promoted by the toolbar. Even though you might not see huge differences from, for example, Google or Yahoo! Swagbucks search tool provides relevant search results mixed with advertised links. The two types of the links are not marked any different therefore you might easily click on the promoted link instead of a relevant one. Prodege LLC does not take any responsibility for the content it displays which means you might click on a link that is malicious or lead to a compromised website. Subsequently you might get your computer infected with malware.
Another complaint related to having Swagbucks installed is popup ads that interrupt your work with computer. Moreover, those who installed the application intentionally because of the rewards it offers say that it has a low "payout" rate compared to other similar sites and is also known to ban users who search too much in attempt to earn money. The prizes are very over-priced and are not worth the effort.
As we have already mentioned, Swagbucks cannot be identified as a malicious infection. Users have raised concerns whether the pop-ups from this network can cause viruses or other inconveniences. People noted that they were introduced to very bizarre content like Adobe Flash Upgrades that easily might have been fake and allow malware infections into users' systems. Another downside of this Swagbucks facility is that it serves a number of third-party content which will be presented in the search results or in forms of various promotional material. Furthermore, users that utilized the search engine of Swagbucks noticed that at times, the generated result were unrelated with their typed in query. In addition to this, the facility works on only a limited amount of locations and if you are from a more unpopular place, the search engine will indicate that "Oops, we currently don't support searches from your location."
Another quite negative feature of this facility is that won't give you the promised point for every search. There are certain regulations that about 3 or 4 searches are accepted. If you have no intention of utilizing this arguable service, then please get rid of it so you won't be jeopardized any longer. In fact, some people believe that Swagbucks is a reliable decision and they utilize it, disregarding the issues that are raised by other part of the society. If you choose to stick with this facility, avoid those pop-ups that suggest you to download software applications or updates. As soon as you notice that your device is starting to act peculiar, run a full security scan with anti-malware tools to see whether everything is stable in your device.
Cut off all association with this service
Whichever is the case, if you installed Swagbucks purposely or you have no idea how it got into your computer, it is recommended to remove it in order to decrease a risk on getting your system infected with viruses via ads and suspicious promoted links. You should follow the guide below:
Uninstall Swagbucks. You should go to Control Panel Add and Remove Programs list, locate the application there and remove it. If you do not see Swagbucks, use Spyhunter, it will detect any browser hijackers and adware that might have come with Swagbucks or might have been hiden/saved under another name.
Check if there is no Swagbucks left among browser extensions:

For Internet Explorer: Go to "Tools" (or gear icon in Internet Explorer 9), -> "Manage Add-ons". Look for Swagbucks and disable these entries.
For Google Chrome: Click on the wrench or bars icon on the top right of the screen; go to "Tools"-> "Extensions". If you see any extensions related to Swagbucks, click on a trash can icon next to them.
For Mozilla Firefox: Go to "Tools" -> "Add-ons" -> "Extensions". If you see any extensions related to Swagbucks, disable them.

If your home page is still search.swagbucks.com, remove it manually:

For Internet Explorer go to Tools ->Internet Options. Remove search.swagbucks.com and replace it with your preferred webpage.
For Google Chrome click on the Customize icon -> Settings. Click Set Pages under the startup. Remove search.swagbucks.com and replace it with your preferred webpage.
For Mozilla Firefox go to Tools -> Options (or click Firefox in the top left corner and click Options). Under the General tab remove search.swagbucks.com and replace it with your preferred home page.

If your search engine is still search.swagbucks.com, reset it to the one you prefer:

For Internet Explorer go to Tools -> Manage Add Ons -> Search Providers and remove the search.swagbucks.com search engine from the list.
For Google Chrome go to the customize icon (wrench or 3 bars) -> Settings -> Manage search engines -> select a new search engine as the default one -> click X next to search.swagbucks.com to remove it.
For Mozilla Firefox, click on the search magnify glass icon near the search box, click Manage Search Engines. Remove the search.swagbucks.com from the list of search providers by highlighting the selections and clicking Remove.
If you did not scan your computer with Spyhunter in the first step, it is recommended to perform a full system scan after all the steps are completed. It will ensure all the remains of Swagbucks are removed as well as any viruses that might have infected your system while this browser hijacker was active.
References:
Automatic Swagbucks removal tools
We might be affiliated with some of these programs. Full information is available in disclosure
Manual removal
Important Note: Although it is possible to manually remove Swagbucks, such activity can permanently damage your system if any mistakes are made in the process, as advanced spyware parasites are able to automatically repair themselves if not completely removed. Thus, manual spyware removal is recommended for experienced users only, such as IT specialists or highly qualified system administrators. For other users, we recommend using Reimage or other tools found on 2-viruses.com.
Processes:
Files:
External decryptor:
Swagbucks screenshots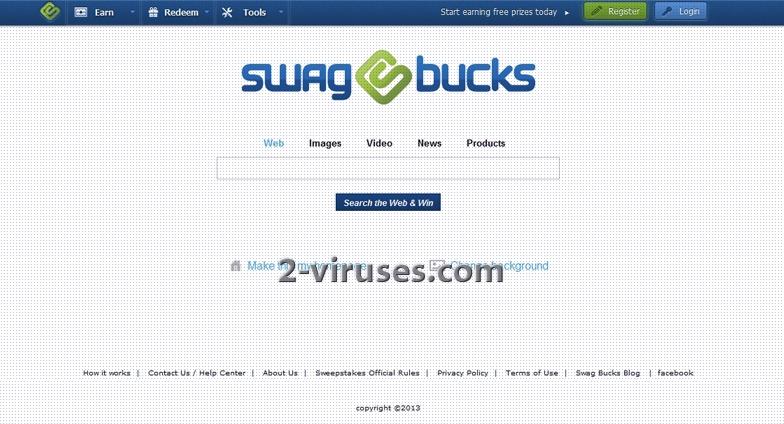 About the author