Streamnotify.net is an advertising website that infects browser settings to make them display pop-up ads. It's just a website, but having it in your browser can feel like having a serious adware infection. Luckily, Streamnotify.net is simple enough to get rid of by fixing your web push notification settings in your browser.
Streamnotify Net Pop Up Ads quicklinks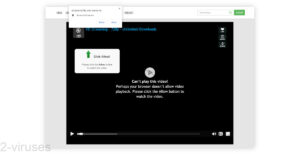 Streamnotify.net in short:
Threat type
Adware,

browser hijacker.

How Streamnotify.net hijacks browsers
It's advertised online,

it misleads and manipulates visitors into enabling its notifications.

How to protect yourself from notification spammers
Block ads and malicious websites,

disable notification prompts,

protect your device with anti-malware apps (Spyhunter for PC, Spyhunter for Mac, Combo Cleaner for Mac, etc.).

How to stop Streamnotify.net ad spam
Block notifications from Streamnotify.net and other hijackers.
How Streamnotify.net works
Streamnotify.net is advertised online
Streamnotify.net is advertised online as a pop-up – it appears in a new browser tab or window.
The ads for Streamnotify.net don't look like ads, though. They look like loading screens, download buttons, and video players. Pretty realistic, too. Streamnotify.net says this on one of its ads:
Can't play this video!

Perhaps your browser doesn't allow video
playback. Please click the Allow button to
watch the video.
When Streamnotify.net is advertised on video streaming (pirating) sites, the video player looks right at home. Illegal video streaming sites are full of aggressive pop-up ads that appear unexpectedly and expose visitors to all sorts of dangers (Illegal streaming: beware of the backlash). Even clicking on a video to watch can trigger an ad for Streamnotify.net.
When Streamnotify.net asks to show notifications, it shows a prompt (in the upper left corner in the illustration below) with two buttons – Block and Allow. Some people might not know what pressing the Allow button does – enable Streamnotify.net to send them ads. They might be tricked by the site's language, which implies that pressing the Allow button will play the video. All it really does is start the torrent of ads from Streamnotify.net.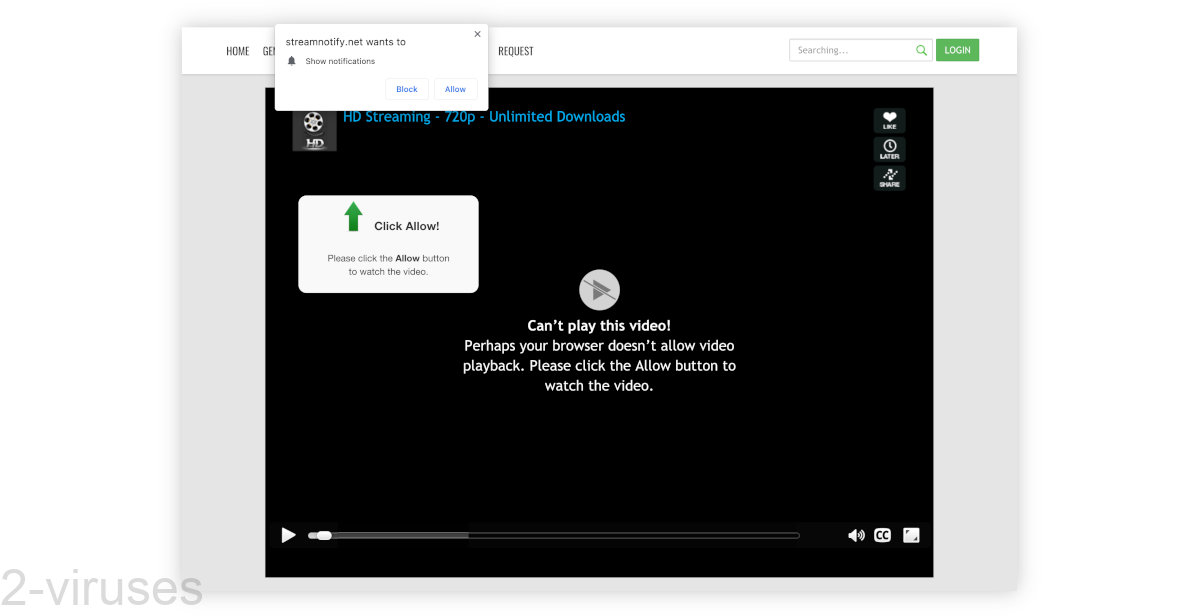 It shows ads in web browsers
Once Streamnotify.net has access to a browser, it starts sending ads as web push notifications. It shows ads by unrelated advertisers and it seems to allow on advertisers who would be banned by any normal advertising network.
Ads by Streamnotify.net can be incredibly annoying, as though an aggressive adware program has infected your device. Even worse, some of these ads can be harmful:
Fake news stories advertising counterfeit electronics, unregulated diet and supplement products, get-rich-quick scams, magic items, etc. (Scam bitcoin ads using unauthorised Australian celebrity images traced to Moscow addresses).
Other notification hijackers.
Ads for malicious browser extensions.
Fake software update alerts that download files infected with adware.
Fake virus detection warnings that promote scareware programs and tech support scammers.
In addition, some of the ads that Streamnotify.net shows are disguised as messages from trustworthy websites and apps (social media sites, chat apps), which makes it easy to click on them by mistake.
How to protect yourself from Streamnotify.net ads
Avoid notification hijackers
There are many notification spammer sites out there. Streamnotify.net in particular is related to a few of them, including Verifyisreal.com, Lifeimpressions.net, Fastnewstream.com, etc.
To stay safe in the future, you might want to disable notification prompts so that sites like Streamnotify.net cannot even ask you to allow them. If you ever do want to allow a particular site to send you notifications, you'll still be able to do it, you'll just have to manually open notification settings and include the site's address as Allowed.
You can also install an ad blocker and use it when visiting pirating sites and other iffy sites. Such sites are full of dangerous ads besides the notification hijackers.
Finally, protect yourself with an anti-malware program, such as Spyhunter for Windows, Spyhunter for Mac, Combo Cleaner for macOS, or others. This way, if adware, malware, or even potentially unwanted software tries to sneak on your computer, you should get a warning.
Automatic Malware removal tools
How to stop ad spam by Streamnotify.net
Open the browser that's affected by the Streamnotify.net ads. Mobile or desktop, the instructions should work. You just need to navigate to the appropriate settings page and block Streamnotify.net's notifications:
Chrome – open Settings, scroll down to Site settings (under Privacy and security), click on Notifications.
Edge – open Settings, click Site Permissions, Notifications.
Safari – in the Safari menu, choose Preferences, Websites, Notifications.
Firefox – open Settings, Privacy & Security, scroll down to Permissions, and click on Settings next to Notifications.
Another way to block web push notifications is to wait for Streamnotify.net (or another hijacker) to show one on your screen, then press the gear/site settings button and block the notifications from there. Unfortunately, not all browsers offer this functionality.