Lifeimpressions.net is a redirecting website that tricks visitors to get them to subscribe to ads. It serves to allow advertisers to bother people much more aggressively than they'd be normally able to. The symptoms of Lifeimpressions.net include constant pop-up ads being shown and the browser behaving erratically, opening new tabs and constantly redirecting you to unwanted sites.
Lifeimpressions Net quicklinks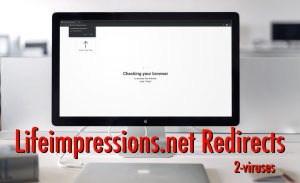 Checking your browser
to access the website, click "Allow"
Lifeimpressions.net greets visitors with a message about needing to click "Allow" to access the content. This is a false message, Lifeimpressions.net has no content other than what it's showing and the browser isn't really being "checked". The website is just part of a network of adware sites that push their ads to as many people as possible. Lifeimpressions.net's main purpose is to redirect people to sponsored pages and earn money from advertisers.
The vague "Checking your browser" message is similar to what viruses do when they are distributed in macros in document files: they show a message about how you have to enable macros to see the content of the document, and then infect your computer with malware.
Lifeimpressions.net does not directly infect your computer with any malware, even if you do agree to see notifications. But it should still be absolutely avoided.
How is it dangerous?
The danger comes from all the lack of regulation. All kinds of products can advertise using Lifeimpressions.net, but only the heavily regulated and banned types actually need this site. This results in the ads being dominated by dubious, dishonest, or otherwise unwanted and dangerous products:
Browser hijackers.
Fake optimizers.
Fake security warnings.
Online betting and gambling.
Medical supplements.
Get-rich-quick schemes.
Payday loans ads.
Fake giveaways and lotteries.
Pages hosting malware.
Phishing sites.
Other than the malware, I've never seen anything outright criminal from Lifeimpressions.net or the other adware sites. So maybe there are some rules that Lifeimpressions.net abides. Online fraudsters often see themselves as in the right. They think that the advertising regulations are unfair, that they're victims of censorship because their ads are considered malicious by mainstream ad-networks.
The malware links are the most dangerous, possibly putting your computer at risk, but the scams and phishing sites can also be very harmful, cost you time, stress, and even money.
How does Lifeimpressions.net work?
After Lifeimpressions.net gets you to agree to receive notifications, it forwards you to various unwanted pages, including other adware online. Lifeimpressions.net is likely to be only one of many shady sites that you encounter: track.fungiers.com, svkrg.com, those that exist purely to direct people to sponsored content should all be considered dishonest and dangerous.
These websites constantly switch their behavior. Sometimes they point to promoted content, but when they get too high-profile, they start promoting smaller, newer "click Allow" sites. Some adware pages, like studynerdz.com or lodder.club, have been around for months and are still going strong.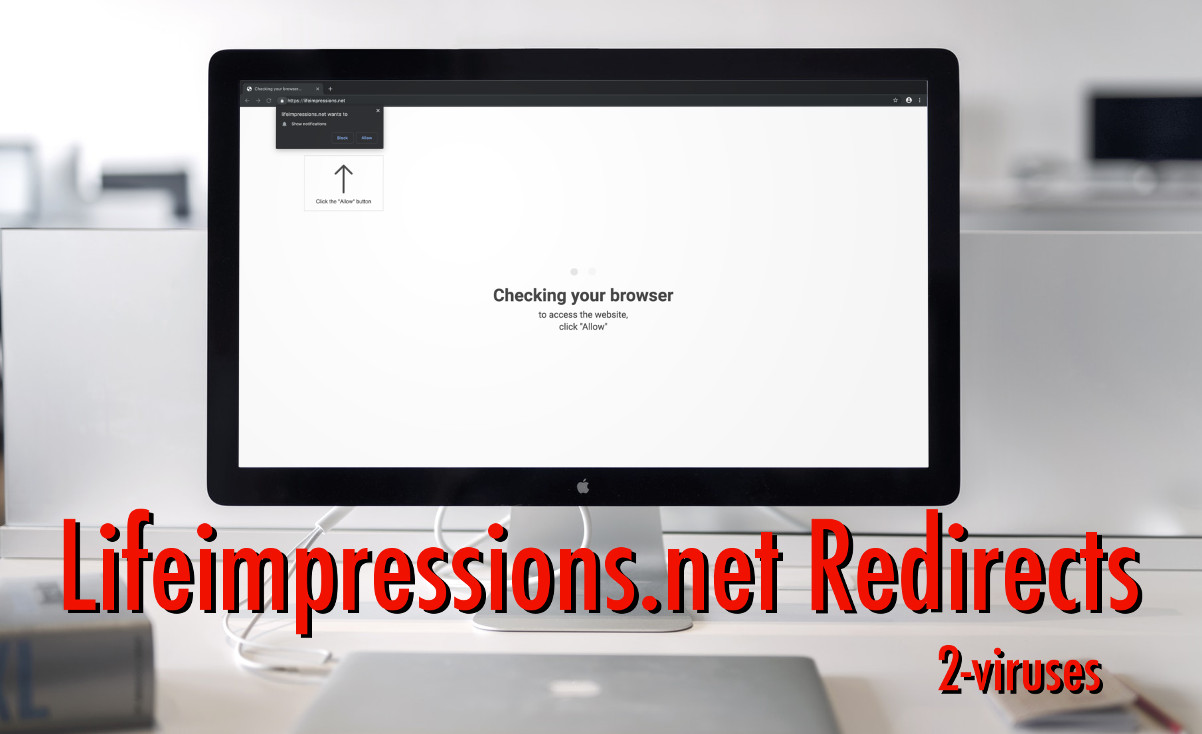 These websites are promoted by adware (programs, extensions, other redirecting sites), as well as opened by malicious ads on sites like Y2mate and TonOfFunGames. This means that Lifeimpressions.net being opened is out of your control, and the best thing you can do is just not interact with this site, close it, and, if Lifeimpressions.net keeps being opened, check your computer for adware.
How to remove Lifeimpressions.net
The pop-up ads can be removed by blocking notifications from Lifeimpressions.net or whichever page is sending them to you (the site should be written on the pop-up).
Chrome: paste chrome://settings/content/notifications in the address bar.
Safari: go Safari -> Preferences -> Websites -> Notifications.
Firefox: paste about:preferences#content in the address bar.
But, even after the pop-ups cease, it's possible that you'll still be directed to Lifeimpressions.net.
If you're seeing Lifeimpressions.net regularly, you should be concerned about adware infecting your device. Scan it with an antivirus program (like Spyhunter) and remove it. You can also check your programs yourself — go to your list of installed programs and see if anything suspicious or unfamiliar has been installed recently. Even familiar programs, like PDF managers or media players, could be functioning as adware under the hood, so research them online and uninstall them if they turn out to be malicious.
Automatic Malware removal tools
How to remove Lifeimpressions.net using Windows Control Panel
Many hijackers and adware like
Lifeimpressions.net
install some of their components as regular Windows programs as well as additional software. This part of malware can be uninstalled from the Control Panel. To access it, do the following.
Start→Control Panel (older Windows) or press Windows Key→Search and enter Control Panel and then press Enter (Windows 8, Windows 10).
Choose Uninstall Program (if you don't see it, click in the upper right next to "View by" and select Category).
Go through the list of programs and select entries related to Lifeimpressions.net . You can click on "Name" or "Installed On" to reorder your programs and make Lifeimpressions.net easier to find.
Click the Uninstall button. If you're asked if you really want to remove the program, click Yes.
In many cases anti-malware programs are better at detecting related parasites, thus I recommend installing Spyhunter to identify other programs that might be a part of this infection.