Smart Mac Tuneup program now attacks Mac OS X computers primarily in the US. The software is advertised as a great tool to help you get rid of unwanted cache, logs, partial downloads, large files and trash items. Privacy protection is another feature that Smart Mac Tuneup describes as its integral component. Nevertheless, there are specific reasons why you should stay away from installing this software. This guide will provide you with more detailed information on why Smart Mac Tuneup is not the right choice.
Smart Mac Tuneup quicklinks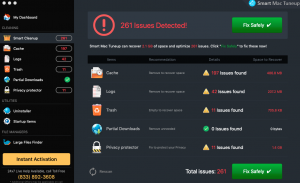 At first glance, Smart Mac Tuneup looks decent considering its user-friendly interface and the advertised functionality. The problem is that the software intentionally displays many false positives to force people to activate its full version as soon as possible. Calling (833) 892-3608 toll-free number integrated into the program will connect you with the representatives of the application who will similarly mention that only the registered version can fix all the reported problems. Normally people do not mind paying money for the decent service, but Smart Mac Tuneup displays fake system problems and literally deceives Mac users with its misleading scan results.
Valid reasons to remove Smart Mac Tuneup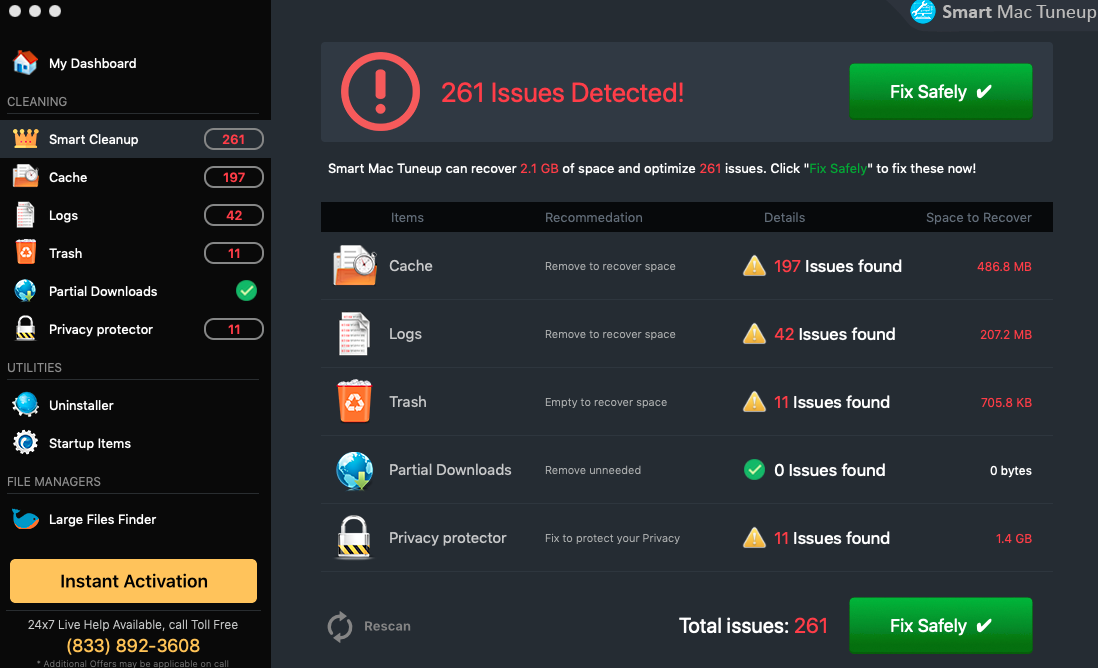 Smart Mac Tuneup is also spread in the manner typical to other potentially unwanted applications, for example, Qbit Mac Cleaner, Quick Mac Care and Max Registry Cleaner previously reviewed by us. Its installer may be included in many free programs today, whereas this information is not properly stated during the setup process. People may think that the specific free software is the only thing they are installing, so after completing the setup they are very surprised to discover Smart Mac Tuneup and many other unwanted apps.
Smart Mac Tuneup does not really clean your Mac from essential problems. All it does is simply reporting fake errors to make you concerned about your computer. When its fabricated report is not sufficient to make you activate the program, Smart Mac Tuneup presents additional intrusive pop-ups randomly in your screen to convince you to buy its license for fixing fabricated threats.
Upon successful installation, Smart Mac Tuneup modifies your important Mac settings in order to be started automatically whenever Mac OS X is loaded. Immediately the hoax initiates its fictitious scanning and very soon gives you that scary report prepared in advance, without any decent analysis of your Mac. Instead of improving its performance, Smart Mac Tuneup consumes a lot of system resources and negatively impacts the speed and the functionality of your device.
Investing money into Smart Mac Tuneup is, therefore, a serious mistake. We hope that you will not make such a wrong decision, and if you have done so by mistake, immediately ask for the refund. The software does not act according to its promises but rather tricks people into wasting their money for nothing.
To sum up, these are the main reasons to remove Smart Mac Tuneup as soon as possible:
inability to fix real Mac problems;
causing high CPU usage and preventing people from removing the program easily;
displaying fabricated alerts;
illegal installation though bundling with other free software.
How to get rid of Smart Mac Tuneup
In order to remove Smart Mac Tuneup manually, implementing the following steps is mandatory:
on your Mac keyboard, press "Command", "Option" and "Esc" keys simultaneously to open Force Quit Applications tool;
find Smart Mac Tuneup, right-click on it and select "Force Quit";
go to "Applications", look for Smart Mac Tuneup and move it to Trash;
empty Trash;
restart your Mac.
Smart Mac Tuneup should no longer disturb you after all the above-said steps are completed. Nevertheless, manual removal does not guarantee that your Mac is absolutely clean and free of other malware. It may still be infected with the adware that potentially can infect your system with other viruses. We recommend you to scan your Mac with Spyhunter to automatically detect and delete other threats available on your device.

Automatic Malware removal tools