Searchqu is browser hijacker that soon will make you regret for letting it inside your computer. You can get it by one of the simplest ways – together with freeware or shareware applications. It is designed to start doing what it wants immediately after successful installation, so if you have Searchqu on your computer, you should have noticed its toolbar installed without any yours permission. In addition, user is surprised by the new search engine which is called Web Search and homepage searchqu.com which is set instead of usual homepage. According to some of its victims, Searchqu may also initiate continuous redirections to the same searchqu.com. If you have been suffering from redirections, read this guide: How to fix Google Redirect Virus (browser hijacker) problem.
About SearchQu
As of now (2014), SearchQu toolbar installs one of several search engines to display results. This depends on how much search engines pay for bringing new users and how aggressive marketers are accepted. This search engine is not giving up for a surprising amount of time and, first detected in 2011, remains to be a quite successfully distributed browser hijacker in 2016. We are basing this statement on the fact that our article was read by a lot of people which were probably going on a quest to find a proper solution to this issue. If your device somehow started to act odd and function quite slowly, then it is possible that it has been hijacked.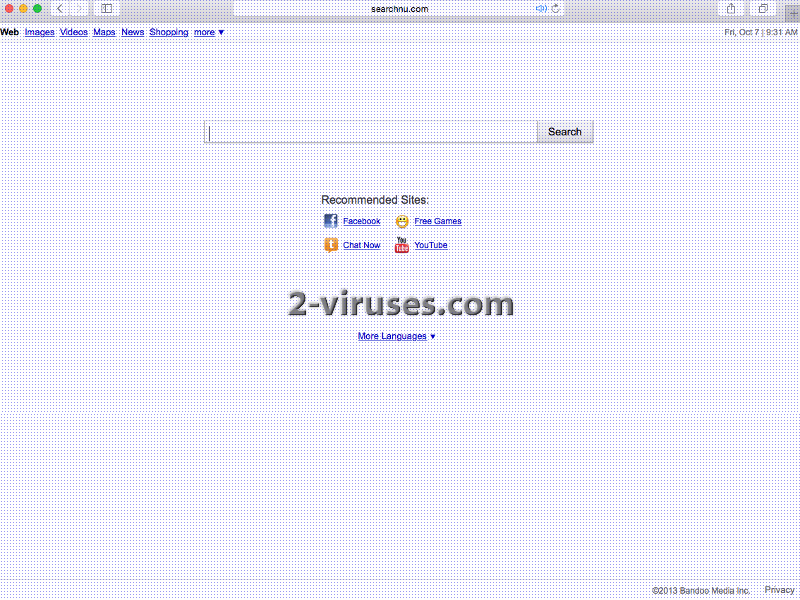 As you can see, Searchqu becomes especially aggressive software when in manages to convince you that you need to install it on your PC. However, you shouldn't be scared that it will install additional malware – according to our experts it is not related to it. However, users find difficulties when they try to uninstall it because it can't be seen on the programs' list. If you also can't restore web browser's default settings, like search engine and home page, and you are not able to remove Searchqu from your PC, try following the steps found below.
Koyote-Lab Inc. are the founders of SearchQu. The page itself looks normal, following the basic rules for a searching facility. It naturally has a search box which delivers results from Search.ask.com. However, we clearly noticed that the delivered results are sponsored and not safe. For instance, we spotted Alibaba.com once again being displayed as the top choice for shopping.
Distribution Methods of SearchQu
SearchQu might have been one of the programs that were offered to be installed as "optional software" during installation process of another program. People can outwit the crooks by selecting advanced/custom modes for installers and refusing all of the prepositions for additional software. This one of the easiest methods to distribute software of low-quality that should not actually be put to usage. Various system optimizers that are completely no-good and simply take up space, PDF convertors that act as ad-based applications or browser hijackers that alter browsers' settings without receiving an appropriate validation. Odd online advertising is found guilty of often being malware-laden. If you have happen to come into contact with doubtfully looking promotional content, please be cautious and do not respond to its probably alluring message.
How to remove Searchqu from Internet Explorer (older versions):
Click on the arrow on the right of the search box;
Do the following: on IE8-9 choose Manage Search providers, on IE7 click on Change search defaults;
Remove Searchqu toolbar, UrlHelper Class, and related from the list.
How to remove Searchqu from IE 11:
Click on the Settings icon (top right)->Manage Addons;
Select Search Providers;
Change the default search engine to Bing or Google;
If any of these search providers is not available, follow "Find more search providers" in the bottom of the screen and install Google.
How to remove Searchqu from Firefox:
Enter "about:config" in url bar. This will open settings page;
Type "Keyword.url" in the search box. Right click and reset it;
Type "browser.search.defaultengine" in the search box. Right click it and reset it;
Type "browser.search.selectedengine" in the search box. Right click it and reset it;
Type "browser.startup.homepage" in the search box. Right click it and reset;
Search for "browser.newtab.url". Right-click and reset. This will make sure that the search page won't launch on every new tab;
If the settings revert and scan with anti-malware programs are clean: close Firefox, open file explorer and enter %AppData% in the address bar. Enter user.js in the search box. If this file exists, rename it and start Firefox again. You will have to repeat the steps above.
How to remove Searchqu from Google Chrome:
Click on the 3 horizontal lines icon on the browser toolbar;
Select Settings;
Select Basics ->Manage Search engines;
Remove unnecessary search engines from the list;
Go back to Settings. On Startup choose 'Open blank page' (you can remove undesired pages from the set pages link too);
If your New Tab page is hijacked, you will have to scan with anti-malware program or use New Tab Redirect extension from Chrome Store.
Automatic Malware removal tools
Manual removal