Have you recently been trying out new browser extensions with hopes to find the one that will have everything you desire? Have you installed a few and noticed that they looked great in the description, but in reality they don't work properly and now you can't get rid of them no matter how hard you try? Well, if your Chrome's main homepage is currently Searchmulty.com – a page with a galaxy of buttons referring you to every site you will ever need, then keep on reading this article, because the 2-viruses.com team knows exactly what you need to solve this Chrome virus issue.
Searchmulty Com Virus quicklinks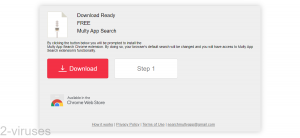 Searchmulty.com or Multy App is a browser hijacker, which lures users in with cool design and seemingly useful links on the main page. The only problem is that this site is only a fake engine that tracks you to every site you go to and records your personal information, while at the same time showing incredible amounts of promotions. And don't even try to remove it because with the help of malicious codes it has already set itself as your default browser provider. Kind of similar to Chromesearch.win, Wallpapers.myway.com or Search.searchleasier.com. Even though Searchmulty.com can be a really tough case of the browser hijacker, you can be sure that we will help you remove the MultyApp extension and stop its maliciousness once and for all.
About Searchmulty.com virus:
Classification
Browser hijacker.
Searchmulty.com's effects on the browser
The new tab looks different,

more ads in the search results and in webpages.

How it gets installed
Included in freeware installers.
How to remove Searchmulty.com
Use an antivirus program to remove it (SpyHunter for PC, Combo Cleaner for Mac, others),

manually uninstall MultyApp.
What does the Searchmulty.com virus do?
Changes the browser's home page
Searchmulty.com is the main website of the browser hijacker that settles into Google Chrome as the MULTY APP Extension. Multy app virus installs either with your consent or by slithering in with the help of other software and connects to the main hackers' server to get Javascript code sent back to the infected victim's computer in order to set Searchmulty.com page as the default homepage, search engine, and the new tab site. Since Multy App is not malicious itself (except for the ability to contact the crooks), many antiviruses fail to recognize the infection at the early stage. Furthermore, these scripts that SearchMulty virus is getting from the malware servers stop the antivirus from detecting it, therefore you don't know that your Chrome was compromised until one day the Searchmulty.com hijacker presents itself to you.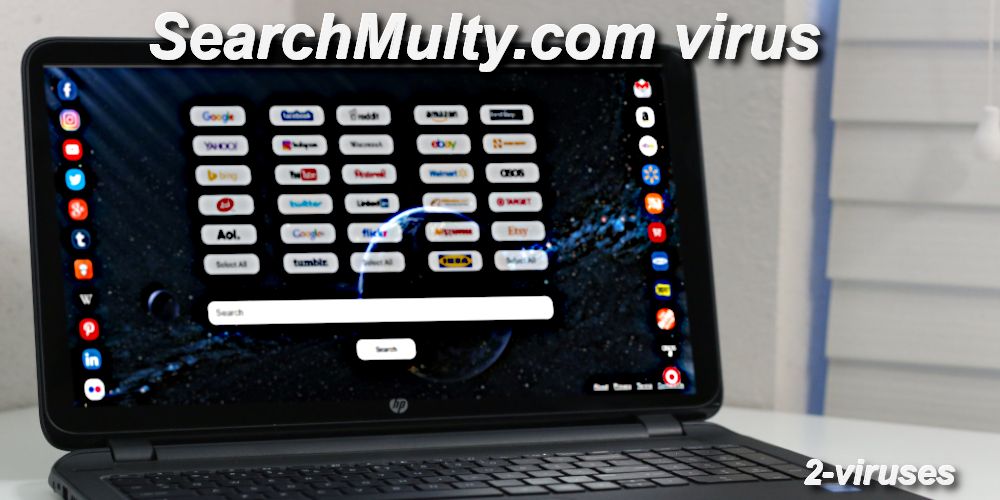 Searchmulty.com virus is currently prevalent in the US and other English-speaking countries, but can easily reach other countries globally, since there are no virtual borders for most threats. To claim that no antivirus can spot Multy app as a threat would be wrong because as the Qutterra's analysis shows that the Searchmulty.com hijacker is marked as potentially suspicious. The reason why is that there are plenty of viruses like adware, that once they infect systems connect to the SearchMulty.com to bring its browser hijacking features in order to have the ability to post more ads and control the users' activity online.
Displays ads in the browser
Moreover, if the Searchmulty.com virus successfully settles into Chrome, you can be sure that every page you will be visiting is going to appear distorted from ads (which will be generating revenue for the crooks from PPV/PPC), each search you will make will display offers from sponsors in first places, therefore, it will take even longer for you to find the necessary answer, some pages won't be even available anymore and Chrome will be crashing often. On top of that trackers will be placed all over the net, for crooks to see what search queries you enter, what websites you visit, what products you buy, emails you write and even gather the most private details like passwords, credentials, credit card numbers, IP and locations and etc.
This all seems really daunting and while some information is simply gathered and sold for the third parties for marketing reasons, you cannot feel safe knowing that hackers can see everything you do and enter online (you can potentially become the victim of identity theft, get your accounts hacked and money stolen from bank account/crypto wallet), what is more, you must be aware of the malvertising campaigns that will be waiting for you on every corner masked as regular links or pictures and etc.
How did the Searchmulty.com virus infect the system?
You probably already suspect what may have caused you to end up with Searchmulty.com virus infection. This browser hijacker does have a very deceitful and nice appearance, tricking many Chrome users into thinking that Multy App will indeed improve their online browsing experience. Unfortunately, it is the opposite, and Searchmulty.com browser hijacker will make your World Wide Web surfing intolerable. But this is not the only way Multy App can spread. It has other tricks upon its sleeve as well, because the more computers it infects, the more revenue crooks gain.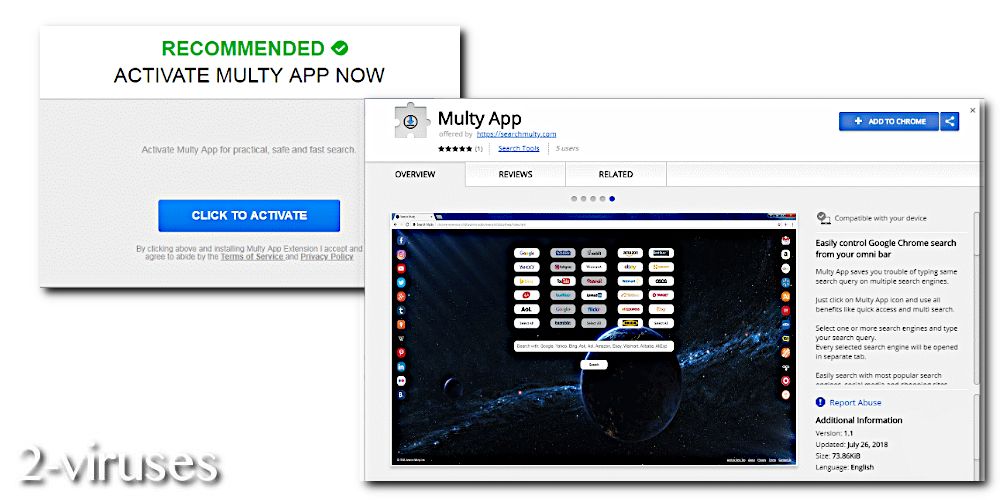 A rather common spreading technique to automatically increase user number is the spreading with bundles of other software and their SetUp Assistants. Most people are used to getting programs from one software distributing website (which tend to carry malware as well) and they rarely take time to really see what they are allowing into their computers each time with such programs. Searchmulty.com browser hijacker is the type of virus that will be included in one of the software Setup Wizards as a preselected-to-install application and will easily sneak into the system if the user will not choose the Custom setup function and uncheck the installation box. (More on how to prevent Browser hijackers)
Searchmulty.com also gets advertised on pirating sites like Soap2day and KissAnime – sites that traditionally advertise malicious sites, scams, and hijackers. Ads for Searchmulty.com might even look like download buttons, which is definitely confusing and can result in accidental installation.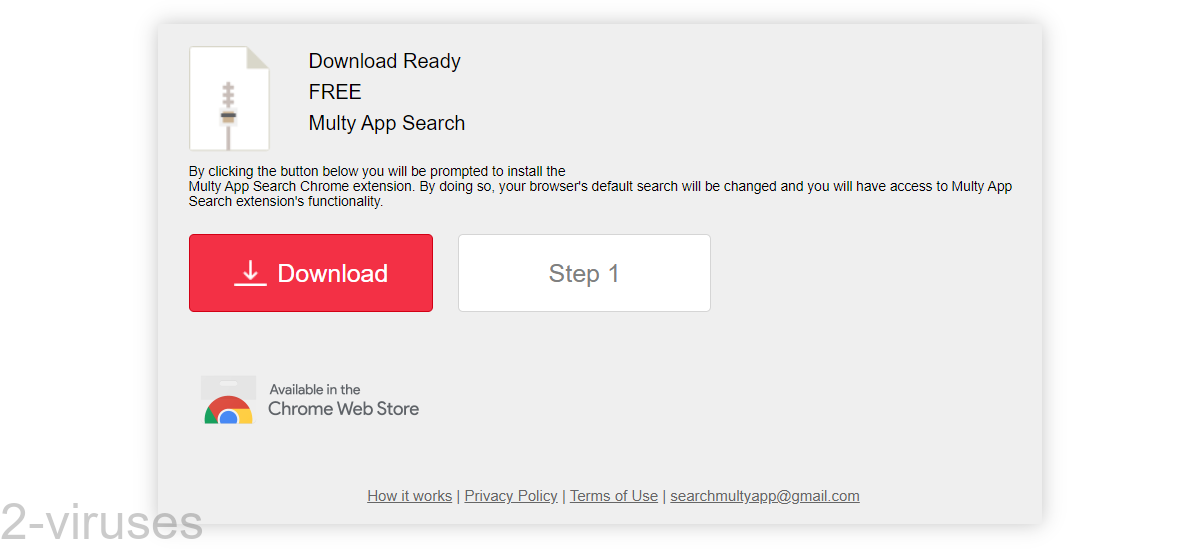 How to get rid of Searchmulty.com browser hijacker quick
SpyHunter (Windows) or Combo Cleaner (macOS) are the top tools that will help you remove the Searchmulty.com browser hijacker quickly and easily. Just run a scan with either of the above-mentioned programs and you will see how fast the security tools will hunt and show you the malicious threats found in your system. The best part is that these anti-malware programs will discover not only the MultyApp infection, but any other virus that may have been brought after the system's security went down. Overall, spyware removal software is worth investing in, because even the most cautious people can make mistakes and visit a wrong site or download a program that is secretly a virus and infect their computers, but security products help to prevent the further setup or even block virus from getting into the system.
Automatic Malware removal tools
How to uninstall Multy App with no antivirus
Although Multy App only infects the Chrome browser and not the whole system, it is still recommended to start the manual removal from the Control Panel by checking if there is any suspicious software that might have initiated the Multy App virus installation. This can be any software that was set up a bit earlier or at the same time as the Searchmulty.com browser hijacker started bothering you.
Once you know for sure that there are no potentially unwanted programs in your system, you can move on to the removal from the Google Chrome browser itself. (Read more on Chrome extension malware)
Uninstalling browser extensions is not that difficult, yet viruses like the Searchmulty.com hijacker tend to hide under the different names to make the removal and discovery harder. If you do happen to find Multy App amongst the other browser enhancers, then follow our instructions below and delete this threat once and for all. If there is no visible shady extension or after the removal, the homepage and search engine cannot be changed back to normal and persist to be Searchmulty.com then we recommend either getting an automatic tool to take care of your issue professionally or follow further directions here.
How to remove Searchmulty.com Virus using Windows Control Panel
Many hijackers and adware like
SearchMulty
install some of their components as regular Windows programs as well as additional software. This part of malware can be uninstalled from the Control Panel. To access it, do the following.
Start→Control Panel (older Windows) or press Windows Key→Search and enter Control Panel and then press Enter (Windows 8, Windows 10).
Choose Uninstall Program (if you don't see it, click in the upper right next to "View by" and select Category).
Go through the list of programs and select entries related to Multy extension . You can click on "Name" or "Installed On" to reorder your programs and make Multy app easier to find.
Click the Uninstall button. If you're asked if you really want to remove the program, click Yes.
In many cases anti-malware programs are better at detecting related parasites, thus I recommend installing Spyhunter to identify other programs that might be a part of this infection.
TopHow To remove Searchmulty.com Virus from Google Chrome:
Click on the 3 horizontal lines icon on a browser toolbar and Select More Tools→Extensions

Select all malicious extensions and delete them.

Click on the 3 horizontal lines icon on a browser toolbar and Select Settings

Select Manage Search engines

Remove unnecessary search engines from the list

Go back to settings. On Startup choose Open blank page (you can remove undesired pages from the set pages link too).
If your homepage was changed, click on Chrome menu on the top right corner, select Settings. Select Open a specific page or set of pages and click on Set pages.

Delete malicious search websites at a new Startup pages window by clicking "X" next to them.

(Optional) Reset your browser's settings
If you are still experiencing any issues related to Multy app, reset the settings of your browser to its default settings.
Click on a Chrome's menu button (three horizontal lines) and select Settings.
Scroll to the end of the page and click on theReset browser settings button.

Click on the Reset button on the confirmation box.

If you cannot reset your browser settings and the problem persists, scan your system with an anti-malware program.